The Value of Experience
Solid internship experience is the perfect complement to a hands-on Florida Tech education. Getting major-related work experience can be a great way to apply what you have learned in the classroom and to clarify your career goals. Some internships offer class credit, some offer pay, but all provide the kind of real-world work experience that future employers are looking for.
"When I began college, I did not expect to receive a job offer before my senior year. However, after my first internship experience, I knew with the right amount of hard work, securing a job before I graduated was an achievable goal I could work toward. Florida Tech gave me the opportunities to grow as a student and as a leader and to discover my own interests outside of academia."

—Ethan Kennedy '21, chemical engineering
Read more about how Ethan and his fellow 2021 grads got their job offers before their diplomas!
To employers, internship involvement means experience, ambition and adaptability, so it's no surprise that it is one of the most sought-after qualifications they look for in job candidates. If your ultimate post-graduation goal is to get hired, you want an internship. And if you want an internship, Florida Tech is the place to be.
An Opportunity-Rich Location
Florida Tech is located on the Space Coast in Brevard County, one of the most concentrated high-tech workforces in the United States, which means that by proximity alone, we have the advantage. Our students intern at companies near and far, such as:
American Airlines
Amazon
Blue Origin
Boeing Co.
Collins Aerospace
Embraer
Google
L3Harris Technologies Inc.
Leonardo DRS
Lockheed Martin
NASA
Northrop Grumman Corp.
Seaworld
SpaceX
Walt Disney World
What's it like to intern in the space industry? Read about three students' experiences interning at NASA, Blue Origin and Boeing Co.!
Earn Credit, Get Paid or Both
Earn academic credit for participating in a hands-on internship that provides valuable career experience? Sign us up! Many programs of study give students the option of enrolling in an internship course so they can earn elective credit while gaining workplace experience. In cases where the academic department does not offer academic internship credit, students may receive academic credit for their internship experience through Florida Tech's co-op program. A bonus of the co-op program? Students receive fair compensation for the work they do.
Looking for more information about how to get an internship or start a co-op? Visit Career Services' Gain Experience page to learn more.
"I believe providing students the opportunity to earn class credit for interning and research allows them to gain valuable experience in their fields. Part of my curriculum at Florida Tech was an internship class and a personal and professional development class, and I feel both of those experiences helped prepare me for my first job."
—Cassie Vergason '16, Psychology; '18 M.S., Applied Behavior Analysis and Organizational Behavior Management
Expert Support from Career Services
Florida Tech's Office of Career Services helps students find and prepare for internships and job opportunities across all industries. In fact, in the 2021-2022 school year, students reported having completed more than 370 internships to Career Services.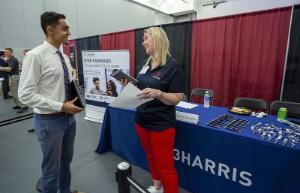 They offer valuable resources, such as a , career fairs, résumé workshops, mock interviews and more, that help students get their foot in the door and point them in the right direction once they step through.
"Thanks to Career Services urging me to use Handshake, its job resource database, I was contacted by a recruiter to apply for two separate positions. I did so and was granted an interview. Career Services then prepared me for both behavioral and skill-set questions that were asked in all stages of the interview process. It also helped me realize the classes I took as a freshman gave me valuable experience and helped me draw out those experiences—from freshman year all the way back to high school—to create an impressive résumé.
I advise every student, during or after their freshman year, to apply to as many internships as possible. The opportunities are endless if you have the courage to go after what you want."

—Whitney Ellis, electrical engineering student and former General Motors Co. intern
Internship Advice From Panthers
"My advice for Florida Tech students seeking internship opportunities is to not be afraid to put yourself out there and reach out to those who may be doing research that you are interested in, or those who have the career that you are interested in."

—Jordan Forman, astronomy and astrophysics student who interned at NASA Goddard Space Flight Center

"My advice to students seeking internship opportunities would be to jump at any opportunity that you find interesting. The point of going to school is to learn—it's OK if you don't know everything yet."

—Mamoon Syed '21, aerospace engineering, former Blue Origin intern

"My advice for incoming students is to know your objectives and where you want to be in the upcoming years. There are many ways to succeed, but hard work, determination and professionalism will always be required to get there."

—Andre Lafitte Farina '22, biomedical engineering, quality engineering intern at Stryker
---
As Seen On Social Media
Learn about some of the amazing things Florida Tech students are doing and learning during their internship experiences: