Workers' Compensation
All injured workers must contact their supervisor/employer immediately to notify them of any on-the-job injury. Timely reporting of employee injuries is crucial. All incidents must be reported to the Office of Compliance Risk Management in a timely manner. Once the incident is reported the Insurance Specialist will contact you.
There are many times a person is injured at work without requiring immediate medical attention, so it might seem like a good idea to take a wait and see approach and not mention the incident. However, when an accident is not reported on time, an employer can deny you medical treatment and benefits for missed time from work. Report an accident to your employer immediately, even if you think you are not seriously hurt. By reporting the accident, you protect yourself.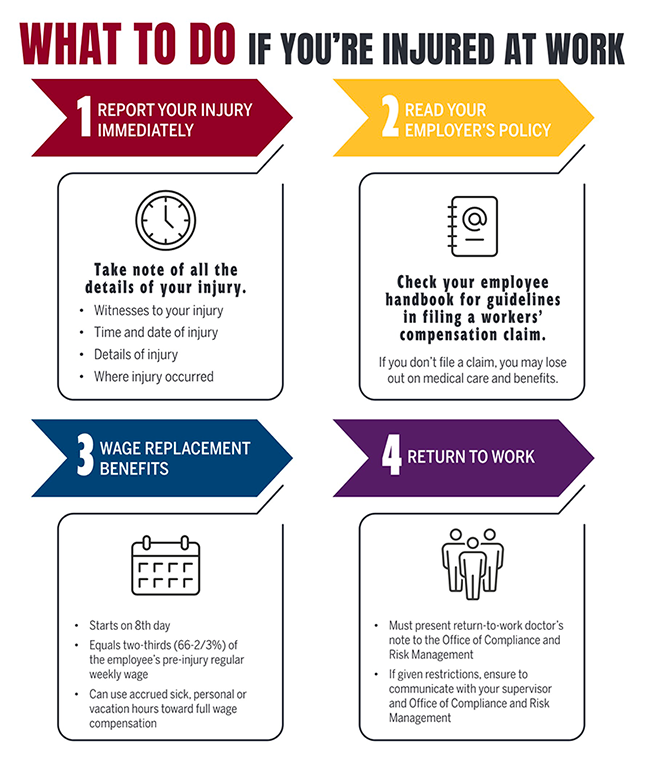 What to do if you're injured at work
Report your injury immediately


Take note of all the details of your injury.

Witnesses to your injury
Time and date of injury
Details of injury
Where injury occurred

Read your employer's policy

Check your employee handbook for guidelines in filing a workers' compensation claim.
If you don't file a claim, you may lose out on medical care and benefits.

Wage replacement benefits

Starts on 8th day
Equals two-thirds (66-2/3%) of the employee's pre-injury regular weekly wage.
Can use accrued sick, personal or vacation hours toward full wage compensation.

Return to work

Must present return-to-work doctor's note to the Office of Compliance and Risk Management.
If given restrictions, ensure to communicate with your supervisor and Office of Compliance and Risk Management.
Medical Centers
Holzer Health Center (On Florida Tech Campus)
2976 Country Club Road
Melbourne, FL 32901
Hours:
Monday-Thursday 8:00AM – 8:00PM
Friday 8:00AM – 5:00 PM
Telephone: 321-674-8078
Fax: 321-725-5967
Premier Urgent Care
6300 N Wickham Rd Suite 101
Melbourne, FL 32940
Hours:
Monday-Friday: 8:00AM- 7:00PM
Sat-Sun: 8:00AM- 5:00PM
Telephone: 321-253-2169
Fax: 321-253-1720
Health First's Holmes Regional Medical Center
1350 Hickory Street
Melbourne, FL 32901
Emergency Room: Open 24 hours
Telephone: 321-434-7000