Service Hour Reporting
Why Report Your Service Hours?
All Florida Tech students, faculty, and staff members can record their civic engagement activity with the Civic Engagement Initiative! Tracking your civic engagement data will allow you to demonstrate your community involvement and personal and professional growth in a clear and quantitative manner. Your records will be available on your co-curricular transcript and can be used on your resume to enhance your scholarship, graduate school, and job applications.
Civic awards are also distributed based on the number of service hours you report on Engage. Civic Award recipients are invited to the Student Leader Awards each April to be presented with their awards and celebrated. To be recognized for your service, it is essential that you report all of your hours through Engage in a timely manner.
By reporting your service hours, you help us to report on the great work that Florida Tech students have accomplished in our community. We encourage you to use this system to track your service hours with the Civic Engagement Initiative.
To see what does and does not count towards service, please review our Policies & Procedures manual: 2023-2024 Policies, Procedures, and What Counts as Service.
Service Hour Reporting Instructions
Florida Tech students/faculty/staff are responsible for tracking and reporting their service hours. Please ensure you report your service hours in a timely manner - Civic Engagement staff request that you report service to Engage within two weeks of the service's completion.
All service hours are reported via Engage. Video directions on how to submit service hours can be found by visiting this YouTube link. Written directions on how to submit service hours can be found below:
Step 1: Log into Engage using your TRACKS login information
Step 2: Click on your profile avatar on the upper right side of the Engage homepage and select "Service Hours" from the dropdown menu.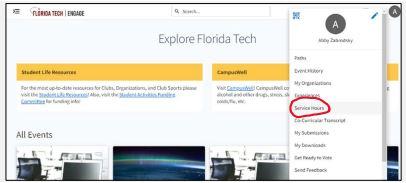 Step 3: Once you are on the "My Service Hours" page, click on the blue "+ Add Service Hours" button on the top right-hand side.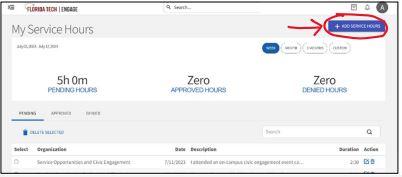 Step 4: Once on the "Add Service Hours" page, select an organization to report your service hours through.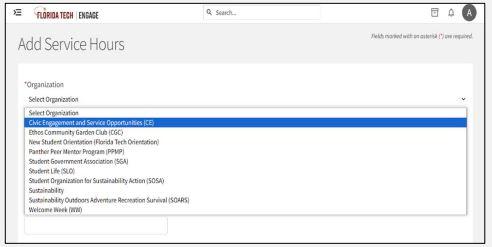 Please Note: If you completed service with a campus organization/club you are a current member of, please select them from the drop-down menu. If you completed service with an external organization (such as non-profit on Civic Engagement's Community Partner list), please select "Civic Engagement and Service Opportunities" as your organization.
Step 5: Complete the "description" section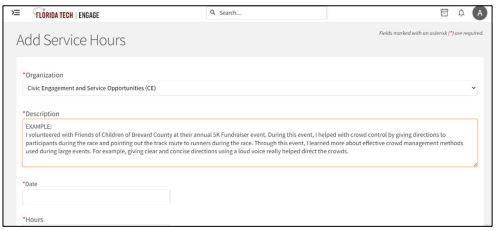 Please Note: For your submission to be approved, you must include the following key elements:
Service Event and/or Community Partner Name
Description of what you did
Something you learned as a result of your experience
Step 6: Add the date you performed the service, the number of hours and minutes you completed and (if applicable) the email of a verification contact. Click the blue "Create" button once you have finished your submission.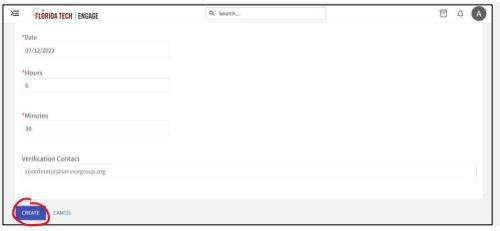 Step 7: Congratulations - you have successfully submitted your service hours to Florida Tech! Make sure that you receive a green confirmation message at the top of your page before leaving.