Why pursue education in applied behavior analysis?
The answer is marketability. Applied behavior analysis (ABA) practitioners know that certification is the key to job growth and security. There is a growing need for well-trained board-certified professionals in behavior analysis to work or consult in schools, early intervention programs, day programs, residential settings and home-based programs. The career options are nearly limitless. Learn more about ABA certifications by visiting the Behavior Analyst Certification Board website.
Degree and Certificate Programs
Courses for Academic Credit
Graduate Student Advising
CE Courses and Workshops
CE Course Login Links
Development Programs
CEU/Development Program Information
Contact us at abaonline@fit.edu or call (321) 674-8382.
*Course formerly titled the 21st Century BCBA Supervision Course Series (as of July 1, 2022)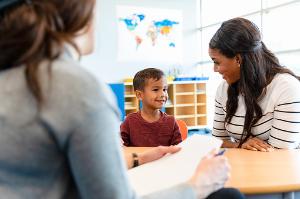 Behavior Analysis Essentials: A 40-hour RBT® Training
Behavior Analysis Essentials is designed to meet the 40-hour training requirement for RBT® certification through the BACB®, an independent certification organization. Completing this course does not guarantee certification.

Enroll Today