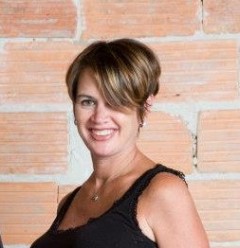 Melissa Crofton
Assistant Professor | School of Arts and Communication
Contact Information
Personal Overview
Although she was born and raised in Toledo, Ohio, Dr. Crofton is lucky enough to have resided in a number of cities throughout her life: New York city, West Palm Beach, and Columbia, South Carolina. After having spent eight years in Columbia, SC, Dr. Crofton is glad to be back where she calls home--Florida.
Educational Background
Ph.D., University of South Carolina, 2011.
M.A., Florida Atlantic University, 2002.
B.A., Florida Atlantic University, 199.
A. S., University of Toledo, 1993.
Professional Experience
Dr. Crofton is currently an Assistant Professor of English in the Humanities and Communications Department. She has taught Freshmen Composition courses, British Literature courses, and a variety of British Literature theme courses for the past ten years at Florida Atlantic University and the University of South Carolina. Her favorite themed Brit Lit course to teach is "Heroes and Monsters."
Dr. Crofton has also worked as an online consultant for the Medical University of South Carolina's Center for Academic Excellence. Unfortunately, her experience working with the College of Dental Medicine did not cure her insanely ridiculous fear of dentists, but she always happens to be lucky enough to find a great dentist every time she moves. Whew.
Additional Duties
Committee member of the Creative Writing Institute
Current Courses
COM 1102, HUM 2051, COM 1102 hybrid, HUM 3285 (Special Topics in Literature, Spring 2015):Shakespeare and Film, HUM 3285 (Special Topics in Lit for Fall 2015): Tolkien and The Lord of the Rings
Selected Publications
"From Medieval Mystic to Early Modern Anchoress: Rewriting The Book of Margery Kempe." The Journal of the Early Book Society 16 (Sept. 2013): 89-110.
Recognition & Awards
Grant-in-aid for the "Researching the Archives" seminar at the Folger Institute, 2008-2009 academic year.
William Richey Graduate Teaching Assistant Award, 2008-2009 academic year.
Awarded a Graduate School Research Assistantship, which enabled me to travel to the British Library to conduct research for my dissertation, 2007 academic year.
William H. Nolte Graduate Teaching Assistant Award, Spring 2006
Research
Dr. Crofton is in the midst of researching yet another chapter of her dissertation, "Douai, 1609, and the Remarkable Resurrection of Nicholas Love's The Mirror of the Blessed Life of Jesus Christ."
While working on the Nicholas Love article, her attention will also be focused on turning her dissertation, Textual Reconstructions: The Deployment of Late Medieval Texts in Early Modern England, into a book. Of course, more trips to the Folger and the British Libraries for archival research are, thankfully, needed.
Research & Project Interests
Dr. Crofton can't seem to tear herself away from medieval texts of devotion, and she is currently adding even more books to her list of must reads. Her interest in this particular topic focuses on the transition from manuscript into the printed medium, and how early modern audiences adapted these texts during the religious upheavals of the sixteenth century.
Dr. Crofton is also a self-declared Tolkien fanatic, and she's bringing her enthusiasm about his works to the classroom in the fall of 2015.