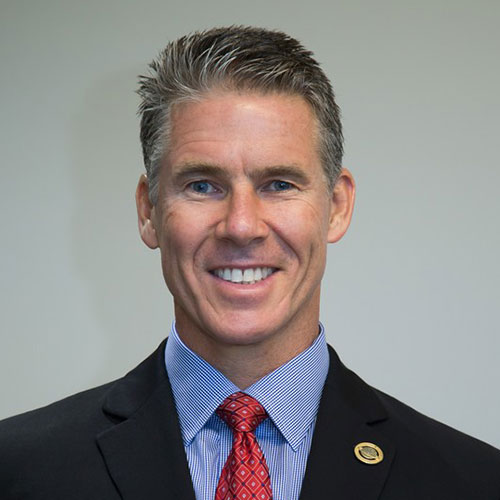 Tristan J Fiedler
Faculty | Biomedical Engineering and Science
Federal Government Programs Manager, Graduate Research Seminar Coordinator, FSO & ITPSO | Biomedical Science & Engineering Department
Contact Information
Personal Overview
Dr. Tristan Fiedler is currently the Florida Tech Federal Government Programs Manager and a member of the Department of Biomedical Engineering & Science (BMES) Faculty in the College of Engineering & Science. He is responsible for federal government programs, select university corporate/government/community engagement, biomedical graduate research seminar programs and all aspects of university's facility security operations. Previous duties include serving Florida Institute of Technology in corporate & government relations, export control management, animal care & use, hosting scientific workshops & conferences, leading student engagement for extracurricular STEM activities, and supporting faculty efforts to procure external funding.
Educational Background
Bachelor of Science University of Miami 1991
Master of Science Rosenstiel School of Marine & Atmospheric Sciences, University of Miami 1994
Doctor of Philosophy Miller School of Medicine, University of Miami 2001
Postdoctoral Fellowships - Univ of Miami Medical School, Rosenstiel School of Marine & Atmospheric Science & Cold Spring Harbor Laboratory
Professional Experience
Florida Tech Federal Government Programs Manager [Office of the Chief Academic Officer & Provost] 2021-Present
Florida Tech Director of Federal & Faculty Engagement [Office of Research] 2010-2020
Florida Tech Assistant Vice President for Advancement 2008-2010
Florida Tech Research Assistant Professor 2007-2008
The mission of Florida Institute of Technology's Federal & Faculty Engagement activities is to advance extramural funding of research programs at Florida Tech. The Office will meet its objectives through effective internal collaboration, continuous professional development, and strong customer service for our students, faculty and external stakeholders. The Office has responsibility for pre-award management of federal funding opportunities including
identification of research funding opportunities
assistance in proposal preparation
consultation with grants and contracts specialists to protect the University and it's researchers intellectual property
Academic Training
Prior to joining Florida Tech, Dr. Fiedler was an NIEHS postdoctoral fellow in the Marine & Freshwater Biomedical Science Center of the Rosenstiel School of Marine & Atmospheric Science of the University of Miami performing genomic analyses of Expressed Sequence Tags (ESTs) of Aplysia californica.

Dr. Fiedler completed a research fellowship in bioinformatics at the Cold Spring Harbor Laboratory, Long Island, NY. While at CSHL, he created the online review of Caenorhabditis elegans biology, an open-access peer-reviewed multimedia resource available at www.WormBook.org. Dr. Fiedler is a founding member of the nematode Genome Annotation Assessment Project (www.wormbase.org/wiki/index.php/NGASP) which objectively assessed the accuracy of the current protein-encoding gene prediction algorithms in C. elegans, and to applied this knowledge to the annotation of the other Caenorhabditis genomes.

In addition to genomics research and teaching, Dr. Fiedler has performed analyses of the X-ray crystal structure of human myeloperoxidase, a lysosomal protein stored in the azurophil granules of neutrophils. A second enzyme, oligoribonuclease, served as the focus for his initial postgraduate fellowship training. ORN is an essential enzyme in E. coli, responsible for the degradation of mRNA to mononucleotides.
In 2010, the Federal Aviation Administration selected Dr. Fiedler to serve as Academic Liaison to the FAA Center of Excellence for Commercial Space Transportation's Industrial Advisory Board and to the Center's Affiliate & Associate Members. Fiedler also serves as Councilor to the Oak Ridge Associated Universities, and university representative to the Florida Space Grant Consortium, BioFlorida, Florida Institute of Oceanography (alternate), Patrick Air Force Base Cooperative Research & Development Agreement, and USRA-the Universities Space Research Association.
Current Courses
Current (Fall 2023) teaching duties include Biological Sciences & Research Seminar courses (BME 5900, BIO 5990 & 5991). Previous courses taught include BIO 2110 Genetics, BIO 4201 Immunology, BIO 1200 Introduction to the Health Professions, BIO 5522 Bioinformatics & BIO 4990 Biology Forum on Genomics.
Selected Publications
Deck CA, McKay SJ, Fiedler TJ, LeMoine CM, Kajimura M, Nawata CM, Wood CM, Walsh PJ. 2013. Transcriptome responses in the rectal gland of fed and fasted spiny dogfish shark (Squalus acanthias) determined by suppression subtractive hybridization. Comp Biochem Physiol Part D Genomics Proteomics. 8(4):334-43
Tristan J. Fiedler, A. Hudder, S.J. McKay, S. Shivkumar, T.R. Capo, M.C. Schmale, P.J. Walsh. 2010. The transciptome of the early life history stages of the California Sea Hare Aplysia californica. Comp Biochem Phys D. Epub accepted 29 Mar 2010

Avril Coghlan*, Tristan J. Fiedler*, Sheldon J. McKay, Paul Flicek, Todd W. Harris, Darin Blasiar, the nGASP Consortium, Lincoln D. Stein. 2008. nGASP: the nematode Genome Annotation Assessment Project. BMC Bioinformatics. 9(1):549. *equal contributors

Rogers A, Antoshechkin I, Bieri T, Blasiar D, Bastiani C, Canaran P, Chan J, Chen WJ, Davis P, Fernandes J, Fiedler TJ, Han M, Harris TW, Kishore R, Lee R, McKay S, Mller HM, Nakamura C, Ozersky P, Petcherski A, Schindelman G, Schwarz EM, Spooner W, Tuli MA, Van Auken K, Wang D, Wang X, Williams G, Yook K, Durbin R, Stein LD, Spieth J, Sternberg PW. WormBase 2007. Nucleic Acids Res. 2008 Jan;36(Database issue):D612-7. Epub 2007 Nov 8.

Girard*, L. R., Fiedler*, T. J., Harris, T. W., Carvalho, F., Antoshechkin, I., Han, M., Sternberg, P. W., Stein, L. D., Chalfie, M. 2007. WormBook: the online review of C. elegans biology. NAR 35(Database issue):D472-5. Epub 2006 Nov 11. *equal contributors

Tamberlyn Bieri, Darin Blasiar, Philip Ozersky, Igor Antoshechkin, Carol Bastiani, Payan Canaran, Juancarlos Chan, Nansheng Chen, Wen J. Chen, Paul Davis, Tristan J. Fiedler, Lisa Girard, Michael Han,Todd W. Harris, Ranjana Kishore, Raymond Lee, Sheldon McKay, Hans-Michael Mueller, Cecilia Nakamura, Andrei Petcherski, Anthony Rogers, Gary Schindelman, Erich M. Schwarz, Will Spooner, Mary Ann Tuli, Kimberly Van Auken, Daniel Wang, Xiaodong Wang, Gary Williams, Richard Durbin, Lincoln D. Stein, Paul W. Sternberg, and John Spieth. WormBase: New Content and Better Access. 2007. NAR 35(Database issue):D506-10. Epub 2006 Nov 11.

caBIG Data Sharing and Intellectual Capital Work Group. 2006. Proposed Policy for Sharing of Data Obtained in NIH Supported or Conducted Genome-Wide Association Studies (GWAS) - Response by caBIG. November 30, 2006. Response to Sally J. Rockey, Ph.D., Deputy Director for Extramural Research, NIH.

Schwarz EM, Antoshechkin I, Bastiani C, Bieri T, Blasiar D, Canaran P, Chan J, Chen N, Chen WJ, Davis P, Fiedler TJ, Girard L, Harris TW, Kenny EE, Kishore R, Lawson D, Lee R, Mller HM, Nakamura C, Ozersky P, Petcherski A, Rogers A, Spooner W, Tuli MA, Van Auken K, Wang D, Durbin R, Spieth J, Stein LD, Sternberg PW. WormBase: better software, richer content. Nucleic Acids Res. 2006 Jan 1;34(Database issue):D475-8.

The WormBook Consortium. The Word on the Worm - Science NetWatch (April 14). 2006. 312: 169.

Fiedler, T. J., Vincent, H. A., Zuo, Y., Gavrialov, O., Malhotra A. 2004. Purification and Crystallization of E. coli oligoribonuclease. Acta Crystallographica D. D60:736-739.

Schrag, B., Ferrell, G., Weil, V., Fiedler, T. J. 2003. Barking up the wrong tree? Industry funding of academic research. A case study with commentaries. Science & Engineering Ethics. 9(4):569-582.

Blair-Johnson, M., Fiedler, T., and Fenna, R. 2001. Human myeloperoxidase: structure of a cyanide complex and its interaction with bromide and thiocyanate substrates at 1.9 Angstrom resolution. Biochemistry. 40: 13990-13997.

Davey, C., Fiedler, T., Fenna, R.E. 2000. Chapter 4: X-ray crystallographic studies of human myeloperoxidase. (in The Peroxidase Multigene Family of Enzymes: Biochemical Basis and Clinical Applications, Petrides, P.E. & Nauseef, W. M., editors) Springer Publishing Company, Heidelberg, New York. June 2000.

Fiedler, T. J., Davey, C. A., Fenna, R. E. 2000. X-ray crystal structure and characterization of halide binding sites of human myeloperoxidase at 1.8 Angstrom resolution. Journal of Biological Chemistry. 275(16): 11964 - 11971.

Zhang Y, Malinovskii VA, Fiedler TJ, Brew K. Role of a conserved acidic cluster in bovine beta1,4 galactosyltransferase-1 probed by mutagenesis of a bacterially expressed recombinant enzyme. Glycobiology. 1999 Aug;9(8):815-22.

Corollo D, Blair-Johnson M, Conrad J, Fiedler T, Sun D, Wang L, Ofengand J, Fenna R. Crystallization and characterization of a fragment of pseudouridine synthase RluC from Escherichia coli. Acta Crystallogr D Biol Crystallogr. 1999 Jan;55(Pt 1):302-4. Epub 1999 Jan 1.
Research
Dr Tristan Fiedler currently serves on the Teaching Faculty. Interests include STEM outreach, academic security, insider threat, export controls, facility security operations, animal care & use, teaching & learning of cutting edge biological & biomedical research topics, government & corporate relations, facilitating external stakeholder, especially US Government, engagement with Florida Tech faculty, students and administration, management of campus visits with corporate, federal, and nonprofit partners, and supporting new business engagements and recruitment for Florida Tech's teaching and research programs.