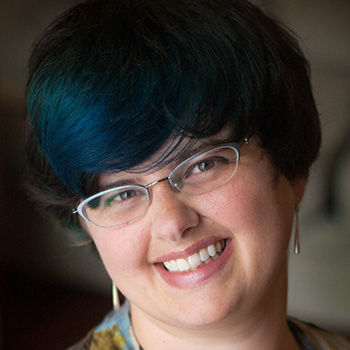 Kaitlynn M Gokey
Assistant Professor | School of Behavior Analysis
Co-Instructor | ABA Technologies, Inc.
Contact Information
Personal Overview
Dr. Kaitlynn Gokey's behavior analysis research interests include radical behaviorism and philosophy, delay discounting and self-control training, science literacy, experimental analysis of behavior, and eSports.
Educational Background
Dr. Gokey recieved her bachelor's in psychology and criminal justice from Western Michigan university.
Dr. Kaitlynn Gokey received her masters and Ph.D. in Behavior Analysis from Florida Institute of Technology.
Professional Experience
Dr. Gokey has over a decade of clinical experience across a variety of populations, including autism, ADHD, Down Syndrome, traumatic brain injury, and dementia. She has worked in home, center, vocational, and school-based settings.
Current Courses
In the on-campus programs in behavior analysis, Dr. Gokey teaches a variety of courses, including Introduction to Concepts and Principles, Advanced Concepts and Principles, Experimental Analysis of Behavior, Radical Behaviorism, and Ethics for Behavior Analysts 1, 2, and 3. Dr. Gokey also runs the EEEK Lab and provides clinical supervision in behavior analysis.
In the online program, Dr. Gokey teaches Concepts and Principles of Behavior Analysis, Conceptual Analysis of Behavior, Advanced OBM, and Ethics for Behavior Analysts 1.
Selected Publications
Rajagopal, S., Carlos, D., Gokey, K., Trahan, M.A., Hannula, C., & Harvey, C. (2022). Increasing conversations between older adults with dementia using textual stimuli. Behavior Analysis in Practice. https://doi.org/10.1007/s40617-022-00697-6
Rey, C., & Gokey, K. (2020). Differential Reinforcement [Book Chapter]. In press with Applied Behavior analysis: A Comprehensive Handbook, expected publication Feb 2023
Leon, Y., Campos, C., Suarez, A., Salama, J., & Gokey, K. (2021). Further examination of the effects of order of stimulus presentation on receptive discrimination. Behavioral Interventions, 36(2), 422-433. https://doi.org/10.1002/bin.1773
Gokey, K., & Pritchard, J. (2015, Q2). Profile: Dennis Embry and the good behavior game. Operants, 36-38.
Gokey, K., Wilder, D. A., Welch, T., Collier, A., & Mathisen, D. (2013). Fading a concurrent activity during self‐control training for children with autism. Journal of Applied Behavior Analysis, 46(4), 827-831. https://doi.org/10.1002/jaba.77
Recognition & Awards
SOBA Student Research Award, 2020
Awarded by Florida Tech behavior analysis faculty.
Paper of the Week, 2019
Awarded by Western Connecticut State University for Gokey et al. (2013).
Outstanding Graduate Student, 2018
Awarded by Florida Tech for exceptional academic and professional performance.
Best Clinical Application Poster, 2012
Awarded at Florida Association for Behavior Analysis conference.
Research
Dr. Gokey has developing lines of research in teaching delay tolerance to children, evaluating and improving eSports athlete performance, and investigating olfactory and tactile discrimination in cockroaches.