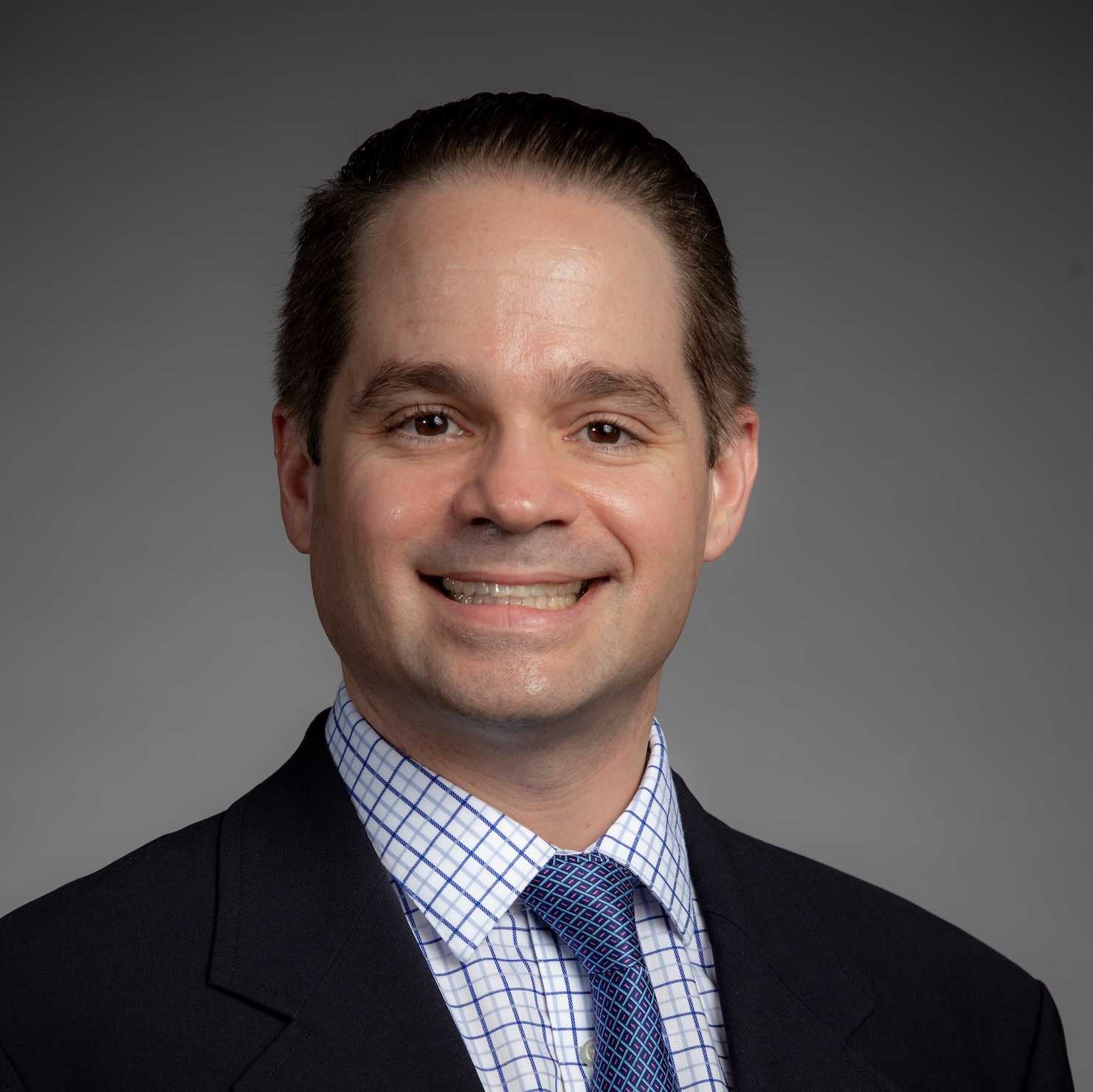 Anthony LoGalbo
Associate Professor | School of Psychology
Board Certified Clinical Neuropsychologist
Contact Information
Personal Overview
Dr. LoGalbo is a Board Certified Clinical Neuropsychologist specializing in assessment and treatment of individuals with traumatic brain injuries and concussions, and memory disorders, Alzheimer's disease, or other neurodegenerative diseases or dementias. He has expertise in comprehensive assessment of neurocognitive functioning and is passionate about assisting patients and their families with the process of recovery, emotional adjustment, and acceptance to their new state of "normal" following development of these injuries and illnesses. He also has proficiency in treating patients with a variety of other neurological conditions as well, including brain tumors, stroke, multiple sclerosis and epilepsy.

At Florida Tech, Dr. LoGalbo teaches graduate classes including Fundamentals of Clinical Neuropsychology, Neuropsychological Assessment I and II, Health Psychology, Psychopharmacology, and Neurodegenerative Diseases. He also is the primary clinical supervisor for neuropsychology activities. He is the clinical director and primary supervisor of Florida Tech's Concussion Management Program, working closely alongside Dr. Frank Webbe and Florida Tech's excellent Athletic Department and training staff. He is also the clinical neuropsychology and research director at the Health First Florida Memory Disorder Clinic, a state-sponsored program affiliated with Health First Aging Services in Brevard County, with a goal of assisting elderly patients with neurodegenerative diseases and their families. Dr. LoGalbo supervises doctoral research projects and other graduate and undergraduate research as well, and he assists with clinical proficiency examinations within the Clinical Psychology program. He also serves on several committees at Florida Tech including the Student-Athlete Mental Health Committee, School of Psychology Research Committee (Chair from 2019-present), Clinical Psychology Student Special Review Committee, and was recently on a Faculty Search Committee. He serves on multiple committees in the broader community as well, including the Health First Memory Disorder Clinic Clinical Advisory Committee and the Brevard County chapter of the Dementia Care and Cure Initiative Task Force through the Florida Department of Elder Affairs.
Dr. LoGalbo came to Florida Tech after 12 years of clinical practice at Florida Hospital (AdventHealth) in Orlando, with both inpatient and outpatient clinical activities in the Neuroscience Institute and Department of Sports Medicine and Rehabilitation. He is prior Clinical Co-Director of the Florida Hospital Sports Concussion Management program, and has worked with numerous high school, club, college and professional athletes and athletic programs across Central Florida and beyond. He was also intimately involved in the development of Florida Hospital's Maturing Minds Program, and assisted with this program's accomplishment of becoming the 16th state-sponsored Memory Disorder Clinic in 2017. He was an active member of the neuro-oncology team evaluating and treating individuals with brain tumors, and occasionally assisting with specialty procedures such as fMRIs and awake craniotomies. He remains on medical staff at AdventHealth, and also maintains a private clinical practice in Melbourne and Orlando.

Dr. LoGalbo earned a bachelor's degree in psychology from New College of Florida in Sarasota. He then earned a PhD in medical/clinical psychology with a focus on neuropsychology at the University of Alabama at Birmingham. He subsequently carried out a clinical psychology internship (residency) in the Department of Rehabilitation Medicine at the University of Washington Medical School and Harborview Medical Center, in Seattle, Washington with a focus on neurorehabilitation, neuropsychology, health psychology, and behavioral medicine. He enjoyed Seattle so much that he stayed to complete advanced fellowship training in Neuropsychology and Gerontology at The Geriatric Research, Education, and Clinical Center (GRECC) at the VA Puget Sound Health Care System in Seattle and American Lake, Washington. He is board certified by the American Board of Professional Psychology (ABPP) with specialization in Clinical Neuropsychology, and maintains a part-time private clinical practice focusing on clinical and forensic neuropsychological assessment. He is a member of several professional organizations including The American Academy of Clinical Neuropsychology (AACN), The International Neuropsychology Society (INS), The National Academy of Neuropsychology (NAN), The Sports Neuropsychology Society (SNS), and The Society for Clinical Neuropsychology (SCN) of the American Psychological Association (APA, Division 40).
Dr. LoGalbo's research interests include exploring variables that influence, predict, or improve outcomes of sports concussion injuries including time to recovery and lingering post-concussive symptoms, as well as factors that mediate the onset and progression of memory disorders or other cognitive decline beyond expectation for age in an elderly population. Outside of neuropsychology, he is also an amateur DJ, enjoys traveling (recent trips include Iceland, Denmark, Sweden, and the Czech Republic), and he is a certified yoga instructor and Ashtanga practitioner.
Selected Publications
*DaCosta, A., *Crane, A., *Roccaforte, A., *Davies, M., Prewett, D., Webbe, F.M., & LoGalbo, A. (2022). The General Ability Measure for Adults Underrepresents True IQ in a High-Functioning Aviation Population. Applied Neuropsychology: Adult, http://dx.doi.org/10.1080/23279095.2021.2023155

*Davies, M. & LoGalbo, A. (2021). Collegiate Student-Athlete Experiences with COVID-19 and Attitudes About Returning to Sport. Journal of Athlete Development and Experience, 3 (3), https://doi.org/10.25035/jade.03.03.02

*Denny, A., *Bartley, K., *Edwards, S., Webbe, F.M., and LoGalbo, A. (2020). AD8 Patient–Informant Discrepancy Predicts Insight and Cognitive Impairment in Alzheimer's Disease. Geriatric Nursing, https://doi.org/10.1016/j.gerinurse.2020.08.009

LoGalbo A., *DaCosta, A., Webbe, F.M. (2020). Comparison of the PHQ9 and ImPACT Symptom Cluster Scores in Measuring Depression Among College Athletes. Applied Neuropsychology: Adult, https://org/10.1080/23279095.2020.1805611


*DaCosta, A., Webbe, F.M., LoGalbo, A. (2020). The Rey Dot Counting Test as a Tool for Detecting Suboptimal Performance in Athlete Baseline Testing. Archives of Clinical Neuropsychology, acaa052, https://doi.org/10.1093/arclin/acaa052


*DaCosta, A., *Crane, A., Webbe, F., & LoGalbo, A. (2020). Change in Balance Performance Predicts Neurocognitive Dysfunction and Symptom Endorsement in Concussed College Athletes. Archives of Clinical Neuropsychology, acaa031, https://doi.org/10.1093/arclin/acaa031


Salinas, C. M., *Dean, P., LoGalbo, A., Dougherty, M., Field, M., & Webbe, F. M. (2016). Attention Deficit Hyperactivity Disorder Status and Baseline Neurocognitive Performance in High School Athletes. Applied Neuropsychology: Child, 5 (4), 264-272, https://org/10.1080/21622965.2015.1052814


LoGalbo, A., Salinas, C. M., Dougherty, M., & Field, M. (2014). Developing an Interdisciplinary Concussion Management Program. In A. Niranjan & L. D. Lunsford (Eds.). Concussion, Progress in Neurological Surgery.


Professional Affiliations
American Psychological Association, Member; Division 40 (Society for Clinical Neuropsychology), Member
National Academy of Neuropsychology, Member
International Neuropsychology Society, Member
American Academy of Clinical Neuropsychology, Member