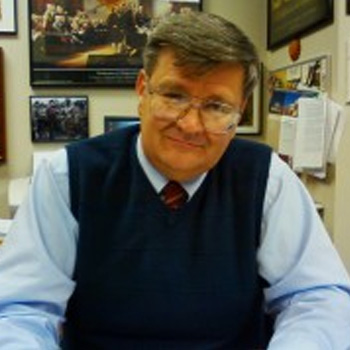 Robert A. Taylor
Dean | College of Psychology and Liberal Arts
Professor and Head | School of Arts and Communication
Contact Information
Personal Overview
Dr. Taylor is a past member of the Board of Directors of the Florida Humanities Council
He is also President Emeritus of the Florida Historical Society, has served on the advisory board member for H-Florida, and serves as a board official in the Selective Service System. He resides in Malabar with his wife Virginia and a house full of pets.
Educational Background
B.A. University of South Florida 1983
M.A. University of South Florida 1985
Ph.D. Florida State University 1991
Professional Experience
Dr. Taylor is the current Dean of the College of Psychology and Liberal Arts and Head, School of Arts and Communication. He has taught at Indian River State College, University of Saint Francis, Florida Atlantic University, Florida State University and the University of South Alabama.
Current Courses
HUM 3331 American History: Pre-Columbian to the Civil War
HUM 3333 American Military History
HUM 3385 Special Topics in History: The American Civil War
HUM 3385 Special Topics in History: The History of the Space Age
HUM 3385 Special Topics in History: The History of Florida
HUM 3385 Special Topics in History: The American South
HUM 3385 Special Topics in History: The American Presidency
HUM 3385 Special Topics in History: The Age of Jefferson and Jackson
HUM 3385 Speical Topics in History: Workd War II in History and Film Europe
(Taught as part of the summer Oxford program)
Selected Publications
(co-editor) The Governors of Florida. University Press of Florida, 2020.
"Florida Goes to War." Florida Humanities Council Forum. Vol. 43, No. 1 (2010), 5-9

"Cat on a Cold Steel Dive Plane."
Naval History. Vol. 24, No. 1 (2010), 40-43

(contributor) 2008.
Women in the American Civil War.
Lisa T. Frank ed. 2 vols. ABC-CLIO

(co-editor) 2006. This War So Horrible: The Civil War Diary of Hiram Smith Williams, 40th Alabama Confederate Pioneer. Paperback edition, University of Alabama Press.

2005. Florida: An Illustated History
Hippocrene Press.

(co-author) 2001. Florida In The Civil War (Civil War History Series). Arcadia Press.

(co-editor) 2000. This Cruel War: The Civil War Letters of Grand and Malinda Taylor. Mercer University Press.
Recognition & Awards
Kerry Bruce Clark Award for Excellence in Teaching, 2003-2004
Florida Tech Alumni Association Award, 2009
U.S. Army Combat Studies Institute, Military History Instructor Course, Command and General Staff College, Fort Leavenworth, 2013
Faculty member, "March To Victory: D-Day to Eagle's Nest" World War II European Tour, 2014
(co-winner) Florida Book Awards Gold Medal for Non-Fiction, 2020
U.S. Army Cadet Command DePuy Award for ROTC Support, 2022
Research
Experience of common soldiers in the Union and Confederate armies during the Civil War


Evolution of American military leadership during the early 19th century


The impact of the Civil War and World War II in the state of Florida


The role of Navy "frogmen" in the D-Day invasion.


The political career of Governor Dan McCarty


John F. Kennedy and Florida
Research & Project Interests
Dr. Taylor's research focuses on 19th- and 20th-century America, the American South, Florida history, U.S. military history, the history of the space age, and 20th-century Europe.