Jobs And Careers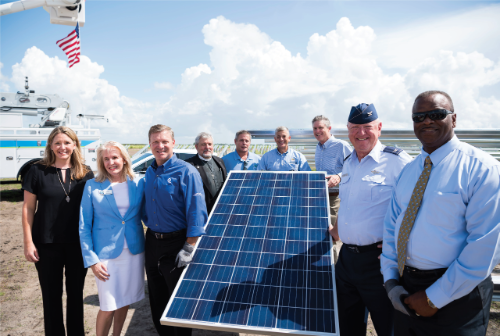 What is the market for sustainability jobs?
Renewable energy business sectors and those with associated sustainability initiatives are among the fastest growing segments of the U.S. economy (Energy Information Administration, 2019; Bureau of Labor Statistics, 2020).
Just in southeast Florida, new coastal city and county Sustainability/Resilience positions have been hired in over 25 cites and counties. Some examples include: Office of Sustainability, City of West Palm Beach; Office of Resilience, Miami Dade County; Department of Sustainability, Monroe County - The Florida Keys.
Hundreds of diverse sustainability jobs across many business and government sectors from over 40 SUS/RES/ENS job websites, are on this outstanding resource: Job Resources, maintained by the College of Global Futures, ASU. Another excellent resource is Why Green Is Your Color: A Woman's Guide to a Sustainable Career by the U.S. Dept. of Labor.
In one of the largest studies on CEO opinions of sustainability (UN Global Compact and Accenture, 2010), >750 CEOs were surveyed across many countries. The summary included the following findings:
93% of CEOs believe that sustainability issues will be critical to the future success of their business.
91% of CEOs report that their company will employ new technologies to address sustainability issues over the next five years.
88% of CEOs believe they should integrate sustainability into supply chains.
96% of CEOs believe that sustainability issues should be fully integrated into the strategy and operations of a company (72% in 2007).
Why types of jobs are there in sustainability?
Sustainability professionals use interdisciplinary training to create and manage complex systems within a wide array of job markets. Examples involving Florida Tech Sustainability graduates and emerging job growth activities are in Sense and Sustainability. Many new position titles reflect these new fields in sustainability, examples include: Sustainability Director or Corporate Social Responsibility Manager or Resilience Officer.
Orange County, Florida, including Orlando, recently created the office of Chief Sustainability and Resilience Officer to work with the City of Orlando's large Office of Sustainability. Job search engines now pull up many positions across diverse disciplines and work sectors, with specialties from corporate Sustainability Offices to engineering to environmental science consulting firms, to nonprofit organizations, in addition to many other businesses and government agency positions (city, state, national). A STEM-based sustainability degree is also valuable for diverse graduate school programs in science, business, and engineering that can advance training and career placement in many career paths.
What other job search resources are available?
Additional websites for jobs and careers include:
Additional information includes:
Forbes List of Six-Figure Green Jobs
Chief Sustainability Officer (Chief Environmental Officer/ Chief Green Officer)
Environmental Lawyer
Environmental Engineer
Climatologist/Environmental Meteorologist
Renewable Energy Manager
Environmental Specialist/Scientist
Senior Urban Planner
Commercial/Industrial Designer
Conservation Scientist
Senior Hydrologist
These broad sectors are often named in sustainability job listings:
Energy efficiency design and engineering
Climate adaptation
Energy efficiency financing
Renewable and fossil fuel energy engineering
Risk management
Social and environmental accounting
Coastal management
Carbon markets and trading
Greenhouse gas inventories