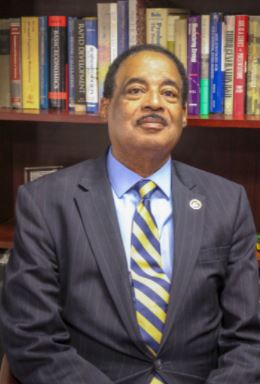 Theodore Richardson
Dean | Nathan M. Bisk College of Business
Contact Information
Personal Overview
Dr. Theodore "Ted" Richardson III is Dean and Professor of the Nathan M. Bisk College of Business at Florida Institute of Technology with governance over main campus undergraduate / graduate programs, Education Centers, and Online programs, and manages the Associate Dean of Academics for main campus, Associate Dean of Online programs and Education Centers, the COB governs We Venture (Women's Business Center), Center for Ethics and Leadership, and Center for Innovation Management and Business Analytics. and the DBA program chair. The Bisk COB is comprised of 2,639 students matriculated in undergraduate, graduate and Doctoral education, with 34 full-time faculty, 140 adjuncts, and 7 staff. Dr. Richardson serves in multiple senior level university committees and is the dissertation chair for 5 DBA students.
Prior to Florida Institute of Technology, Dr. Richardson was Associate Dean of External Affairs of the Ronald L. Bittner School of Business at St. John Fisher College. As a direct hire of President Katherine E. Keough Ed.D, Dr. Richardson was appointed to the institutions senior staff which was the main administrative governance body of the college. During his tenure at the college he has been responsible for marketing and branding the newly AACSB accredited business school and creating new programs that generated over $3 million in revenue in an institution totaling $57 million. As a member of the Middle States Accreditation team, Dr. Richardson was recognized for serving on the Steering Committee for the St. John Fisher College accreditation, the Doctoral proposal committee for the Ed.D in Executive Leadership, and the Early College Model Program led by Dr. Arthur Walton Dean of the School of Education. Dr. Richardson's published dissertation is on Competitive Advantage: "The Effect of Market Competition on the Formation of Strategy in Small Business School Higher Education". As a part of community outreach, Dr. Richardson has served as co-chair of the Rochester Business Ethics Awards Competition; subcommittee member of Mayor Robert Duffy's transition teams on economics and volunteerism and has been a key representative of the Bittner business school for local media appearances. He has served as Board member of Hillside Children's Center, and the Rochester Area Hospital Consortium Partnership for Greater Quality in Healthcare.
Prior to his tenure at St. John Fisher College, Dr. Richardson was a senior manager at Xerox Corporation with responsibilities in division level marketing, customer service, and engineering. His highest level of responsibility was managing the Production Systems Group Service Strategy which was a $2.3 billion business. He also managed groups delivering technical customer support, marketing, and systems diagnostics with a total of 96 direct reports and an expense budget of $15 million. He has received the Presidents Award in the Production Business Unit and has been recognized for significant contributions in developing the first Software Customer Support Centers at Xerox.
He has also held positions at Kenner Products, and Eastman Kodak Company.
Dr. Richardson graduated from the University of Pittsburgh as a Mechanical Engineer in 1972, received a Masters of Business Administration degree from Rochester Institute of Technology in 1999, and completed a Ed.D. in Higher Education Management from the University of Pennsylvania in March 2006.
Research
Research & Project Interests