The Honor Society Of Phi Kappa Phi
We achieved the Circle of Excellence Gold Award for 2022-2023!
Congratulations! The Circle of Excellence Award Program recognizes chapters for their work in promoting excellence at their institutions and engaging the community of scholars each year. This accomplishment was only made possible due to the efforts of dedicated chapter officers! We are extremely grateful for all of those on our team.

The Climate Reality Project and Phi Kappa Phi panel discussion on sustainability
The 2021 Phi Kappa Phi Fall Project, The Climate and Sustainability Panel was held on November 17. This was a very exciting panel discussion on the importance of sustainability and career opportunities within that realm. The panel featured Dr. Heike Naigur, Laura Betts, and Holly Lichtenfeld as well as members of the Florida Tech Chapter of PKP.
Become a student vice president
Congratulations on becoming a member of the Florida Tech Chapter of Phi Kappa Phi!
Our chapter's goal is to engage our members by executing fun and exciting (though potentially still virtual) events. We are looking for team players who want to share this experience with us by volunteering with our Executive Committee. This will help you connect with a variety of academic disciplines at Florida Tech and gain valuable leadership skills.
The primary role of the Student Vice President (SVP) is to increase the visibility of the Phi Kappa Phi chapter on campus. Some duties include:
Participating in chapter meetings (2-3 times a semester);

Providing student input to the executive committee;

Coordinating the Fall Service Project
If you will be around for at least the fall 2023 semester and are interested in becoming a Student Vice President please email pkp@fit.edu expressing your interest and include a few sentences on why you think you would make a great SVP!
And make sure to follow us on social media!
As always, if you have any questions about Phi Kappa Phi membership or opportunities please feel free to reach out to me directly or the Executive Committee at pkp@fit.edu.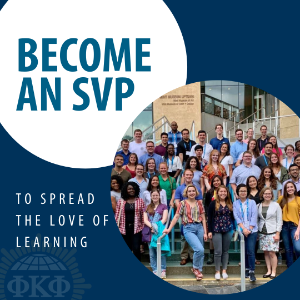 Congratulations new 2021 Phi Kappa Phi Members
The 2021 Phi Kappa Phi Initiation Ceremony was held in April 2021. Due to COVID-19 we opted for another virtual ceremony. We are proud of all of our members and would like to congratulate each of them. Congratulations!
Congratulations Natalie Holliday - A PKP Scholar Award Winner
We whole heartidly congratulate Natalie Holliday for being selected as a Phi Kappa Phi Scholar. Natalie is a graduate student in the College of Engineering and Science working on her M.S. in Ocean Engineering with an expected graduation of May 2021. She is starting a M.S. in Systems Engineering this summer. Her undergraduate degree was a B.S. in Ocean Engineering. Natalie has worked on research in a large on-going project with flagellation testing of composite finger skirts for surface effect ship applications. She has also performed other research in pressure testing of newly developed fiber optic cables at various ocean depths and research for the U.S. Navy.
Yasmine Sobhi announced as new Student Vice President
Yasmine is currently a senior at Florida Tech, completing a B.S. in biomedical sciences as well as a B.S. in genomics and molecular biology. While on campus you can find her working on research in the Florida Tech paleoecology lab, the genetics lab, as well as the Alzheimer's research lab. In her spare time, you can often find Yasmine volunteering at Holmes Regional Medical Center, Stone Middle School, as well as helping feed people at Daily Bread, a local soup kitchen. We are proud to have her as a student vice president in our chapter. Yasmine is a perfect addition to our stellar team. Go Yasmine!
Food for Thought
Food for Thought was a virtual event put on by the Florida Tech chapter of Phi Kappa Phi where we learned the science behind some basic cooking methods and how to apply them to help you cook everyday food in better, tastier ways.
During Food for Thought Angelica Zamora-Duran taught us via Zoom how to cook a delicious red sauce with pasta as well as two versions Brussel sprouts, one being roasted in the oven, and another on the stovetop. During this time she taught us all the science behind the process. Having several of us cooking along with her provided great camaraderie and a lot of fun. Thank you, Angelica!
Dr. Michael J. Finnegan is featured on the Phi Kappa Phi Forum
Dr. Finnegan from the School of Arts and Communication, has published a personal essay in the Winter 2020 issue of Forum entitled "Kenny and Ernest: How Hemmingway helped me understand the pain of my late uncle, who died in World War II."
Phi Kappa Phi's Trivia Night was a resounding success
Our first ever Phi Kappa Phi Trivia Night, held on October 8th, 2020, raised over $500 for The Children's Hunger Project. Angelica Zamora-Duranand presided over a very fun night of trivia. We would like to thank everyone who attended for helping with our Fall service project. The proceeds raised will help feed public school children in Brevard County.
Kelly van Woesik announced as a new Student Vice President
Kelly van Woesik joins Caglar Erdogan and Angelica Zamora-Duran as a new Student Vice President. Kelly is a senior at Florida Tech working towards a B.Sc. in Biomathematics. Welcome, Kelly!
The 2020 Phi Kappa Phi initiation ceremony goes virtual
Due to the COVID-19 pandemic we held our 2020 initiation ceremony virtually through Zoom on April 22nd. Here is a link to a recording of the event As always, if you have any questions or concerns please feel free to reach out to me or pkp@fit.edu, and keep up with us on social media!.
Florida Tech PKP Chapter hosts Animal Talks!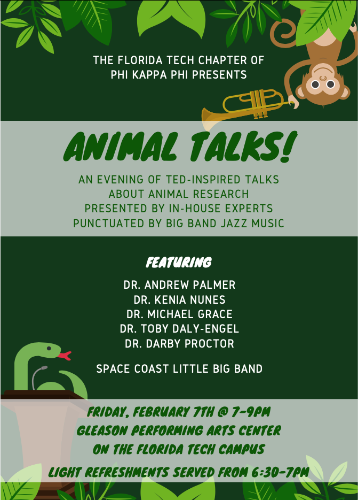 In celebration of Phi Kappa Phi Week, the Florida Tech chapter of PKP put on a TED-inspired presentation featuring dynamic professors presenting exciting 15-minute talks about their work with animals, punctuated by bombastic big band style jazz music, and hosted by a Master of Ceremonies. The event was held February 7, 2020 and was held at Gleason Auditorium on the campus of Florida Tech. You can watch a recording of the event.
Florida Tech PKP Chapter achieves Gold Status
The Honor Society of Phi Kappa Phi has recognized Florida Tech's chapter for achieving the Circle of Excellence Gold Status for 2019-20. The Circle of Excellence Award Program recognizes chapters for their work in promoting excellence on the local campus and engaging the community of scholars each year. This award comes with a $200 cash award and a letter from Executive Director Dr. Mary Todd. Congratulations everyone!
Congratulations to Caleigh Covell
We would like to congratulate Caleigh Covell on being awarded a Love of Learning Award for 2019. Love of Learning Awards help fund post-baccalaureate professional development for active Phi Kappa Phi members to include (but not be limited to): Graduate or professional studies, doctoral dissertations, continuing education, career development, travel related to teaching/research/learning, etc.
Florida Tech student selected to serve on the Board of Phi Kappa Phi
We would like to extend our most heartfelt congratulations to doctoral student and Phi Kappa Phi member, Angelica Zamora-Duran. Angelica has been selected to serve on the National Board of Phi Kappa Phi where she will represent the student's voice on the Council of Students and act as liaison between student members and representatives on the Society Board of Directors.
Angelica, our chapter vice president, is a PhD candidate in marine biology with a 4.0 GPA. She was also recently awarded the Florida Institute of Technology's 2018 Phi Kappa Phi Chapter Scholar. She is a skilled teaching assistant and epitomizes dedication to scholarship and service.
Mission
The mission of The Honor Society of Phi Kappa Phi is to recognize and promote academic excellence in all fields of higher education.
About Phi Kappa Phi
Founded in 1897 at the University of Maine, Phi Kappa Phi is the nation's oldest, largest, and most selective honor society for all academic disciplines. Its chapters are on more than 300 campuses in the United States, Puerto Rico, and the Philippines. Each year, approximately 30,000 members are initiated.
Since its founding, Phi Kappa Phi has initiated more than 1 million members into its ranks; all of these members have received emblems and certificates of membership. However, Phi Kappa Phi is much more than an emblem and a line on a résumé. It is a global network comprised of the best and brightest from all academic disciplines-a community of scholars and professionals building an enduring legacy for future generations.
Awards
No other honor society awards as much to as many as does Phi Kappa Phi. The Society has awarded approximately $12.7 million since the inception of its awards program in 1932. Today, more than $800,000 is awarded annually to qualifying members and non-members through PKP Fellowships, undergraduate Study Abroad Scholarships, Love of Learning Awards, Emerging Scholar Awards, member and chapter awards, and grants for local and national literacy initiatives. For more information about awards, please visit the PKP website at PhiKappaPhi.org.
In April of 2010, the Florida Tech Chapter awarded its first Scholars Award to Caroline Penteado, a junior majoring in mechanical engineering. The purpose of this $1,000.00 award is to recognize an outstanding new member of the Florida Tech Chapter of Phi Kappa Phi. Eligibility is limited to those who have accepted membership and joined the Society online by the annual deadline.
Florida Tech's PKP Chapter received a Chapter of Merit Award with an accompanying check at the annual awards banquet in Kansas City, Missouri, August, 2010. The purpose of this award is to recognize outstanding chapters that have been active, met certain criteria, and have filed complied with PKP documentation requirements in a timely manner.