The Kerry Bruce Clark Award For Excellence In Teaching Winners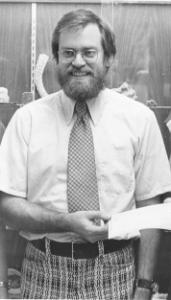 The Kerry Bruce Clark Award for Excellence in Teaching is named after Dr. Kerry Bruce Clark who served as a member of the Florida Tech biological sciences faculty from 1971 until his passing in 1999. Dr. Clark was largely responsible for developing the marine biology program at Florida Tech. As a full professor he was named a 1996 Fellow by the American Association for the Advancement of Science in honor of his research on mollusks, marine ecology, psychological ecology, and biodiversity. He was widely published in scientific journals and an inspiring educator.
This award, in which faculty are nominated by their supervisors and peers, was established in 1989. It honors excellence in teaching by evaluating the faculty's teaching dossiers on multiple criteria such as innovative teaching techniques, curriculum/course development activities, and training sessions conducted for students and/or peers.
Here is a list of Kerry Bruce Clark Award for Excellence in Teaching winners:

| Year Awarded | Faculty Member |
| --- | --- |
| 2019-2020 | Kastro Hamed |
| 2018-2019 | Joel Olson |
| 2017-2018 | Matthew Ruane |
| 2016-2017 | Nasri Nesnas |
| 2015-2016 | Julie Costopoulos |
| 2014-2015 | Albert Bleakley |
| 2013-2014 | David Fleming |
| 2012-2013 | Kurt Winkelmann |
| 2011-2012 | Razvan Rusovici |
| 2010-2011 | James Brenner |
| 2009-2010 | Kevin Johnson |
| 2008-2009 | Veton Kepuska |
| 2007-2008 | Lisa Perdigao |
| 2006-2007 | Georgios Anagnostopoulos |
| 2005-2006 | Monica Baloga |
| 2004-2005 | Richard Tankersley |
| 2003-2004 | Robert Taylor |
| 2002-2003 | Ralph Turningan |
| 2001-2002 | Muzaffar Shaikh |
| 2000-2001 | Cecilia Knoll |
| 1999-2000 | Alan Rosiene |
| 1997-1998 | Mark Bush |
| 1997-1998 | Iver Duedall |
| 1997-1998 | Robert Fronk |
| 1997-1998 | George Maul |
| 1997-1998 | Mark Moldwin |
| 1997-1998 | Hamid Rassoul |
| 1997-1998 | Gary Wells |
| 1997-1998 | John Windsor |
| 1997-1998 | Michael Witiw |
| 1996-1997 | John G. Morris |
| 1995-1996 | Jonathan Shenker |
| 1994-1995 | Yahya Sharaf-Eldeen |
| 1993-1994 | Robert Shearer |
| 1992-1993 | Kerry Clark |
| 1992-1993 | Benjamin Sawyer |
| 1991-1992 | Gordon Patterson |
| 1990-1991 | Hamid Rassoul |