Why the School of Arts and Communication?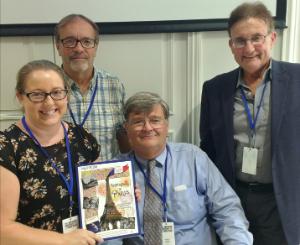 With a bachelor's degree in Humanities-Prelaw, Humanities, Multiplatform Journalism, or Strategic Communication your experience is limited only by your imagination! What do you dare to dream? Not only will you study topics as diverse as communication theories, Greek philosophy, logic, marketing, public relations, multi-media, creative writing and graphic design, you will have incredible advantages only available at a private university like Florida Tech. Students worked one-on-one with President Obama's Press Corps, toured the backstage of a theatrical performance and interviewed astronauts orbiting the earth on the International Space Station.
What can I do with my degree?
A degree in Humanities will provide you with the skills and knowledge to form compelling arguments, a vast understanding of human history and the shared human experience. The skills you gain are applicable in any workplace. You will be able to confidently present new ideas to your peers and supervisors and effectively communicate with people around the globe. Your degree will also leave you with an appreciation of the finer points in literature, art, languages and philosophy.
A degree in Humanities-Prelaw will give you all the tools and skills that you will need to prepare yourself for law school. Students study history, literature, philosophy, political science, law, and logic. Graduates from the School of Arts & Communication have been accepted to Harvard, William & Mary, Virginia Tech, Vanderbilt and Stetson Law Schools. You will be armed with an understanding of the U.S. constitution, international law and politics, and an appreciation for speech, communication and ethics.
A degree in Multiplatform Journalism will prepare you for the diverse range of media available today. Study the rapidly changing communication industry by combining journalism and communication technology. Students will be well versed in the world of news, marketing, social media, public relations, multi-media development, broadcasting, and website communication.
A degree in Strategic Communication provides students with a wide array of skills that prepare them for a variety of roles in the communication field. In this degree, students study public relations, marketing, publishing, media, and intercultural communication. A strategic communication degree also provides research, analysis, and critical thinking in communication theories and strategies.
The School of Arts & Communication offers minors in Music, Prelaw, Literature, History and Philosophy. Choosing a minor not related to your degree of study expands your educational experience and broadens life-long opportunities.
Ten Reasons to Study in the School of Arts and Communication
World class faculty with international reputations as scholars and teachers
Small class sizes and supportive staff
Chances to work with faculty to produce original scholarship
Study a wide variety of topics in Humanities and Communication
Opportunities to learn modern critical languages like Chinese, Japanese, and Russian
Sharpening your skills as a reader, writer, and critical thinker.
Getting to participate in challenging internship opportunities in the private sector.
Being a part of the exciting Music program
Chances to enhance academic majors with minors in History, Literature, Philosophy, Communication and Music.
Take advantage of Study Abroad programs in Europe and Asia