Intercollegiate Competitions
Developing Future Leaders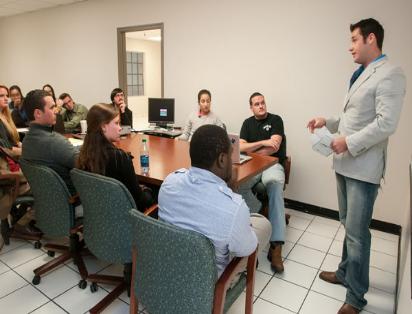 Students are provided an opportunity to compete in intercollegiate competitions in areas such as strategic management, international business, ethics and leadership, and innovation and entrepreneurship.
Some past examples include:
America's National Gas Alliance (ANGA) Collegiate Energy Challenge in which our MBA student-led team placed second and was awarded a grant from Edventure Partners.
Business Hackathon, sponsored by Cisco Systems and Thrupoint, challenging students from business, engineering, computer science, life sciences, and psychology to work in a team innovating solutions to complex business, energy, healthcare, and technology problems.
Chevrolet Campus Promotions Program whereby students created an in-class working marketing agency, Panther Promotions, responsible for research, implementation, and evaluation of an integrated marketing campaign.
Florida Venture Forum Statewide Collegiate Business Plan Competition has student entrepreneurs from Florida universities and colleges present to a panel of judges with the winning student later presenting at an Early Stage Conference before actual investors, venture capitalists and other professionals.
Honda CR-Z Media Challenge in which students were challenged to develop and execute a six-week public relations campaign for the Honda sport hybrid coupe. The student team was rated among the top ten teams in the nation.
Intercollegiate Case Competition in Strategic Management whereby in 2012 Florida Tech had the winning team in competing against other Florida colleges and universities.
International Assembly for Collegiate Business Education (IACBE) Student Case Study Competition, which provides students an opportunity to showcase their ability to analyze a case focusing on business ethics.
International Business Case Competition whereby students from different universities and business functional areas form teams to compete in this event.