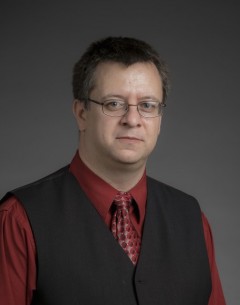 Csaba Palotai
Associate Professor | Aerospace, Physics and Space Sciences
Program Chair | Aerospace, Physics and Space Sciences
Contact Information
Personal Overview
My current research focuses on numerical modeling of planetary atmospheres. I am interested in the atmospheric dynamics and cloud physics of the giant planets in our Solar System and study how they compare to their exoplanetary counterparts. I also investigate various phenomena related to terrestrial and jovian comet and asteroid impacts. These studies provide insights into the processes that played crucial roles in the formation and evolution of the Solar System.
Educational Background
Ph.D. Mechanical Engineering, University of Louisville, 2006.
M.S. Mechanical Engineering, Technical University of Budapest, Hungary, 2001.
Professional Experience
2018 – present, Associate Professor, Florida Institute of Technology
2015 – 2018, Assistant Professor, Florida Institute of Technology
2011 – 2015, Associate Scientist of Planetary Sciences, University of Central Florida
2006 – 2011, Assistant Scientist of Planetary Sciences, University of Central Florida
2002 – 2006, Graduate Research Assistant, University of Louisville
Current Courses
PHY 1001 Physics 1 - Mechanics
SPS 4030 Physics of the Atmosphere
SPS 1020 Introduction to Space Sciences
SPS 4045 Physics and Chemistry of Planet Formation
Research
Comparative planetology
Numerical modeling of terrestrial and jovian airbursts
Planetary and exoplanetary atmospheric dynamics and physics
Meteor and bolide observations