Arriving At Florida Tech
Arriving at Florida Tech and getting familiar with the area is extremely important. Knowing your way around the campus and community makes transitioning into college easier! Florida Tech offers a number of ways you and your family can experience the beautiful campus and welcoming community.
Orientation Check-in Checklist
What to have completed
Please make sure to complete the following items via the Admitted Student Portal before arriving to check-in
Health Information Form/Vaccine History
What to Bring
Form of Identification (driver's license, passport, etc.)
Your Student 900 Number
Yourself!
How to get there
There are multiple ways to get to campus, but only a few ways to enter the drive-thru check-in process.
Please enter through either Country Club Rd. or University Blvd. Do not enter eastbound from University Blvd. Security will be present to help facilitate traffic.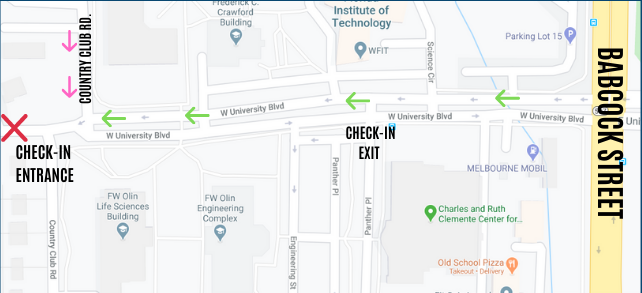 Exploring Melbourne
Explore the community and what it has to offer by following the link below! Keep tabs on major store locations, emergency locations, and transportation options offered in the Melbourne area.