What We Do
Our three pillars are focused on creating a culture where women thrive! Through a network of female faculty, we have ongoing efforts, events and support designed to engage more women in Florida Tech's growing family, enrich the lives of current female faculty, and provide support for the advancement of women's careers at Florida Tech.
Female Faculty Highlight
One of our goals is to increase the visibility of the great work that Florida Tech female faculty are doing. Read about one of our outstanding female faculty members in the below quarterly female faculty highlight.
Dr. Kelli Hunsucker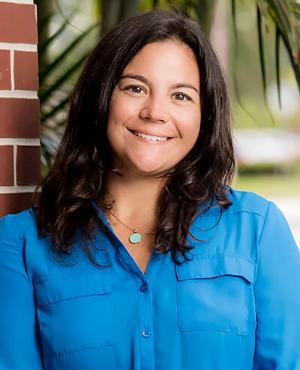 Dr. Kelli Hunsucker's research focuses on biofouling organisms and their settlement on anthropogenic structures. She is currently funded by the Office of Naval Research to study different ship hull coatings and the ability of these coatings in preventing the accumulation of biofouling. In collaboration with US Navy Labs and global industry partners, she works to test the efficacy of other biofouling prevention systems, such as aeration and ultraviolet light. Dr. Hunsucker is part of a team which is studying the impact of grooming, or the frequent gentle wiping of a ship hull, to prevent fouling. This is done by way of a remotely operated vehicle (ROV) which pushes a grooming tool over the ship hull. Long-term grooming has proven effective at stopping the establishment of macrofouling organisms on numerous types of ship hull coatings. Dr. Hunsucker is specifically interested in studying the interaction between the grooming tools and biofouling organisms, both at the microbial and macro-levels. In addition, Dr. Hunsucker studies how biofilm (microbial fouling) community structure is altered due to different hydrodynamic conditions.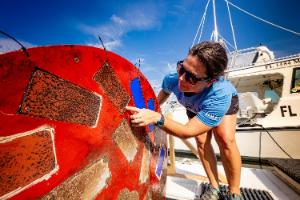 Dr. Hunsucker is also interested in ecological engineering, or using ecology and engineering to improve local ecosystems. She works to promote the growth of benthic organisms (think oysters, sea squirts, sponges), as a mode of water filtration. Adult oysters can filter up to 50 gallons of water per day, with sea squirts filtering roughly 24 gallons per day. She helps to create Living Docks, which through citizen science involvement, deploys oyster mats on docks with the goal of restoring the water quality. Dr. Hunsucker is also investigating alternatives to plastic in local oyster restoration efforts.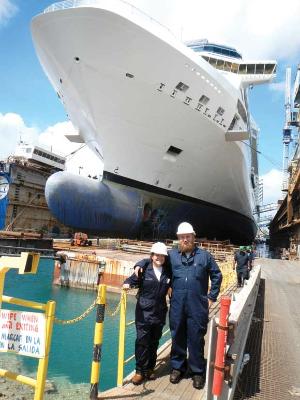 Dr. Hunsucker is heavily involved in community-based marine education and outreach, with an emphasis on the local Indian River Lagoon. She is part of a team of faculty and students that visit local schools with the Lagoon Science Bus, implementing lessons on marine engineering and science.
Want to learn more? Check Out Dr. Hunsucker's…