Florida Tech Women's Council
The mission of the Florida Tech Women's Council is to develop systemic approaches to support and advance women at Florida Tech. We are committed to promoting an inclusive culture at Florida Tech where women thrive.
Our Goal: Engage – Enrich – Elevate
Engage: Attract female talent to Florida Tech
Enrich: Cultivate the women at Florida Tech
Elevate: Support women in progressing their career at Florida Tech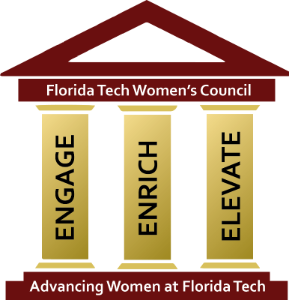 Florida Tech is a Presidential Sponsor and affiliate of ACE Women's Network of Florida. ACE supports more than 40 state networks with the goal of advancing women in leadership positions in higher education. ACE's ideals are to identify, develop, encourage, advance, link, and support women in higher education through institutional programs and conferences. Being part of this organization provides access to resources and networking for leadership development for Florida Tech's female faculty and staff.