Predeparture Information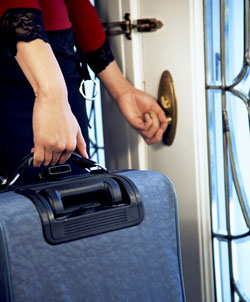 Congratulations on your acceptance to Florida Tech and welcome! Our staff at the Office of International Student and Scholar Services will be serving as your advocates while you are with us, advising you on all immigration matters, and we look forward to helping you through all phases of your academic career. With over 1000 international students representing over 100 countries worldwide, you will find Florida Tech a rich and diverse community with a broad variety of cultural programming and activities available to you.
Entering the Country
Students will be admitted to the United States with a valid passport and a valid U.S. entry visa stamped in the passport by the U.S. Consulate, on the basis of a valid I-20 or DS-2019 and proof of sufficient funds. Please review the US Customs and Border Patrol page for information concerning information you need to know before you enter the US; this information includes Money and Other Monetary Instruments , Prohibited & Restricted Items and COVID-19 Updates.
What to Do Once You Arrive On Campus
Students living on campus will not be allowed to check-in to residence halls until the arrival date listed on your I-20. If you have made arrangements to live off campus, in an apartment or with a friend, you may arrive earlier, but there WILL NOT be a university representative available to meet you. For emergencies, call Florida Tech Security at (321) 674-8111. The Security Staff will try to assist you.
There will be MANDATORY ORIENTATION for international students after you arrive on campus, which will provide very important information you need to know such as academic advising, public transportation, security and safety, adjustment to American life and your responsibilities as an international student. During ISSS orientation, we will also check you in and notify immigration of your arrival at Florida Tech. Failure to attend may therefore jeopardize your immigration status in the United States.
Please visit our ISSS orientation webpage for full details of when to arrive, what documents to bring , and for a detailed orientation schedule.
What to Bring
Florida's climate is warm and humid. The average temperature in January ranges from 35º Fahrenheit (1.67C) to 80º Fahrenheit (26.7C), and the average temperature in July ranges from 70º Fahrenheit (21.1C) to 95º Fahrenheit (35C). It will sometimes get colder in the winter and much hotter in the summer. A medium-weight overcoat should keep you very warm in the winter, except on very cold days when you might also need a sweater. Plan to bring gloves, a raincoat and an umbrella because the average rainfall in Melbourne is 40 inches (1,016 mm) per year. Class dress is informal.
If you take prescription medicine or wear glasses, bring a copy of your prescription along with you. Also bring copies of any medical records that are important, especially IMMUNIZATION records. All students are required to show proof of adequate immunization against childhood diseases of measles, mumps and rubella. If you do not have proof of adequate immunization against these diseases, you will be required to obtain the immunization here before you are permitted to register for classes. If you are married and joined by your family, also bring their immunization records.
Health Insurance
As there is no socialized or national system of health care in the United States and medical treatment is expensive, ALL international students are required to maintain full health insurance coverage throughout their course of study. Student health insurance is automatically billed to your student account each semester as a part of your tuition and fees, which means, you WILL be covered through Florida Tech's student health insurance plan.
Complete information concerning the Student Health Insurance Program can be found on the Student Financial Services page.
Getting to Melbourne, Florida
Routing your flight to Melbourne International Airport (MLB) is desired. Florida Tech is 10 minutes from the airport by car, and taxi cabs are available at the airport. If you arrive at the Orlando International Airport (MCO), Florida Tech has made arrangements for a one-time courtesy shuttle service for each first-time international student from Orlando Airport to Florida Tech. Please read thoroughly through all of the information on the Airport Pickup webpage. If you arrive at Miami International Airport (MIA), you will be approximately three hours south of Melbourne by car. Transportation to Melbourne is available via commuter flight, Greyhound bus or rental car. You may also arrange for a friend to pick you up in Miami and drive you to Melbourne.
If you should need to stay overnight in a hotel in Melbourne, we suggest you ask to go to one of the following hotels:
Close to campus/Melbourne airport:
Residence Inn by Marriott
1430 S Babcock St
Melbourne, FL 32901
(321) 723-5740
Courtyard by Marriott
2101 W New Haven Ave
Melbourne, FL 32904
(321) 724-6400
Extended Stay Deluxe
1701 Evans Rd
Melbourne, FL 32904
(321) 723-5740
The Fairfield Inn & Suites by Marriott
4355 W New Haven Ave
Melbourne, FL 32904
(321) 722-2220
Hilton Rialto
200 Rialto Pl
Melbourne, FL 32901
(321) 768-0200
Oceanfront Hotels:
Doubletree Suites by Hilton
1665 N Hwy A1A
Melbourne, FL 32903
(321) 723-4222
Hilton Melbourne Beach Oceanfront
3003 N Hwy A1A
Melbourne, FL 32903
(321) 777-5000
Crowne Plaza Melbourne
2605 N Hwy A1A
Melbourne, FL 32903
(321) 777-4100
Bed and Breakfast Inns (10 minutes from Florida Tech):
Windemere Inn by the Sea
815 S. Miramar Avenue
Indialantic, FL 32903
(321) 728-9334
Port d'Hiver Bed and Breakfast
201 Oceanfront Avenue
Melbourne Beach, FL 32957
(321) 722-2727
Where Will You Live in Melbourne?
If you have completed a housing contract, your room will be waiting for you, provided you arrive on the mandatory report date indicated on your I-20 or DS-2019. To pick up the key for your room, you should report to the Office of Campus Services, located on the first floor of the Harris Commons Building, generally open between 8:00 AM and 5:00 PM, Monday through Friday.
If you choose to live off-campus, there are several apartment complexes within walking distance of Florida Tech. In addition to the cost of monthly rent, you will need to plan to pay deposits for security (usually the same as one month's rent), approximately $240 for electric service, $80 for a telephone deposit and $120 for water service. We suggest the following Web sites to help locate an apartment prior to your arrival:
CORT provides furniture rental packages and housing information for students living off-campus. Most apartments in the U.S. are not furnished. CORT offers furniture rental with additional packages for cookware, towels and linens, a TV, and more.
What if I arrive after business hours and I will be living on campus?
You should make every effort to arrive on campus during normal business hours* (Monday – Friday, 8:00am – 5:00pm) so the university can provide the best possible service for your arrival. However, if you cannot avoid it, and arrive after business hours or on the weekend, you should report to the Florida Tech Security Office, and they will accommodate you with a temporary room assignment. You may also attempt to make arrangements with the Florida Tech Housing department by emailing them in advance at housing@fit.edu. Early arrivals may incur a daily early arrival fee.
*It is important to check the campus calendar for Florida Tech holiday closures.
Upon your arrival to campus, the best drop-off location is the Security Welcome Center. If you require assistance after hours, you may contact the Security office at (321) 674-8111. If you do not have a phone available, you may use a yellow security phone located on campus, or contact a Florida Tech Security officer on a red golf cart.
If your luggage is delayed, you may instruct the airline that your late luggage should be directed to the Harris Commons Building lobby desk located at 3011 South Babcock Street, Melbourne, Florida 32901 (telephone number (321) 674-7609. They should plan to deliver any late luggage Monday through Friday between 8 A.M. and 5 P.M. U.S. Eastern Time.
We hope this information is helpful as you prepare to depart from your home country.