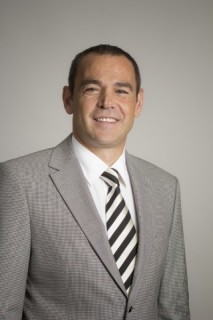 R. Tolga Turgut
Assistant Professor | College of Aeronautics
Contact Information
Personal Overview
Aviation Professionalism
Network Planning and Growth in Aviation
Aviation Investment Opportunity Identification (Public Private Partnership projects)
Air Service Development (Route Development)
Airport & Airline Traffic Forecasts
Airport Airside & Landside Revenue Growth
Strategic Planning & Execution
Financial Management
Airport- Airline Negotiation & Contracting
Commercial & Marketing Strategies
Market Research & Analysis
Aviation Retail Management
Multicultural International Networking
Project Management
Educational Background
Ph.D., Florida Institute of Technology,
Master's of Business Administration, Florida Institute of Technology,

BS. in Aviation Management, Florida Institute of Technology,
AA. in Tourism Business Administration, Bospohorus University, Istanbul
Professional Experience
Teaching and Advising Actively
As an Assistant Professor in the College of Aeronautics I primarily teach two lower division (undergraduate senior standing level) and two upper division (graduate level) courses directly related to my professional background and education. These include: Air Transportation Management (undergraduate ground; required in major), Aviation Business Simulation (undergraduate ground; QEP course; required in major), Airline Management (graduate online; required in major and self-developed), and Research Practicum (graduate ground; required in major). I have also developed and taught AVM 4501 Air Transportation Management and AVM 4502 Aviation Business Simulation online versions for BISK. Moreover, I have been teaching consecutively Air Transportation Management and Aviation Business Simulation courses on ground for the University of Technology Panama (UTP), Panama City, Panama for over nine years.
In addition to my undergraduate and graduate level teaching activities I have been consecutively advising for 20-38 undergraduate students per semester for over eight years. I'm proud to underscore that none of my advisees had to extend their studies due to an error of academic advising.
Scholarly Activities*
Throughout my tenure at Florida Tech I have developed three new courses and substantively revised two existing courses. I played an "advisory/consultancy" role in the preparation of the last self-study report for academic accreditation submitted by the COA to the Aviation Accreditation Board International (AABI). This report outlined how the COAs programs are assessed relative to program-learning outcomes (PLOs), student-learning outcomes (SLOs), measures and targets, in support of continuous program improvement.
I served as COA Chair of Assessment & Institutional Compliance Committee, APAC (Academic Programs Assessment Committee) member, assessment coordinator for graduate programs and COA accreditation officer between 2019 and 2022. I successfully led the COA internal activities in preparing assessment plans and getting APAC approval within only a few months for five Associate degrees and two undergraduate Certificate programs.
Highlights of my scholarly activities include 1 refereed journal publication, 6 industrial article contributions in respected aviation subscriptions via interviews and many aviation columns I have written as an industry expert weekly in the Turkish Newspaper Aksam between 2007 to 2013. When viewed collectively I always strive to maintain a balance among my professional writing, research and continuous improvement in classroom teaching.
I enjoy using the knowledge gained from my dissertation in my class room teachings and strive to contribute to production of most prepared aviation professionals to join the work force. I plan to do more research, publish more articles with respect to airline and airport management and resource allocation areas as soon as I complete my services to Florida Tech as Faculty Senate President and President Search Committee member.
Currently I'm serving as an outside committee member for a DBA student from College of Business (COB) at Florida Tech. I have been very recently approached by a COA PhD student and accepted to also serve as a committee member as of Spring 2023.
Weave Online Training (Weave) – 2021
Advanced Training Webinar for Zoom (Zoom) – 2021
Panopto Online Training (Florida Tech) – 2020
BISK Online Training Workshop (Florida Tech) – 2017
BISK Online Training Workshop (Florida Tech) – 2016
Simulate Aero Workshop (Omaha, Nebraska) – 2016
Professional Development as an Educator
Professional development as an educator may be used in reference to a wide variety of specialized training, formal education, or advanced professional learning intended to help faculty improve their professional knowledge, competence, skill, and effectiveness.
Recent pedagogical-specific professional development workshops include:
Workshops required by Florida Tech for all faculty include:
Active Shooter Response – 2021
Computer Security – 2021
Discrimination Free Workplace – 2021
Disinfecting the Workplace – 2021
Drug and Alcohol-Free Workplace – 2021
Emergency and Fire Preparedness – 2021
Fire Extinguisher Safety – 2021
Title IX Roles of Employees – 2021
Pandemics Slowing the Spread – 2021
Violence in the Workplace – 2021
Hazard Communication Overview – 2022
Sexual Harassment and Discrimination Prevention – 2022
Slips Trips and Falls Overview – 2022
I should also underscore the fact that I have benefited very much from the in-class observations conducted by my peers three times within the last five years. Their feedback and constructive comments have helped me improve more as an educator.
Service
Involved in service-related activities. These activities include broad and substantive participation in activities across the College and University, as well as the aviation industry. My activities with respect to service include but are not limited to:
Service on several committees at College and University Level
Demonstrated leadership within the academic unit, College, University in committee assignments
Service at Faculty Senate since 2019 as a COA senator
Currently serving as Faculty Senate President and chair of the Faculty Senate Executive Committee
Currently serving as a member of the President Search Committee as the only faculty member from the University
Served as the Undergraduate Program Chair between October 2019 to May 2020.
Promotion of FIT as a spokesperson on airline and airport management related topics in various media outlets
Development of Employment Programs for the College of Aeronautics students with airlines such as Southwest
Active contributor to Self-Study work for Aviation Accreditation Board International (AABI) accreditation before and during the teams site visits.
Served at APAC (Academic Programs and Assessment Committee) as a member representing the COA at the university level between 2019-2022. During that time, I have been an active contributor to most of the SACSCOC (Southern Association of Colleges and Schools Commission on Colleges) accreditation work conducted at the university level.
Professional Development in Discipline/Field
Prior to my current position as an Assistant Professor of Aviation Management at Florida Tech I held key management & consulting positions for international airports, airlines, aviation retail companies and travel agencies/tour operators for more many years. I mostly worked as the director of business development, marketing, network & route development for airports and aviation retail companies which focus on duty free concessions. Some of the airports I directly worked for were the following: Istanbul Ataturk Airport, Istanbul Sabiha Gokcen Airport, Ankara Esenboga Airport, Tiblisi Airport, Batumi Airport, and Izmir Adnan Menderes Airport. I have also consulted for airlines, airport conglomerates, and large infrastructure investment companies. I have significant experience in PPP (Public-Private-Partnership) projects for aviation infrastructure investments. Some of the companies I worked or consulted for included the following: TAV Airports Group (Partner of ADP group with more than 10 airports in their portfolio), Setur Touristic Services (owned by the Koc group which is a Fortune Global 500 company) HEAS (Istanbul Sabiha Gokcen Airport), Cukurova Holding, Genel Energy, Esas Holding, Mott McDonald Consulting Group, Limak Holding, Pegasus Airlines, ACT Cargo Airlines, Meinl Investment Group, and Save Group (Management of Venice Marco Polo Airport). I have over 19 years of global aviation and travel industries experience including management, consulting and company ownership experiences.
Professional certifications/memberships in the field include:
Private Pilot License – FAA
Airport Marketing & Airline Routes Development Certificate – Airport Strategy & Marketing, the UK
American Association of Airport Executives Member
National Professional Guiding Certificate (English & Italian) – Ministry of Culture & Tourism, Turkiye
In the roles listed above, I gained a comprehensive knowledge of business and management subject areas, including ethics, strategic management, operations, organizational behavior, human resource, airport operations, business development, intergovernmental relations, facilities management, planning, airport development, airline network planning, airline marketing and project management. Other aviation management areas of knowledge include budgeting and financial management, technology, route development and air service development.
Current Courses
AVM 4501 (Air Transportation Management)
AVM 4502 (Aviation Business Simulation, QEP course)
AVM 5107 (Airline Management)
AVS 6900 (Research Practicum)
Selected Publications
Gallo, M. A., Alhallaf, H., Baran, S., Cremer, I., Finn, C., Maharaj, I., Ozyurek, A. S., Peker, A. E., Reese, B., Tuncman, I., Turgut, R. T., & Uhuegho, K. O. (2015). Inadvertent VFR-into-IMC flights: A qualitative approach to describing GA pilots' first-hand experiences. Collegiate Aviation Review, 33(2), 27-52.
Turgut, R. T. (2019). Aviation Professionalism: Examining the concept of professionalism withinand between major subgroups of the industry. (Doctoral dissertation). Retrieved from https://repository.lib.fit.edu/bitstream/handle/11141/2873/TURGUT-DISSERTATION-2019.pdf?sequence=1&isAllowed=y
Industry Article Contributions:
Florida Institute of Technology. (2017, May). Floridatechonline. Retrieved from https://www.floridatechonline.com/blog/aviation-management/airline-standoff-will-determine-the-future-of-open-skies/
Hilario, K. (2016, January 1). How PHL Airport can achieve lift off. Philadelphia BusinessRetrieved from https://www.bizjournals.com/philadelphia/print-edition/2016/01/01/how-phl-airport-can-achieve-liftoff.html
Hilario, K. (2017, May 5). How PHL compares to Americas best airports. PhiladelphiaBusiness Journal. Retrieved from https://www.bizjournals.com/philadelphia/news/2017/05/04/how-phl-compares-to-americas-best-run-airports.html
McCann, A. (2019, May 2). Best Airlines. Wallethub. Retrieved from https://wallethub.com/edu/best-airlines/20916#expert=r-tolga-turgut
McCann, A. (2021, April 21). Best Airlines. Wallethub. Retrieved from https://wallethub.com/edu/best-airlines/20916#expert=R._Tolga_Turgut
Nguyen, T. (2019, October 22). Airlines don't usually hold connecting flights for delayed Passengers. That could be changing. Vox. Retrieved from https://www.vox.com/the-goods/2019/10/22/20927193/united-airlines-holding-connecting-flights
Recognition & Awards
Private Pilot License, Federal Aviation Administration
Airport Marketing & Airline Routes Development Certificate, Airport Strategy & Marketing, the UK
National Professional Guide, Turkish Ministry of Culture & Tourism, Turkey
American Association of Airport Executives Member