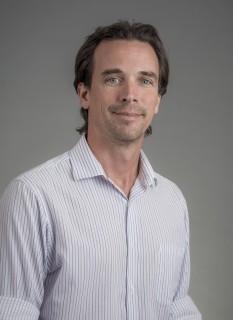 Robert Weaver
Assistant Professor | Ocean Engineering and Marine Sciences
Contact Information
Personal Overview
Dr. Weaver joined Florida Tech in August 2011 after working for three years as a post-doctoral research assistant at the University of North Carolina at Chapel Hill, Institute of Marine Sciences. While at UNC-CH IMS, he worked on coastal circulation projects including prediction of hurricane storm surge, tracking surface particles from the Deepwater Horizon Blowout, and 3D model development. From 2006-2008, he worked for URS Corps developing methodology for establishing flood levels for FEMA FIRM's. In 2007 he founded a non-profit corporation whose mission is to encourage environmentally sound engineering, business and development practices. His areas of research and expertise include coastal flooding, coastal transport, water quality, 2D and 3D circulation modeling, and littoral processes.
Educational Background
Ph.D. Coastal and Oceanographic Engineering, 2008, University of Florida, Dept. Civil and Coastal Engineering
M.S. Coastal and Oceanographic Engineering, 2004, University of Florida, Dept. Civil and Coastal Engineering
B.S. Mathematics (MINOR Physics), 1999, University of North Carolina at Greensboro
University Stuttgart, 1999
Professional Experience
Post-Doctorate Researcher, 2008-2011, University of North Carolina IMS
Research Intern, 2006-2008, URS Corps.
Additional Duties
Research in coastal circulation or nearshore hydrodynamics
Founder/CEO of Engineering for the Earth, a 501(c)(3) non-profit organization which promotes sustainable design, building and engineering practices (2007-present)
Current Courses
OCE 3030 Fluid Mechanics
OCE 3521 Hydromechanics / Wave Theory
OCE 4522 Coastal Processes & Shoreline Design
OCE 4563 Port & Harbor Design
OCE 5525 Coastal Processes & Engineering
OCE 5563 Port & Harbor Engineering
ENS 3911 / 4911 Environmental Field Projects
Selected Publications
Journal Special Editions
Coastal Water Quality: From Science to Solutions, Guest Editors: Weaver, R.J. and Hunsucker, K.Z., Marine Technology Society Journal 52 (4), 5-5, 2018
Marine Dredging Engineering: Environmental Dredging, Guest Editor: Weaver, R.J., Journal of Marine Science and Engineering , Deadline for manuscript submissions: 30 May 2019
Peer Reviewed
Peer Reviewed Proceedings
In-Submission
Taeb, P., Weaver, R.J., and Lazarus, S., (2019 in submission) "A seven-member ensemble, coastal hydrodynamic forecast tool and its application to the Indian River Lagoon system", ASCE Coastal Sediments Proceedings 19, Tampa/St. Pete, Florida

Provost, L.A., Nezamoddini-Kachouie, N., and Weaver, R.J. (2019 in submission) "Application of a Statistical Sediment Analysis Applied to Testing of a Variable Area Dredging Suction Head Designed for Fine Sediment Removal"
Grisanti, H., Provost, L., and Weaver, R. (2019 in revision). "Surgical Dredging for Fine Sediment Removal Through the Use of a Variable Intake Area Suction Head". Western Dredging Association, Journal of Dredging. Manuscript submitted for publication.
In-Prep
Weaver, R. J., Soucy, B., Stehno, A., Sager, A., Kenny, A. "A Laboratory Validation of a Parameterized Mangrove Model for Development of Forest Features to Cultivate an Understanding of Restoration Importance", 2019 in prep

Weaver, R. J. and Luettich, R. A. "Evaluating differences in modeled storm surge response between 2D and 3D constructs with focus on bottom stress and simulating the wave-enhanced layer", 2019 in prep.
Weaver, R. J. and D. N. Slinn. "Barrier Island Effects on Storm Surge at the Coast" , 2019 in prep
Invited Talks
Weaver, R. J., (2018), " Our Indian Rivewr Lagoon: Problem, Solutions and Timeline, Sea Oaks Community, Vero beach, FL
Weaver, R. J., (2014), "Circulation, Climate Change and Resilience", Lagoon Action Assembly, Florida Institute of Technology, May 2014
Weaver, R. J., (2014), "Indian River Lagoon Research Institute", IRLRI Congressional Briefing, January 21, 2014
Weaver, R. J., (2012), "Our Backyard Laboratory for Water Quality Solutions: The IRL, Lagoonal Circulation, and Engineering/Biological Solutions to Water Quality", Spacecoast Science Cafe, Fall 2012, Invited Oral Presentation/Discussion
Weaver, Lazarus, Splitt (2016), "Forecasting of Hurricane Matthew and for future storms", BOard of Trustees Meeintg , Florida Institute of Technology.
Recognition & Awards
AAUS Certified
NAUI DiveMaster Cert.
Sigma Pi Sigma, Pi Mu Epsilon
Research
3D hydrodynamics and development and validation of 3D capabilities in ADCIRC
Phytoremediation of eutrophic waters in coastal lagoons
Indian River Lagoon Experiment (IRLEX) 2012
Circulation modeling for IRL and coastal waters
Remediation of coastal lagoons
Sand bypassing solutions for hardened inlets
3D wave forcing for ADCIRC
3D surface mixing for circulation models
Managed system for flushing Banana River
Removal of fine grained sediments and Muck
Master of Science Theses:
Experimental and Numerical Analysis of the Drag Force on Surfboards with Different Shapes, O. Lahlou
Development, Testing, Analysis, and Efficiency of a Variable Area Dredge in Combination with a Mobile Ferrate-Based Treatment Facility, L.A.Provost
Controlled Intake Area Dredging for Fine Sediment Removal to Improve Water Quality in the Indian River Lagoon, H. Grisanti
Hydrodynamic Resistance of a Surfboard:an Analytical, Emperical and Statistical Ananylsis, A. Kledzik
A Physical and Computational Comparison of FLoating Breakwater Design Efficiencies for Habitat Restoration in the Indian River Lagoon, A. Stehno
A Physical and Computational Study of Semi-Hemispherical Artificial Reef Breakwater Designs to Optimize Efficiency for Use as Shoreline Protection, S. Baboolal
Impact of Constructing a Low Crested Weir in Cape Canaveral on Flushing in the Banana River, A. Saberi
3D Barotropic Hindcast of Water Levels and Vertically Distributed Currents Generated by Hurricane Gustav: Implementing Vertically Distributed Wave Forcing in ADCIRC+SWAN, J. Todd
Research & Project Interests
USACE / CRP: Development and Coupling of a Parametric Wave Model to Improve Efficiency of High - Resolution Storm Surge Modeling Allowing an Ensemble Approach Using ADCIRC (W912HZ18P0133 BAA 18-0074), (10/2018-09/2020)
State of Florida FDEP/Brevard County: Feasibility of muck removal at fixed locations in the IRL and subsequent treatment to remove nutrients and contaminants , (08/01/2015-09/31/2016).
F.I.N.D.: Assessment of muck movement, discharge water quality and biological impacts at FIND Dredging Site IR-1: Sebastian River to Wabasso Bridge, (11/01/2014-08/31/2015).
EPA IRL NEP (SJRWMD): Development of Bioremediation and Habitat Restoration Platforms to Improve Lagoon Water Quality, Restore Seagrasses, and Rebuild Bivalve Populations, (10/01/2014-09/30/2015).
EPA IRL NEP (SJRWMD): Indian River Lagoon National Estuary Program Education Coordination, 210K, (10/01/2014-09/30/2017).
NWS-CSTAR: An Ensemble-Based Approach to Forecasting Surf, Set-Up, and Surge in the Coastal Zone, (07/01/2014-06/30/2017).
NCAR COMET: Ensemble prediction of estuary set-up and set-down using operational WRF winds and their error characteristics. Component 2: Hydrodynamic modeling, (05/31/2012-05/31/2013).