General Features
Building Information
The Gleason Performing Arts Center provides many features attractive for presentations, symposiums, and video conferences as well as concerts, recitals, and plays:
Fully equipped with flexible lighting, sound, and a 1,100 square-foot stage, the 483-seat Gleason Center offers a load-in area, two dressing rooms, a Green Room, and a large lobby/display area with an optional ticket counter.
Gleason Center borders Florida Tech's Botanical Gardens, providing a lovely setting for visiting groups.
Receptions and refreshments are available through our on-campus catering office: delicious, well-presented, convenient, and affordable.
Adjacent, on-campus parking is free.
"The success of any event depends on the site at which it's held. That's why at Florida Tech's Gleason Performing Arts Center, we go the extra mile to provide you with the personal attention you need to plan and coordinate your event. Your success is our number one priority."

- Manager, Gleason Performing Arts Center
Facility
Lobby

4 Multi-stall Restrooms (2 Female/2 Male)
Audio and Video Monitors

Booth

Full Theater Control (Sound, Lighting, Projection, video, Intercom)
State of the art Control Interfaces
Attached complete office/meeting space

Shop and Support

Large Workshop with multiple entrances

Dressing Rooms

2 Main Dressing Rooms complete with stage audio and video monitors and makeup booths
2 Backstage separate multi-stall bathrooms

Equipment Rooms

Separate Lighting, video and sound rooms with extra equipment as required

Music Room

Separate from the main stage, an iso-room for off-stage rehearsals or for use as a satellite pit for musicals with the ability to send audio into the main theater

Catering Food/Drinks

Near-limitless options provided by our award-winning campus catering service

Parking

Plentiful and Free; complete with parking security as required

Equipment

List available upon request
Reservations and Events
To reserve space at the Gleason Performing Arts Center (or elsewhere on campus), all Florida Tech faculty/staff/students must complete an online Facility Request. The person requesting the reservation must first log in with a TRACKS user name and password. Once submitted, the reservation request will be automatically sent to the appropriate office for approval. Then a confirmation will be sent once the reservation has been scheduled. All reservation requests must be submitted a minimum of 1 week prior to the event.
Groups from off-campus who are interested in reserving space may contact the Office of Conferences and Events at 321-309-EVENT (3836).

We look forward to hosting your next event at the Gleason Performing Arts Center!
Floor Plan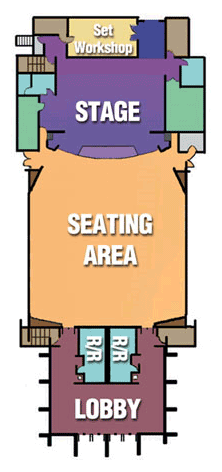 Stage Layout
Stage layout diagram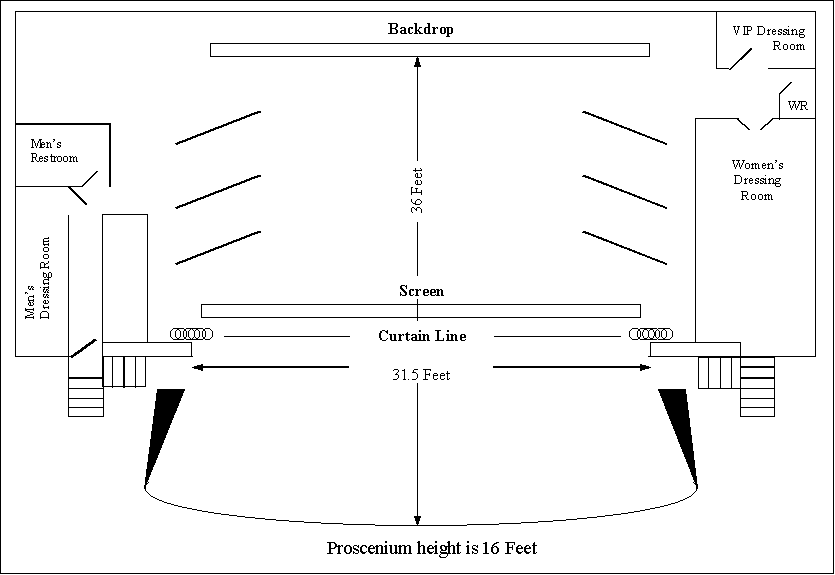 Seating Layout