The Office of University Events and Protocol
The Office of University Events and Protocol is responsible for planning and implementing University programs, providing event planning assistance to administrative and academic departments, and coordinating space rentals and event planning services to third party organizations. The university's facilities exist for the primary purpose of education, research, and public service. When available space allows, Florida Tech is committed to making its facilities available to external groups and organizations that have a purpose which is consistent with the university's mission.
Florida Institute of Technology offers over 60 campus venues for your next event, including conference rooms, auditoriums, classrooms, lecture halls, computer labs, banquet facilities, athletic spaces, a 480-seat performing arts center, and outdoor green spaces. We are a unique venue to host a one-day event or a week-long conference.
Our Mission
The mission of the Office of University Events and Protocol is to provide comprehensive event services and facilities to the campus community and surrounding community for education, recreation, religious, civic or social events, ensuring that such use will foster the mission of Florida Institute of Technology. We are here to serve as a community resource that meets the varied needs of the community and to cultivate community partnerships by hosting successful programs that positively support and enhance the activity of both the local community and Florida Institute of Technology.
The Office of University Events and Protocol is a Certified One-Stop Shop. A certified one-stop shop operation provides the most effective planning atmosphere to successfully stage a conference or event. At Florida Tech, the Office of University Events and Protocol provides you with one university contact for each phase of your event, one comprehensive contract, and one final invoice.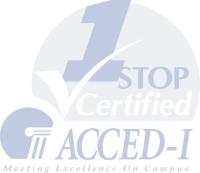 Planning Process
Please contact the Office of University Events and Protocol to assist you with all of your event planning needs. Our staff will coordinate all event details for you including room set ups, catering, audio visual needs, public safety requirements and signage. We look forward to working with you to create your next event.
Internal Event Requests
If you are planning an event and one or more of the following situations apply, please contact our office to schedule a consultation:
The President, Provost, high-ranking Florida Tech officials or representatives, elected officials, or other dignitaries will be participating or attending
Event is a ceremony of campus-wide significance, such as a ground-breaking ceremony, building dedication, important anniversary or something similar
Protocol issues exist
Need event-planning advice
External Rental Requests
If you are requesting space for your next event, please complete Event Inquiry for Rental/Use of Facilities.
We can help you plan events such as:
Professional Development Conferences/Meetings
Summer Youth Camps (summer overnight accommodation on campus)
Seminars
Corporate and Community Events and Meetings
Outdoor Festivals
Concerts
Theatrical Productions
If you have any questions please email conference@fit.edu.
The Office of University Events and Protocol is a Proud Member of: