Property Administration
Property Administration Management
Florida Tech's Property Administration's primary goal is to provide professional administration of property assets and inventory management, warehouse management, and sustainable disposal of furniture and equipment. We support the logistical management of inbound and outbound oversized freight arriving to the University and the movement of office or departmental relocations.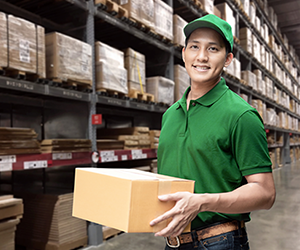 Property Management Oversees
Receiving and delivery
Inbound/Outbound oversized freight
Property and inventory control
Office/Department relocation
Coordinates with Office of Purchasing to ensure proper delivery of ordered materials and equipment
Temporary storage services
Please be advised that Shipping/Receiving is limited to the delivery of items weighing no more than 50 lbs. Professional movers will be contacted and scheduled to deliver items or equipment in excess of 50 lbs. to departments.
Property and inventory control provides the University with a centralized source of information regarding capital equipment, equipment disposition, surplus property, and conducts annual physical inventories.
Need Assistance With Freight?
If you need assistance with an oversize inbound or outbound freight delivery or have other questions for the Property Administration department.
Contact us: (321) 674-7225 | property@fit.edu
Regulated Substances, Biohazards, Environmental Hazards, & Dangerous Goods
Please remember if you are shipping Regulated Substances, Biohazards, Enviromental Hazards, or other dangerous goods please contact the Office of Environmental Health & Safety
Contact the Office of Environmental Health & Safety: (321) 674-7396 | ehs@fit.edu | hazwaste@fit.edu.