Internships
All strategic communication and multiplatform journalism students must complete an internship in their junior or senior year. Internships allow students to develop and apply their knowledge and skills in real life settings. Students work under the direct supervision of a business or industry professional, undertake real projects, gain invaluable insight into their chosen career fields, and network with established professionals.
Communication majors have worked both on campus and off campus, including local public relations agencies, media organizations, corpo­rate communication offices, healthcare marketing departments, athletic communication departments from college to professional leagues, fundraising and development offices, and event planning and marketing, and more.
Internship Stories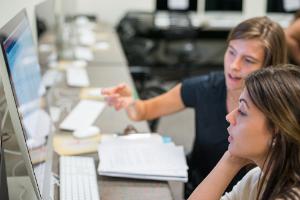 Make your internship work for you
Internships are critical for students who must show employers they have real job experience. For communication majors, internships aren't just entries on their resumes – they are portfolio-building necessities.
Previous Internships
Students have worked for the following companies:
ExcerptaMedica, Amsterdam
CNN Deportes en Español
The Storm Chasers Minor League Baseball
The 15th District office of Congressman Bill Posey
18th District Circuit Court
MTV News
Inside Cheerleading Magazine
Inside Gymnastics Magazine
Florida Tech Marketing and Communications
WFIT
Eventing Inc
Carley Corporation
The Space Authority
Kennedy Space Center
Tomahawk Robotics
Spectrum Channel 13 News
Operation Hope
SWHelper
United States Specialty Sports Association (USSSA)
Strategic Ink Public Relations
Northrop Grumman
Harris Corp.