The Value of a Florida Tech Education
The Value of a Florida Tech Education
The notion of value is deeply personal. No two people value the same thing in the same way. That's why we do not spend a lot of time trying to define value for you. Instead, we spend a lot of time defining—and achieving—it for ourselves. What do we offer that's distinctive? What do we do measurably better than other colleges and universities? Why should a bright young scholar choose Florida Tech over other options?
From "Amazing Outcomes" to "Stellar Faculty," here's a list of what we think makes Florida Tech a university of distinction and value. If the notion of pursuing greatness no matter the odds resonates with you, then there's a good chance you will love living and learning at Florida Tech.
Amazing Outcomes
So many of our students have job offers in hand before they graduate, you would think we'd be used to it by now. The truth is, we're always impressed by the early success stories shared with us by even our newest alumni. In addition to advancing their education here, Florida Tech graduates of the last decade have gone on to attain graduate degrees at Clemson University, Dartmouth College, Harvard University, Johns Hopkins University, UCLA and Yale University. They have secured careers at Amazon, Apple, Boeing, Deloitte, GE, L3Harris Technologies Inc., Lockheed Martin, Morgan Stanley, NASA, Northrop Grumman Corp., Rockwell Collins, Siemens, SpaceX and countless government agencies and nongovernmental organizations. Nothing reflects the value of a Florida Tech education more than the personal and professional successes of our students.
Can-do culture
Ask us to do the impossible. Chances are, we'll say, "Sure thing. When do you need it by?"
Florida Tech is a community of people who aren't afraid to tackle the mind-boggling scientific, technological and societal challenges of today and tomorrow. We think our collective can-do attitude is a legacy passed down through the years by our visionary founder, Jerome P. Keuper. A physicist who rightly believed that the U.S. couldn't win the space race unless an innovative and enterprising university existed to provide advanced education to the engineers and scientists working at Cape Canaveral, Keuper defied the odds and started one. Florida Tech has been surprising people with what we can accomplish ever since.
Engineering & Scientific Excellence
Florida Tech got its start as Brevard Engineering College, a small night school for the "missilemen" who were helping to build a foundation for the U.S. space program. And while we've grown into a comprehensive national research university offering more than 200 degrees in disciplines ranging from aviation to oceanography since then, we've always kept science, technology, engineering and mathematics (STEM) on the forefront of our focus. Our College of Engineering and Science is the largest of four on campus, but these disciplines don't just represent a portion of what we do. They are the foundation that keeps our university strong and the thread that ties together all that we are. In every classroom and laboratory on campus, you can feel the ever-present challenge to design, create and innovate, and to leave the world a better place than you found it. It makes us better. It will make you better, too.
Hands-on, for real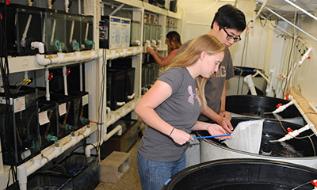 If there's anything that sets Florida Tech apart from other colleges and universities, it's our hands-on, dive-in, buckle-up approach to higher education. No matter your major, when you enroll at Florida Tech, you're going to learn by doing. From swimming with sea turtles to flying planes, building rocket engines to fighting simulated cyberattacks, our students are engaged in interesting fieldwork and projects starting year one. When we ask employers what makes our graduates stand out in a crowd, they tell us time and again: Our graduates have professional-level skills with real-world technologies because they've been using them all throughout their Florida Tech experience. When we say "hands-on," we mean it.
International Advantage
With about one-fourth of our student body coming from more than 80 countries around the world, we believe that international diversity is a vital and unique distinction that enhances every student's experience, both in and out of the classroom. Daily interactions with peers from many different cultural backgrounds give every Florida Tech student a more complete and authentic understanding the world. International activities and events, such as our annual International Festival and regular International Dinners, inform and enlighten our community. Courses that address international issues teach us to anticipate and navigate the challenges of a global environment. What does all this mean to our students? It means having a dynamic, enriching experience, while building incredibly valuable cross-cultural skills.
Panther Pride
Before you enroll at Florida Tech, you may hear or read the words "Panther Pride" and think, "Nice alliteration," or "Clever hashtag." But Panther Pride isn't just something we say. It's not just a mantra or a feeling. You don't just have Panther Pride. When you become a Florida Tech student, you join the Panther Pride—and that's something you can only experience here. What does it mean to be a member of the Panther Pride? It means a love of all things space. It means being awestruck by the awesomeness of nature. It means that resourcefulness, inventiveness and courage are in your DNA. It means you know the true meaning of "Florida weather" and flourish in the sunshine and sea-salty air. It means venturing beyond borders to find and make connections. And it means working together to make the world a better place. The Panther Pride is family—the kind that inspires greatness among all of its members.
Space Connections
Founded by a Cape Canaveral rocket scientist in 1958, Florida Tech is proud to share a rich history and deep connections with the U.S. space program, commercial space initiatives and partner agencies. The university has prepared generations of engineers and scientists for space-related careers, and our faculty, students and alumni have contributed vital research, scientific discoveries and novel technologies to the space industry. We offer degrees in space sciences, space systems and commercial enterprise in space. One of our resident villages is dedicated to the memory of those lost in the space shuttle Columbia disaster. The fact is, Florida Tech has been around for every mission from Mercury to Apollo, from space shuttle to SpaceX, and we will be here for whatever comes next. As we like to say, "To the stars through science!"
Standing for Sustainability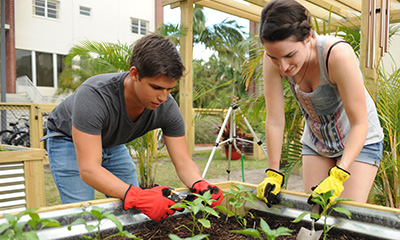 When you're a part of a subtropical campus located just a few miles from the Indian River Lagoon and the Atlantic Ocean, surrounded by an abundance of natural resources and awe-inspiring flora and fauna, you tend to gain a new perspective on the environment. It's not something "out there" that "someone else can fix." It's real; it's home; and making it better requires a community effort. That's why, at Florida Tech, you'll find connections to the environment and sustainability in everything from academics (like our sustainability studies major) and student life (like our community garden) to our operations (like our solar-charged golf carts). Florida Tech is one of only 10 (out of 130+) colleges in Florida to achieve a STARS campus sustainability rating. We're also one of the only universities whose faculty includes renowned experts in ecosystem monitoring and conservation, renewable energy, coastal management, purification of landfill gas, groundwater quality, green chemistry and sustainability.
Stellar Faculty
Having amazing professors may not make us different from a lot of other national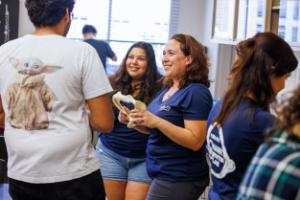 research universities, but it certainly helps make us great! Florida Tech professors are experts on everything from primates to sharks. They unravel the mysteries of lightning, supermassive black holes and autism spectrum disorder. They build better rocket engines, space telescopes and cybersecurity software. They are inventors, musicians, historians, inventors, astronauts and authors. But most of all, Florida Tech faculty are wonderful teachers and mentors who truly care about students' success. Our faculty members lead active research groups and laboratories, including both graduate and undergraduate students on their teams. As a result, many Florida Tech students get to present at professional conferences and publish in scholarly journals before they graduate. At Florida Tech, being "stellar" means more than just being accomplished. It means using one's accomplishments to help students reach their full potential—and that's what our faculty is all about.