Center For Entrepreneurship And New Business Development
Bringing theory and practice together in pursuit of innovation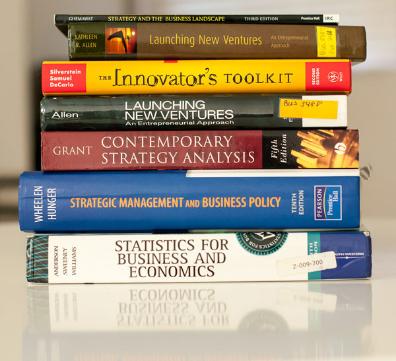 The Center for Entrepreneurship and New Business Development (CENBD) pushes the boundaries of entrepreneurial education, global innovation and practical research in pursuit of new venture creation, sustainability and social value creation.
The CENBD fosters partnerships among students, faculty, community members and entrepreneurs by providing resources to facilitate ideation, execution and financing of enterprise creation. These partnerships support an educational environment bridging theory and practice in pursuit of early-stage innovation, business leadership and new business ventures. The CENBD is an all-inclusive center with the primary focus of entrepreneurial growth on-campus and in the community. The Center for Entrepreneurship achieves this focus through the efforts of several different initiatives.

On-campus, the CENBD engages students to investigate, research and launch their businesses through the help of the Student Business Incubator. The incubator provides not just a physical location for these entrepreneurs to house their ventures, but also a network of mentors and advisers to ensure that they are heading in the right direction.
In the Community, the CENBD works collaboratively with weVenture. The weVenture initiative provides local women and men with opportunities, tools and connections to advance their global influence and success. Through the funding by the Small Business Administration, this center invites all prospective entrepreneurs to come explore the benefits of the center and is committed to providing training, counseling, mentoring and technical assistance targeting women entrepreneurs and women-owned small businesses in Brevard, Indian River, St. Lucie counties and the Central Florida area.
The faculty serving in the CENBD train both student and local community entrepreneurs with weekly Lean Launchpad Sessions and this collaboration across entrepreneurial segments has proved beneficial to both populations of participants.
Crossing both campus and community, the Center for Entrepreneurship and New Business Development offers a variety of executive and entrepreneurship lecture series. These programs bring together local and national entrepreneurs in a didactic environment to motivate and educate students, faculty and members of the community.
Visiting Entrepreneur Program
The Center for Entrepreneurship and New Business Development brings successful entrepreneurs, financiers, and professional services firms to campus to share real-world knowledge, experience and insights in starting and managing a successful business enterprise. These experts introduce students to the career options and opportunities of today's rapidly changing global environment.