Federal Work Study

For questions concerning the Federal Work-Study Program (FWS), contact: fws@fit.edu
For questions about WorkDay or your job application, contact HR: 321-674-7427 or hr@fit.edu
What is Federal Work-Study?
Federal Work-Study (FWS) is an employment program which allows students to earn a paycheck through a financial aid award paid by federal funds. Since it is federal money, students must receive the award from Financial Aid each academic year (Fall through Spring) to work, and they must be paid hourly (for actual hours worked). Students can spend their earned wages on anything and can only earn up to their award amount (earnings are not applied to tuition).
Eligibility: FWS awards are made by the Financial Aid Office to U.S. citizens and permanent residents who qualify based on their FAFSA, if you have questions about eligibility reach out to Financial Aid, finaid@fit.edu. The program provides part-time employment opportunities in two areas, On-Campus & Community Service.
Regulations
Students can work a maximum of 20 hours per week (cannot be scheduled during class periods)
No remote or take home work is permitted in this program
Students must be supervised and cannot replace staff positions
No political or religious tasks permitted
You may only be paid for actual hours worked (subject to hourly wage laws)
You may only earn up to the award amount granted by Financial Aid
Your award amount is the total you can earn in Fall & Spring
Timesheets are due bi-weekly in order to receive a paycheck
Payroll Calendar
Timesheet Instructions
On-Campus Federal Work-Study ( starts $11/hour)
There are numerous on-campus work-study employment opportunities for eligible students. Students have their choice of job and there are plenty of options (there is no risk of a lack of positions). Some jobs may have qualification requirements, such as having lifeguard certification or a required major for a lab/research position.
Example Jobs:
Library Help Desk Assistant
Mailroom Clerk
Lab Assistant
Student Ambassador (Tour Guide)
Copy Center Assistant
Community Work Study (starts $15/hour)
The Community Service program provides off-campus, part-time employment to eligible students. The work must be performed with an agency that is contracted with Career Services, which often are elementary school programs. Students are responsible for transportation to their job site, but most sites are close to campus.
Available Community Service Positions for Fall 2022:
:Brevard After School Program, University Park Elementary: Afterschool Tutoring in English & Math
You will tutor elementary students in 1-6 grades from 3-5pm (half mile from campus)
Hiring Process
1. Check your Financial Aid Package to Accept Your Award
Each student will receive an award amount in their Financial Aid Package, this is the amount you can earn for both Fall & Spring. If you have questions about your award, contact Financial Aid.
2. Log In to Workday to Apply to a Job
Use your TRACKS login on Workday, must be on the campus network to view all positions
Click the 'Career Icon' to see Student Jobs
Apply to positions marked 'FWS only'; you can filter for these under "Job Family" and select 'Student - Work Study'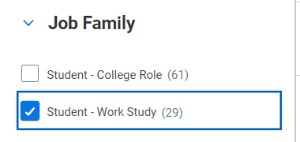 Each department has different interview procedures and will send an offer through WorkDay, you may reach out to the supervisor listed on the job for questions about the position
3. Complete Any Hire Paperwork
New Students: You will complete an I9 and W4 in Workday and go to the HR office on campus to show your original IDs, be sure to bring at least one ORIGINAL from the following list from home (copies are not acceptable):

Passport
Social Security Card or
Birth Certificate

All Students: Complete or update your Direct Deposit in Workday
4. Start Date Will be Given in Workday
*If you have questions about WorkDay or your application status, contact HR: hr@fit.edu