5 Easy Steps to File Formatting
Do you have a project and you don't know where do you start or how? Well, here are a few tips from the Copy Center to get you started and your prints looking awesome!
First… determine your Project.
As you think about your project considering whether you're designing a flyer, a poster, a booklet, brochure will be important. There are many templates out there and choosing the correct one will be important.
Second… determine your paper size.
Now that you know what project you want, what are the specific dimensions for the print? If it's a homework assignment or if you're attending a conference, ask the professor or review conference regulations to learn about the specifics. However, if you just want to get creative, here is a cool chart to tell you standard sizes.
Consider the following information to help begin sizing your project….
Paper
We carry the following sizes in our office and these can be printed on our digital presses: 12"x18" (Oversized), 11"x17" (Ledger/Tabloid size), 8.5"x14" (Legal size), 8.5"x 11" (Letter size). Unfortunately we do not carry A4 a traditional international size.
All different quality types are available, some standard paper for printing is 20lb (standard grade), 24lb (mid-grade), 28lb (high-grade). We choose environmentally sourced Suzano paper for our standard and mid-grade, and Hammermill digital. Rest assure, we go the good stuff. For a sample stop by our center for a look.
Posters
When desiring to print larger that the stated paper types, these are often referred to as poster or banner size. They are larger piece of print and can only be produced on a wide format printer.
We carry various sizes in width and can print at any length up-to approximately 150ft long (no lie)!
Our sizes are: 17", 24", 36", 48", 60". We do not carry all media types in these sizes only some. To print we only require that your dimensions fit one of these sizes, then we can cut down to your specifications.
Booklets
There are several types of booklets you can print… Magazine style booklets have two staples in the middle and folded in half. These come in various sizes, but most traditionally on 8.5x11 (printed on a 11"x17" and folded in half) or in a 8.5"x5.5" ( printed on a 8.5"x11" and folded in half).
Similar book sizes can be made using what is called a spiral, comb, or pro-click type bind. Adjustable sizes can be made using standard 11" long binds and look great too!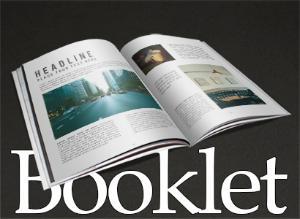 Laminations
We carry many sizes up-to 11"x17". Any time you want to laminate a non-traditional size available, we must print, then cut down, then laminate, then cut down again. Just keep that in mind for any special projects.
Third… determine your graphic software.
There are great software's available, both free and some that require purchase. Free standard design oriented software's you can use are Microsoft PowerPoint, Microsoft Publisher, and Canva.com. These are easy to use and require a small learning curve. (Note, we do not recommend you use Microsoft Word. It may have good templates, but for optimal creativity, leave Word for words.)
When using any of these software's make sure you resize your document or choose the correct size document in the templates section of the software. Do some Googling, you will find just what we're talking about.
With some of these templates you still must be cautious, they use RGB profiling in many of them, and colors may not come out quite as expected. Tip, aim toward a light version of the deeper color you may be thinking of using.
What about Designing?
To make sure your print look high quality and not pixilated (like the Pixels (2015) film), use high resolution graphics. This is usually anything higher than 1200 x 1200 dots per inch (DPI). If you are planning on enlarging the image, make sure you don't go lower than this. Going smaller? A 600 x 600 resolution should be fine for resizing to approximate 3"x3" graphic. These sizes are usually displayed right under your image in any search engine.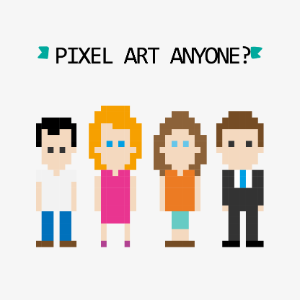 Consider free sites such as FreePik.com, unsplash.com, or picjumbo.com. (Note, use at your own judgment, these sites do not reflect the opinion of the Copy Center or the university)
Thesis formatting… check out this Graduate Programs Page for detailed information and templates.
Fourth… determine how to save.
The Copy Center, and any graphics company, will always recommend you export always to PDF. That way it keeps the integrity of your file as you intended it to look. Export as a print pdf and this will save to the highest quality for printing. This function is available on nearly all software, so look for it under save as, download, export, or print as pdf.
Fifth… submit your file and rejoice.
Use our various methods for submitting a request.
Submit online at Florida Tech Digital Print Center our site has a majority of the work we can produce in house with the exception of a few items that are easier to request in-store. For Florida Tech Staff and Faculty please use fit.myprintdesk.net, to charge your department please have your department's new Workday Cost Center ready.
Send you file to us via google drive at ccstaff@fit.edu or email your file to copy@fit.edu.

Emailing can take up to 30 minutes to arrive to our inbox so send with plenty of time.

Stop by our office and provide us a flash drive or we can let you borrow one.

We will process options 2 or 3 as soon as you arrive and then proceed with payment. It's that easy!
Check out our services to see how else you can tailor your projects.
If you have questions about what you can do, just give us a call, walk-in, or email us. We'll help make your creativity come to life!