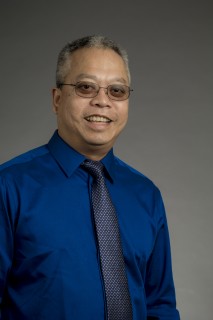 Troy Nguyen
Associate Professor | Mechanical and Civil Engineering
Contact Information
Personal Overview
Welcome!
Mentoring students in their academic career and preparing them for real-life work experience is my primary goal. Please contact me if I can be of any assistance!
Tau Beta Pi Engineering Honor Society
INCOSE Certified Expert Systems Engineering Professional (ESEP)
Florida Registered Professional Engineer (PE)
Florida Certified General Contractor (CGC)
Certificate of Management - Building Information Modeling (CM-BIM)
Institute of Electrical and Electronic Engineers (IEEE)
Holder of the Department of Defense Secret Clearance
Educational Background
Graduate Certificate in Power Systems Engineering, Iowa State University, 2012
Ph.D., Mechanical Engineering, Colorado State University, 2000
MSME, University of North Dakota, 1987
B.S., Computer Science, University of North Dakota, 1986.
B.S., Mechanical Engineering, University of North Dakota, 1985.
Professional Experience
Dr. Troy Nguyen has over twenty seven (27) years of industry experience leading R&D projects in systems engineering, systems automation, instrumentation & control (I&C) design, and electro-mechanical design for military systems, commercial power generation, and process industries. He is highly knowledgeable in the design, analysis, modeling, and dynamic simulation of software systems and physical systems that encompass electrical, mechanical, and hydraulic components. He is a leading authority on systems engineering processes and methodologies. He is an expert in the application and integration of energy and power systems on land-based and shipboard infrastructures. Dr. Nguyen also has extensive hands-on experience in land development and building construction having been an owner and chief engineer of an engineering and construction firm for over 15 years.
2014 - Present, Associate Professor, Florida Institute of Technology
2009 - 2013, Consulting Systems Architect/Engineer, Northrop Grumman Power & Control Systems, Sykesville, MD
2005 - 2009, General Manager/Chief Engineer, Global Intergy Corporation (GIC), Orlando, FL
1997 - 2005, Senior Staff Systems Engineer, Lockheed Martin, Simulation, Training & Support, Orlando, FL
1994 - 1997, Technology Development Advanced Engineer, Westinghouse Electric Corporation, Orlando, FL
1988 - 1994, Technical Project Manager, Woodward Governor Company, Loveland CO
1986 - 1987, Mechanical Engineering Lecturer, University of North Dakota, Grand Forks, ND
Additional Duties
Faculty Advisor, Associated Builders and Contractors (ABC) Student Chapter
Member, FIT University Sustainability Council
Member, FIT College of Engineering Undergraduate Curriculum Committee
Member, International Council on Systems Engineering (INCOSE)
Current Courses
CON 1005 - Construction Plans Reading
CON 3002 - Mechanical Systems for Buildings
CON 4001 - Electrical and Electronics Systems for Buildings
CON 4091 - Construction Project Proposal
CON 4092 - Construction Project
ENS 4300 - Renewable Energy & the Environment
ENS 5300 - Principles of Renewable Energy
CVE 4000 - Engineering Economy & Planning
ECE 5683 - Power Generation, Operation and Control
MAE 5240 - Solar Energy Analysis
Recognition & Awards
Northrop Grumman Performance Excellence Award for mPower program delivery (2012)
Northrop Grumman Performance Excellence Award for FME Hanford project delivery (2010)
Northrop Grumman Performance Excellence Award for Navy DDG 1000 program delivery (2010)
Lockheed Martin Technical Performance Award for Navy CVNX program delivery (2002)
Westinghouse Power Generation 2nd Place Inventor Team Award (1996)