Venues And Campus Facilities
Florida Institute of Technology has over 40 campus venues available, including auditoriums, conference rooms, classrooms, lecture halls, computer labs, banquet facilities, athletic spaces, a 500-seat performing arts center, large and small chapels, botanical gardens, and outdoor green spaces.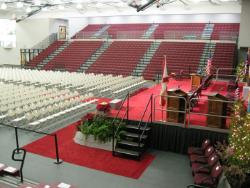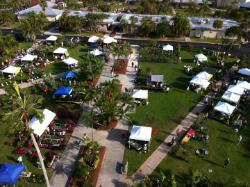 Our commitment to you as a One-Stop Shop, the Conference Services Bureau offers event monitoring and audio-visual assistance. Student Event Coordinators, who are trained in facility use policies, are available to assist with on-campus events. Event Coordinators answer questions, make minor setup changes, and serve as liaisons with Campus Security and other campus departments.
Many campus venues are equipped with audio-visual equipment, including computers, laptop hookup, LCD projectors, and sound systems. A media fee will be assessed for the use and setup of such equipment, and technicians may be hired on an hourly basis to operate equipment during an event.
Important information about insurance: All clients must provide the university with a copy of a current and valid certificate of insurance (issued by an insurance agency/company legally authorized to provide comprehensive liability coverage in the State of Florida) naming the Florida Institute of Technology as additionally insured and covering both General Liability and Worker's Compensation. All policies must be comprehensive general liability insurance and have a minimum coverage in the amount of one-million dollars. Florida Tech is not liable for damage to or loss of personal property, or from failure or interruption of public utilities. All clients should be aware that liability for any injury or damage to persons or property by the conduct of their activity is recognized and assumed by the client.
Please review the Guidelines for Venue Usage to determine applicable fees for your event.
List of Venues:
All Faiths Center

Fellowship Hall
Large Chapel
Small Chapel

Athletic and Outdoor Green Spaces

Academic Quad
Clemente Center for Sports and Recreation

Intramural Gym
Varsity Gym

Crawford Greene
Harris Village

Basketball Court
Volleyball Court

Pathereum Outdoor Amphitheatre
Softball Field
Southgate
Tennis / Racquetball Courts

Auditoriums

Crawford Building 112
Evans Library Pavillon
George M. Skurla Hall 110
W. Lansing Gleason Performing Arts Center Auditorium

Classrooms

Academic Quad Classroom 110, 111 and 113
Crawford Building Rooms 112, 210, 220, 230, 401, 402, 403 and 404
George M. Skurla Hall 102, 103, 106, 110, 116, 120 and 121

Conference Rooms

Crawford 7th Floor
Hartley Room

Multi-Purpose Venues