Pursuing Greatness as a Team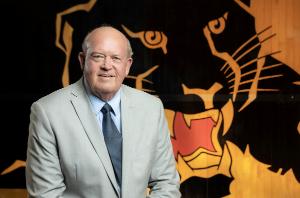 Bill Jurgens served Florida Tech for more than 50 years and continues to do so as the university's Athletics Director Emeritus. An expert on building community, fostering school spirit and achieving excellence, Bill believes that people and organizations are best positioned for greatness when they come together as a team.
If you think that you, your organization, or a college-bound high school student you know would benefit from teaming up with Florida Tech, then you're right! Unsure how to break the ice? Reach out! Bill would love to connect with you and bring you aboard Team Florida Tech!
Get in Touch
Additional Resources
Admissions
Making A Great Team Through Leadership Principles - Video Series
Bill Jurgens' lifelong pursuit of helping students achieve their best is evidenced by the successes his former students have had in intercollegiate athletics and in their careers. Alumni often tell him that the lessons they learned while on his teams at Florida Tech have remained with them throughout their lives, especially during difficult times. In this video, Bill discusses the mindset necessary to be a great team member, and what student athletes (and anyone who is a member of a team) can focus on to foster dynamic team chemistry.