Why Study Aeronautics At Florida Tech?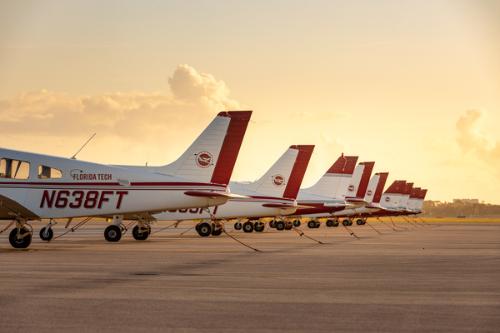 Florida Tech is an aeronautical university located in Florida's Space Coast that offers high-quality degree programs and a well-renowned flight school with an impeccable aircraft maintenance and safety system. Graduates of our very unique aeronautical university go on to pursue fruitful careers as airline transport pilots, airport managers, aviation safety specialists, airport operations & noise officers, aviation environmental science specialists, aviation planners and airport designers, and professionals in other fields related to aeronautics and aviation.
Florida Tech is a close-knit academic community that offers small class sizes and one-on-one time with time with professors while providing the benefits of a large university and world-class faculty members. The campus atmosphere is relaxed and studying at Florida Tech is a very personal experience, making us a very unique aeronautical university.
Our faculty members are experienced experts in various aspects of the aviation industry. They include pilots who are specialists in at least one other field such as aviation law, aviation safety, avionics, and environmental science, as well as other faculty who are experts in aviation research, airport planning, design and management, airline, corporate, and general aviation operations, aviation human factors, aviation meteorology, and air traffic control.
High-Tech Laboratories, Learning & Research Facilities
As an aeronautical university we know that cutting-edge technology and facilities are an important part of what makes a program successful. Aeronautical science and aviation management majors at Florida Tech attend classes primarily in the College of Aeronautics' Skurla Hall, which includes classrooms, computer labs for airport design and planning, and the Basic Aviation Training Device (BATD) Lab.
Skurla Hall is home to a first-rate computer lab with software applications used in the aviation industry and networking capabilities that allow hands-on learning of a variety of aviation topics. The BATD Lab enables all students to fly desktop simulators under the supervision of a flight instructor. Students also have access to state-of-the-art research and training facilities in FIT Aviation's Simulator Center and the Unmanned Aerial Systems Lab located at Florida Tech's Center for Aviation and Innovation.
Great Florida Location & Weather – Year-Round Flying
One of Florida Tech's main benefits is its prime position on Florida's Space Coast, boasting ideal weather conditions for flying year-round. Florida Tech's location also places students in close proximity to a wealth of high-tech aeronautical companies, airlines, and airports that offer numerous internships and research opportunities. The campus of this aeronautical university is a short distance from 72 miles of beautiful beaches, NASA Kennedy Space Center, Brevard Zoo, Port Canaveral and Orlando's theme parks.
Aviation is a small world and our faculty and students enjoy a special bond and sense of camaraderie. Florida Tech's degree programs, flight school, quality professors and comprehensive curriculum make it your best choice for an aeronautical university.