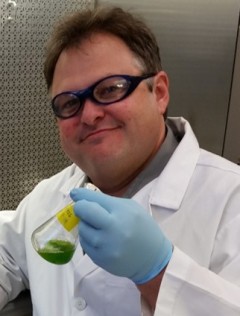 Andrew Palmer
Associate Professor | Ocean Engineering and Marine Sciences
Affiliate Faculty | Biomedical Engineering and Science, Chemistry and Chemical Engineering
Associate Department Head & Program Chair | Marine & Environmental Science, Oceanography, and Meteorology
Contact Information
Educational Background
2008 Ph.D., Biological Chemistry, Emory University
2001 B.S., Biochemistry, Florida State University
Professional Experience
Fall 2023 - Present | Associate Department Head, Ocean Engineering and Marine Science
2020 - Spring 2023 | Program Chair, Marine Sciences
2018 - 2020 | Associate Professor, Florida Institute of Technology
2012 - 2017 | Assistant Professor, Florida Institute of Technology
2009 - 2011 | Postdoctoral fellow, University of Wisconsin Madison
Additional Duties
Faculty sponsor for Astrobiology Research and Education Society (ARES)
Current Courses
MAR1001: Challenges of the Anthropocene
MAR/BIO1010: Biological Discovery I
MAR/BIO1030: Introduction to Biotechnology
BIO2011/BIO2012: Microbiology/Microbiology Lab
MAR4209/BIO5014: Molecular Biology of Plants/Plant Biotechnology
BIO4100/BIO5573 : Special Topics in Space Biology
MAR4210: Plant Physiology
MAR5029: Chemical Ecology
BIO5585: Protein Structure & Function
Selected Publications
2022
Cortez, M., Handy, D., Headlee, A., Montanez, C., Pryor, S., Cutshaw, K., Vanselow, K., Perez, A., Weissman, J., Ziegler, E., Wheeler, B., Palmer, A.G., "Quorum Sensing in the Rhizosphere", In: Horwitz, B.A., Mukherjee, P.K. (eds) Microbial Cross-talk in the Rhizosphere. Rhizosphere Biology. Springer, Singapore. https://doi.org/10.1007/978-981-16-9507-0_5
Bento, T.S., Moffet, M.B., Centeno, D.C., Scrocco, A.P., Fox, A., Palmer, A.G. "Biomass allocation in response to accession recognition in Arabidopsis thaliana depends on nutrient availability and plant age." Plant Signaling and Behavior (2022) DOI: 10.1080/15592324.2021.2004025
2021
-Ziegler, E.W., Brown, A.B., Nesnas, N., Chouinard, C., Mehta, A.K., Palmer, A.G. "β‐Cyclodextrin encapsulation of synthetic AHLs: drug delivery implications and quorum‐quenching exploits", Chembiochem, (2021) https://doi.org/10.1002/cbic.202000773
-Handy, D., Hummerick, M.E., Dixit, A.R., Ruby, A.M., Massa, G., Palmer, A.G. "Identification of Plant Growth Promoting Bacteria Within Space Crop Production Systems" Frontiers in Astronomy and Space Science (2021) https://doi.org/10.3389/fspas.2021.735834
2020
-Folick, A.M., Cutshaw, K., Haire, T., Goode, J., Shah, P., Zaidi, P., Richardson, B., Palmer, A.G. "Quorum sensing behavior in the model unicellular eukaryote Chlamydomonas reinhardtii", iScience (2020) 23. https://doi.org/10.1016/j.isci.2020.101714
-Eichler, A., Hadland, N., Pickett, D., Masaitis, D., Handy, D., Perez, A., Batcheldor, D., Wheeler, B., Palmer, A.G. "Challenging the agricultural viability of Martian Regolith Simulants", Icarus (2020) 354 https://doi.org/10.1016/j.icarus.2020.114022
- Folick, A.M., Haire, T.C., Cutshaw, K., Riddle, M., Shola, C., Nassani, S., Rice, P., Richardson, B., Shah, P., Nazamoddini-Kachouie, N., Palmer, A.G. "Computer assisted tracking of Chlamydomonas species" Frontiers in Plant Biology, (2020) 31 https://doi.org/10.3389/fpls.2019.01616
2019-2010
- Ziegler, E.W., Brown. A.B., Nesnas, N., Palmer, A.G. "Abiotic Hydrolysis Kinetics of N-Acyl-L-homoserine lactones: Natural Silencing of Bacterial Quorum Sensing Signals" European Journal of Organic Chemistry (2019) https://doi.org/10.1002/ejoc.201900322
- Palmer, A.G., Senechal, A.C., Haire, T.C., Mehta, N.P., Valiquette, S.D., Blackwell, H.E."Selection of appropriate autoinducer analogs for the modulation of quorum sensing at the host-bacteria interface" ACS Chemical Biology (2018) DOI: 10.1021/acschembio.8b00676
- Haire, T.C., Bell, C., Cutshaw, K., Swiger, B., Winkelmann, K., Palmer, A.G., "Robust Microplate-Based Methods for Culturing and In Vivo Phenotypic Screening of Chlamydomonas reinhardtii" Frontiers in Plant Science (2018) https://doi.org/10.3389/fpls.2018.00235
- Haire, T.C., Patel, D., Patel, K., Jariwala, J., Laite, J., Lazar, S., Palmer, A.G., "Regulation of Arabidopsis thaliana Physiological Responses Through Exogenous Electrical Field Exposures with Common Lab Equipment" Journal of Plant Growth Regulation (2018) https://doi.org/10.1007/s00344-017-9725-3
- Fuller, A.W., Young, P., Pierce, B.D., Kitson-Finuff, J., Jain, P., Schneider, K., Lazar, S., Taran, O., Palmer A.G., Lynn, D.G., "Redox-Mediated Quorum Sensing in Plants" PLoS ONE (2017). https://doi.org/10.1371/journal.pone.0182655. Highlighted:
- Haire, T., Patel, D., Patel, K., Jariwala, J., Laite, J., Lazar, S., Palmer, A.G. "Regulation of Arabidopsis thaliana Physiological Responses Through Exogenous Electrical Field Exposures with Common Lab Equipment" Journal of Plant Growth Regulation (2017), 36. http://dx.doi.org/10.1007/s00344-017-9725-3
- Bernas, L., Winkelmann, K., Palmer, A.G. "Phytoremediation of Silver Species by Waterweed (Egeria densa)" The Chemist (2017), 90, 7-13
- Palmer, A.G., Mukherjee, A., Stacy, D.M., Lazar, S., Ane, J.M., Blackwell, H.E. "Interkingdom responses to bacterial quorum sensing signals regulate frequency and rate of nodulation in the legume-rhizobia symbiosis" Chembiochem (2016), 17, 2199-2205
- Palmer, A.G., Ali, M., *Yang S., Parchami, N., Bento, T., *Mazzella, A., Oni, M., *Riley, M.C., Schneider, K., *Massa, N-. "Kin recognition is a nutrient-dependent inducible phenomenon" Plant Signaling and Behavior (2016) http://dx.doi.org/10.1080/15592324.2016.1224045
- Palmer, A.G., Senechal A., Mukherjee, A., *Much, E., Ané, J.M., Blackwell, H.E. "AHLs modulate plant growth and development through the activity of a fatty acid amide hydrolase" ACS Chemical Biology (2014) http://dx.doi.org/10.1021/cb500191a
- Palmer, A.G., Streng, E., Blackwell, H.E. "Attenuation of virulence in pathogenic bacteria using synthetic quorum-sensing modulators under native conditions on plant hosts" ACS Chemical Biology (2011), 6, 1348-1356
- Palmer, A.G., Streng, E., Jewell, K., Blackwell, H.E. "Quorum Sensing in Bacterial Species that Use Degenerate Autoinducers Can Be Tuned Using Structurally Identical Non-Native Ligands" ChemBioChem (2011), 12, 138-147
Highlighted: -Microbe (2011), 6, 161-162
Research
Eavesdropping on bacterial 'conversations' - Numerous species of bacteria coordinate their behaviors based on population density, a phenomenon known as quorum sensing (QS). QS behaviors include antibiotic resistance, the production of biofilm 'plaques', and the production of virulence factors that can digest the tissues of prospective host organisms. Not surprisingly, plants and animals have evolved to detect the signals that modulate QS. Using a plant Arabidopsis thaliana and an algae Chlamydomonas reinhardtii as hosts, we are investigating these detection and response pathways.


Cell wall fragment-based signaling - The production of reactive oxygen species like hydrogen peroxide can oxidize phenolics associated with the cell walls of plants to active signaling molecules in a process known as semagenesis. Semagenesis may have substantial roles in plant growth, defense, and interorganismal communication. Combining elements of biology and chemistry we have begun to monitor these reactions in real-time at the sites on plant tissues where they occur. We are also mapping the molecular response network associated with these signals.


Inducible competition in plants - Plants display distinct growth responses not only to the presence of different species, but also to members of the same and different subspecies. Such complex social behaviors enhance our appreciation of the complexity of plants and is crucial to understanding the interplay between resource competition and plant growth. By bringing together elements of molecular biology, analytical chemistry, and confocal microscopy we are elucidating this complex plant-plant signaling event.


Astrobiology - As manned space exploration extends further from Earth, the continuous shipment of goods will become prohibitively expensive and failed shipments may have lethal consequences. One approach for limiting both initial as well as sustained mission costs is through the implementation of strict in situ resource utilization (ISRU) requirements. ISRU focuses on the extraction and exploitation of existing resources at the colony site. With NASA's 2040 Mars deadline on the horizon, ISRU research will deliver sustainable, economically viable solutions for these future colonists and a blueprint for future manned ventures into the cosmos.