Biomedical Engineering & Science at Florida Tech
Florida Tech's Department of Biomedical Engineering and Science (BES) is committed to providing undergraduate and graduate students with an outstanding education in both the theoretical development and laboratory application of advanced technologies to elevate and advance the field.
BES faculty are internationally renowned researchers who have obtained prestigious grants from government agencies and corporations, published articles in well-respected journals, and authored books. Students in the BES department have significant educational advantages that come with small class sizes and direct access to these faculty members, who serve as instructors, mentors, and in many cases, collaborators.
Mission Statement
The mission of the Department of Biomedical Engineering and Science (BES) Department is to provide a safe working environment in the pursuit of excellence in education, research and innovation in the fields of biomedical engineering and science.
The attainment of these goals is achieved by
offering undergraduate and graduate curricula that provide students the opportunity to obtain the required knowledge, and technical and communication skills, and thorough understanding of the associated safety, ethical, social and economic responsibilities in their respective fields;
engaging in internationally recognized research that will increase knowledge and lead to technological innovations; and
providing an atmosphere that stimulates intellectual curiosity and encourages creative interactions among faculty and students.
Success in the accomplishment of these goals will equip students with the capacity to thrive in diverse professional roles in research institutions, global industries and local communities.
Department Head's Message
Linxia Gu, Ph.D., ASME Fellow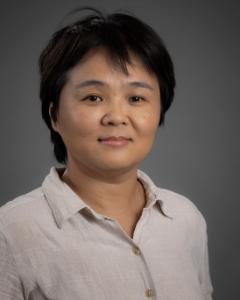 Welcome to the Department of Biomedical Engineering and Science (BES), housed in the state-of-the-art Golden Nelson Health Science building and the Olin Life Science building.
Our department thrives with a dedicated team of researchers, educators, and students who share a common drive to push the boundaries of healthcare innovation. We consistently strive to make noteworthy contributions to healthcare solutions, through the application of engineering principles, technology, and scientific exploration. Our well-equipped facilities, including cutting-edge lab equipment, combined with the invaluable resources from the on-campus Burrell College of Medicine, reinforce our effort and position us at the forefront of advancing healthcare solutions.
Our department plays a crucial role in advancing human biology, disease mechanisms, medical devices, diagnostic tools, healthcare technologies, and therapeutic interventions. Our mission is to foster excellence in education, cutting-edge research, and community engagement, all aimed at improving human health and well-being.
We offer programs of study at both the undergraduate and graduate levels, covering bioinstrumentation, biomechanics, cell and molecular biology, neuro engineering and science, biochemistry, orthopedics and tissue engineering. Specifically, our Premed Program will fulfill the rigorous admission requirements of medical/veterinary schools while delivering in-depth knowledge and training in a specific academic discipline. Our priority is to provide our students with an exceptional learning experience that fosters creativity, critical thinking, and collaboration skills, empowering them for fulfilling and meaningful careers.
I invite you to explore our department's website and learn more about our students, faculty, research projects, academic programs, and community involvement. Whether you are a prospective student, a collaborator, or an enthusiast of biomedical engineering and science, we welcome you to join us on the journey to create a healthier and brighter future.