Honors Convocation Awards- Spring 2022
We recognize and honor students and faculty for outstanding performance in the 2021-2022 academic year. The recipients of named awards and scholarships are featured below. Outstanding Student of the Year and Distinguished Student Scholar award recipients are listed on the following pages:
Faculty Excellence Awards
The Kerry Bruce Clark Award For Excellence In Teaching
Dr. Jessica Smeltz, Department of Biomedical and Chemical Engineering and Sciences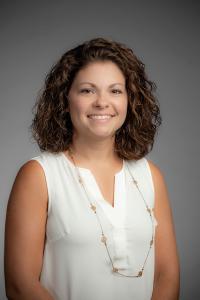 College of Engineering and Science
Dr. Jessica Smeltz is the founder of the Chemistry Resource Center which provides students assistance with the Chemistry courses. In collaboration with the Academic Support Center, Dr. Smeltz piloted and implemented the first Supplemental Instruction Program on campus in General Chemistry 1. The success and demand for this program has led to the expansion of Supplemental Instruction through Organic Chemistry 2 and other disciplines. She also implemented a common exam program where all students in CHM 1101 and 1102 take the same exam simultaneously and a unified general chemistry laboratory experience through implementing a GSA training program. Her work is much appreciated by her colleagues, students, and academic support staff. She receives many outstanding course surveys from the students as a reflection of her excellence in teaching. She was unanimously voted to become program chair in Chemistry by the chemistry faculty. She has been previously awarded for her excellence in teaching by the American Chemical Society and Phi Eta Sigma and has been voted "BCES Professor of the Year."
The Charles E. Helmstetter Award For Excellence In Research
Dr. Jessica Wildman, School of Psychology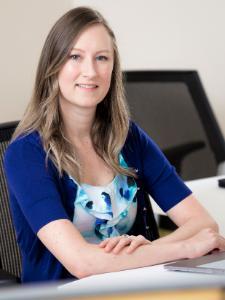 College of Psychology and Liberal Arts
Dr. Wildman is an industrial-organizational psychologist whose research aims to create more collaborative and inclusive organizations across the globe. With 43 refereed articles and book chapters, two edited books, and over 80 national and international conference presentations, she is an eminent scholar in the intersecting areas of cross-cultural management, interpersonal trust, team effectiveness, and workplace diversity. She has a Google Scholar h-index of 19, placing her above the 99th percentile for Associate Professors in Psychology. She has served as Principal or Co-Principal Investigator on over $2.2 million in funded work from agencies including the Army Research Institute, the Office of Naval Research, and the Air Force Office of Scientific Research. She serves as the Research Director for the Institute for Culture, Collaboration, & Management at Florida Tech. As a scientist-practitioner, Dr. Wildman prioritizes translational science that improves organizational practices in extreme and meaningful contexts. Recent examples of her work include several publications exploring the impact of the COVID-19 pandemic on workplace issues, a NASA-funded effort examining team self-maintenance within long duration space exploration. Dr. Wildman's newest Air Force funded project collaborating with Dr. Meredith Carroll and Dr. Amanda Thayer to explore trust violation and repair in human-agent teams.
The Andrew W. Revay Jr. Award For Excellence In Service
Dr. Marshall Jones, School of Psychology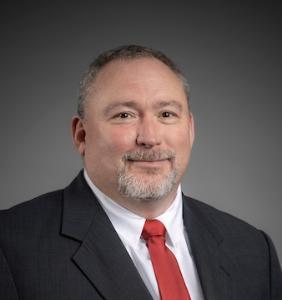 College of Psychology and Liberal Arts
Dr. Jones has served his students, the university, and the community with excellence. After retiring from law enforcement, he maintained his Florida law enforcement certificate and now serves voluntarily as a reserve officer for the Palm Bay Police Department. Since he started at Florida Tech, he has used his academic perspectives to provide service to agencies such as the FBI, US Army Military Academy, and Crime and Intelligence Analysts Association. In 2014 he established the Center for Applied Criminal Case analysis, providing students with applied research experience and service to violent crime exploration in Indian Country. He assisted the FBI Behavioral Science Unit obtain research data after he was able to get an audience with a Chief Federal Judge. These applied research efforts have resulted in service to partner agencies by informing policy, training, and paradigm shifts in operational objectives. His university service includes being a member and a past president of Undergraduate Curriculum Committee and member of the Academic Affairs Committee. He spearheaded online programs in CoPLA, since 2007 and has been one of the leaders in the creation of seven additional degree programs. Dr. Jones' efforts of advising students is apparent in their success in obtaining doctorates, law degrees, and joining prestigious forensic organizations such as the FBI and NCIS.
The Gavel Award
Dr. Brian Lail, Department of Computer Engineering and Sciences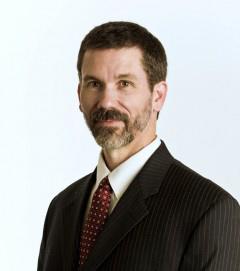 College of Engineering and Science
The Senate's Gavel Award is presented to the Faculty Senate President in recognition of leadership over the past academic year.
This term (2021-2022) was Dr. Lail's second time as the Faculty Senate President. So, I have had the pleasure of working with Dr. Lail as a senator during his first term back in 2019-2020. He played critical roles in the transition process of the Tenure System and shared governance during his first term. Within the last year I have had the experience of working with him in the capacity of Faculty Senate President Elect. It is without doubt that I have had the experience of observing him and working with him from two different angles. Each role contributed to my learning process as the incoming Faculty Senate President. Given this opportunity, on behalf of the Faculty Senate I would like to thank Dr. Brian Lail for his contributions and service to the Faculty Senate. His contributions and service will be remembered.
Student Excellence Awards
Outstanding Junior Award
Jacqueline Figueredo, College of Aeronautics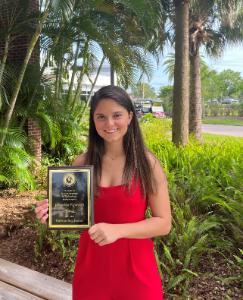 Jacqueline Figueredo is an Aviation Management with Flight major. She joined Florida Tech with her private pilot certificate and has since worked up to a commercial pilot certificate with a multi-engine rating. Jacqueline has maintained a 4.0 GPA while actively participating in various campus activities. She earned the John D. Kelly scholarship in June 2021 and the Tony Jannus Distinguished Aviation Scholar Award in December 2021. Jacqueline is a Resident Assistant for Let's Fly Living-and-Learning Community. Jacqueline also works as an on-campus brand ambassador for Endeavor Air. She is a member of the Residence Life Sustainability Committee and treasurer of Alpha Eta Rho Aviation Business Fraternity. Jacqueline's career goals include becoming a flight instructor, an airline pilot and being involved in career advancement activities to inspire and recruit the next generation of pilots.
Outstanding Senior Award
Zachary Ewing, Department of Aerospace, Physics, and Space Sciences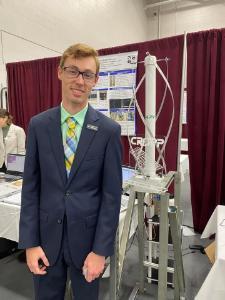 Zachary Ewing is an Aerospace Engineering major and a member of Honors College. In addition to outstanding academic achievements, Zachary participated in Florida Tech's Study Abroad Program at Oxford University and joined a research project joint with Larsen Motorsports and has been serving as the project manager for a senior design project, entitled CubeSat Research of Plant Platforms, that was originally proposed and endorsed by NASA and Kennedy Space Center. In leadership roles, Zachary is the student conductor and director of the Florida Tech Pep Band and the president of the Phi Eta Sigma Honors Society. He has served as the president of Phi Eta Sigma Honors Society for two consecutive years, organizing and attending several campus events as well as partnering with Brevard Zoo on efforts to restore Florida coastlines. Zachary is also a member of Phi Kappa Phi, Tau Beta Pi Engineering Society, and the American Institute of Aeronautics and Astronautics. He was named the Office of First Year Experience Student of the Year Award and Ambassador and was part of the inaugural class accepted to Honors College. Zachary works as a Panther Pride Ambassador for the Admissions Office. He has already accepted a full-time engineer position with Blue Origin and also plans to pursue a Master's degree in near future.
The Kerry Bruce Clark Endowed Scholarship In Marine Biology
Abigail Anne Stevens, Deepartment of Ocean Engineering and Marine Sciences
The day before classes began in spring semester 1999, Florida Tech lost a dedicated member of its faculty. Dr. Kerry Clark, Professor of Biological Sciences, was one of the first members in the biology department when it was formed 50 years ago. Dr. Clark was largely responsible for developing the marine biology program on this campus to the high status of quality and recognition that the program now enjoys among academic programs of its kind in the United States. His excellence in teaching was recognized in 1992 when Dr. Clark received the Teaching Excellence Award that now bears his name. His excellence in research was recognized by his election as a Fellow of the American Association for the Advancement of Science. His excellence in service to our profession and the community is known to those here today who shared positions with him on innumerable committees during his 28 years on the faculty.
The financial contributions by students, alumni, colleagues, friends, and family in Dr. Clark's memory allow the marine biology program to make the 23rd award of the Dr. Kerry Bruce Clark Endowed Scholarship in Marine Biology. The award is to be given to a junior or senior undergraduate student in the marine biology program: a merit scholarship to one who shows promise to achieve excellence in a career related to marine biology.
Kerry would have been proud of this year's recipient. She is a junior who has maintained a high level of academic achievement in her undergraduate program. Her academic success includes an excellent performance in Dr. Aronson's Invertebrate Zoology class, which was Kerry Clark's favorite class to teach. The selection committee was impressed also by her involvement in research in the laboratories of Drs. Spencer Fire and Darby Proctor, participation in several organizations on and off campus, and vision for her career. Based on these accomplishments and recommendations from her faculty, the faculty of the Department of Ocean Engineering & Marine Sciences is happy to award the Kerry Clark Scholarship to Abigail Anne Stevens.
The Dr. J. Clayton Baum Chemistry Award
Cecilia Wurdack, Department of Biomedical and Chemical Engineering and Sciences
Dr. J. Clayton Baum was an outstanding mentor and colleague, who taught physical chemistry at Florida Tech for 37 years. In his honor, alumni and friends of the Chemistry Program have established a scholarship for an outstanding upper-level Chemistry major.
The Donald R. Mason Chemical Engineering Award
Dr. Donald R. Mason left an indelible mark on our school's history as the founder and first Head of the Department of Chemistry and Chemical Engineering. It is typically given to one Chemical Engineering senior student every year, in recognition of both academic excellence and outstanding extracurricular achievements. This year, for only the second time, the Chemical Engineering Faculty decided to name two outstanding seniors as recipients of this award.
Laura Fronchetti Guidugli, Department of Biomedical and Chemical Engineering and Sciences
Laura is an active member of the Brazilian Student Association, has been involved with the Honors College, and has been working also as a Resident Assistant in Columbia Village, helping new students during their transition to the university life. Last year, she was named a Community Director, a leadership position within Residence Life, with the primary responsibility of programming events for the students. She has also earned significant research experience through her work in Dr. Pavi Pathirathna's electrochemistry laboratory in the Chemistry Program, and also in Dr. Toufiq Reza's biofuel laboratory, where she has worked for the past four years. She will start her PhD research with Dr. Reza this coming fall.
Dylan Huss, Department of Biomedical and Chemical Engineering and Sciences
Dylan has conducted a record number of student internships. Specifically, she pursued one internship at C2C Development working on plasma coatings, two internships with Larsen Motorsports assisting with biofuels research, three internships with NASA Johnson Space Center working on various International Space Station operations among other projects, and most recently a seventh internship with SunPower on solar cell research and development. This semester she is gaining more research experience in Dr. Toufiq Reza's biofuels laboratory. She has also studied abroad in Oxford, she is currently pursuing the Nanoscience/ Nanotechnology Minor, and is taking graduate courses towards a FastTrack Master's degree in Chemical Engineering and a Graduate Certificate in Energy Systems Engineering.
Both students accomplished all that while at the same time demonstrating true excellence in academics, which ranks them among the very best students ever graduating from our program.
The John E. Miller Award
Merrick Lavinsky, Department of Aerospace, Physics, and Space Sciences
Dr. John E. Miller served as president of Florida Tech from 1986-1987. Dr. Miller was vice president for academic affairs from 1966 until 1975. Dr. Miller received a B.S. from Randolph Macon College and his M.A. and Ph.D. from the University of Virginia. Some of his outstanding accomplishments included receiving a senior science fellowship at Stanford University and the position of Distinguished Professor of Physics at Clemson University. Dr. Miller also served in the United States Army during World War II.
After his term as president of Florida Tech, Dr. Miller spent four years teaching for the physics and space sciences department before retiring from the university. Dr. Miller passed away on December 14, 1993.
Originally from New Jersey, Merrick earned double bachelor's degrees in Physics and STEM Education at Florida Tech in the Spring of 2020. He is now in his second year as a graduate student and is working toward his Ph. D. in Physics under Dr. Marcus Hohlmann. His passionate interest in helping students grow in their learning became quite evident as a teaching assistant. The pandemic did not dampen his enthusiasm and he routinely went the extra mile to assist with our transition to remote learning.
The Ashok & Kumkum Pandit Family Endowment Award
Cole Yorio, Department of Mechanical and Civil Engineering
The Ashok and Kumkum Pandit endowment formed some years ago to recognize the most outstanding seniors in the Civil Engineering program. Dr. Ashok Pandit has been a faculty member at Florida Tech since 1982. He has served the Civil Engineering program at Florida Tech in various capacities, including as department head. His wife Kumkum Pandit completed her Master of Science in Science Education from Florida Tech in 1999, and as a result, has had a very successful career with the Brevard County School System for the last 23 years. The establishment of the endowment is their way of giving back, in a very small manner, to Florida Tech and to the wonderful students with whom Dr. Pandit has had the privilege to interact for the last 40 years, and who have played a memorable part in his academic journey. This award recognizes the most outstanding student-of-the-year in Civil Engineering, and the recipient is selected by the Civil Engineering faculty members. This is not an annual award; it is given only to truly outstanding seniors.
The student selected for Ashok and Kumkum Pandit Family Endowment Award this year is Mr. Cole Yorio. Cole has met or exceeded all the criteria set up to receive this award. Cole currently has a CGPA of 3.97. He came to FIT with 19 transfer credits from AP classes in high school. Cole joined the American Society of Civil Engineers Student Chapter as a freshman, and has since served the chapter as secretary, treasurer and president. Cole has been recognized as a Distinguished Student Scholar. He is on the Fast Track and will likely do a Master of Science in the area of Water Resources engineering. He aspires to serve the Civil Engineering community in the area of Water Resources Engineering, and he has prepared himself by doing summer internships with several local Civil Engineering Consulting companies in the Melbourne area.
The Potter Award
Bruno Vizzone, Department of Aerospace, Physics, and Space Sciences
After receiving degrees from Princeton, New York University and Yale, James G. Potter enjoyed a six-decade career as a physicist and a developer of physics departments. He began the physics degree program at the South Dakota School of Mines and Technology during the World War II years. Between 1945 and 1966, he was the head of the department of physics at Texas A & M University. At the age of 60, he joined the faculty of Florida Institute of Technology where he was professor and department head from 1967 to 1972. After stepping down as department head, Dr. Potter continued to make contributions until 1987 when he was named professor emeritus. Even after that, he was a regular presence in the department until about 1990.
After his death in 1993, the department initiated a yearly competition as the basis for this award. A competition seemed fitting given Dr. Potter's feisty persona and his penchant for on-the-spot oral examinations when students would innocently inquire about testing out of Physics 1.
Originally from Buenos Aires, Argentina, Bruno is an Astronomy/Astrophysics major who is currently sporting a perfect grade point average. He is passionate about cosmology and particle physics and participates in undergraduate research with Dr. Marc Baarmand.
Faculty Senate Scholarship
The Faculty Senate awards scholarships to students across the colleges on an annual basis.
Wendy A. Barnes, College of Aeronautics
Wendy moved to Florida from Oklahoma to attend the Florida Tech as an Aeronautical Science with Flight major. She loves to fly above the world, but knows it is just as essential to keep the earth we live on clean. When she first moved to Florida, she was thrilled to see all the green space and outdoor activities Florida offers. Wendy loves to spend time outside by volunteering at the Marine Resource Council. The Marine Resource Counsels' goal is to teach people about the importance of the Indian River. They teach people about the different kinds of mangroves: red, white, and black, and how mangroves reduce erosion and help keep the Indian River clean. Rain barrels allow people to be more sustainable with their water usage and protect the Indian River. Through the Marine Resource Council, Wendy also learned about the Samson Island Restoration Project and how to build oyster pillows and gabions. Oyster pillows provide a safe environment for seagrasses and young fish to grow. Restoring seagrass in the Indian River is vital because the Manatee population of Florida is already in danger from lack of food.
Anthi Savvidou, Department of Biomedical and Chemical Engineering and Sciences
Anthi is a freshman majoring in General Chemistry. A healthy mind in a health body is one of his favorite phrases that was said by the ancient Greeks, and this is his way of living the Florida Tech experience to the fullest. Anthi is trying his best to earn the most out of the academic experience and knowledge that Florida Tech offers, inside and outside of class. In his second semester at Florida Tech he has added extra courses to his schedule, as he is planning on on graduation with a minor in addition to his major. He is also considering obtaining a Master's degree with the Fast Track program. Apart from being a devoted student, Anthi represents Florida Tech as as a member of the Women's Basketball Team. Being a student-athlete can be challenging but is also a great experience with a lot of benefits. One of the best things that I earn for being a part of this team is the bonding that has developed throughout this activity between my teammates and I. She is a member of the Phi Eta Sigma Honor Society and has participated in Campus Cleanup and Big Day of Service 2021.
The Florida Tech Chapter Of The Honor Society Of Phi Kappa Phi's Scholar Award
Bindi Nagda, Department of Mathematical Sciences
Bindi is a graduate student in the College of Engineering and Science working on her Ph.D. in Applied Mathematics (with B.S. degrees in both Aerospace Engineering and Mathematical Sciences) with an expected graduation of May 2024. Bindi has worked on research to develop complex math models and computer simulations to understand how the gels present in the human body can help to improve delivery of drugs to organs, the process of DNA packaging, how Cystic Fibrosis develops, and how gastric ulcers/cancers develop due to bacteria in the gut.
Furthermore, she assembled a strong team she led to develop cutting-edge biomedical sensors for early detection of breast cancer. Other aspects of this project include building the hardware for the medical device, as well as creating a cross-functional mobile App to allow patients to access their medical data. Her team was selected to participate in a 6 month mentorship program and was awarded a $5000 grant in 2021 which is a research and entrepreneurial initiative for early-stage ventures.
In naming a few more of her many achievements, she also placed first nationally for the Thales Tech Challenge 2019/2020, placed first at the BMES-Medtronic Design Competition at the BMES Annual Meeting 2021, and was awarded the Dr. Semen Koksal Excellence in Teaching Award 2020/21 for the Florisa Tech Mathematical Sciences Department.
Liana van Woesik, Department of Ocean Engineering and Marine Sciences
Liana is an undergraduate student in the College of Engineering and Science working on her B.S. (Honors) in Marine Biology and a minor in Communications with an expected graduation of May 2024. Liana has worked on research on a self-initiated research project that focused on water quality in the Indian River Lagoon. This included self-learning the computer programming language R to write code and perform statistical analysis on 5 years of water-quality data to draw conclusions about seasonal water-quality trends and shed light on restoration efforts.
For a Florida Department of State Florida History Day Fair, she became a state finalist for historical research she conducted entitled Melbourne: A tale of three cities under the theme: "Explore, Encounter, and Exchange". She volunteered over three summers as a coral-reef research assistant studying the effects of climate change and sea-level rise on coral reefs as part of a Pacific Ocean based field-research study.
She also has earned five PADI SCUBA diver certifications including her professional Divemaster in June 2021 and is certified as an American Academy of Underwater Sciences (AAUS) scientific research SCUBA diver and CPR first-aid responder. In naming a few more of her many achievements, she made the Dean's list in 2021, is a member of Florida Tech's National Honor Society Chapter of Phi Eta Sigma and the Biological Sciences National Honors Society Tri Beta. She is also President of the Swim Club.