Construction Industry Advisory Committee
CIAC Mission Statement
The mission of the Construction Industry Advisory Committee is to help Florida Tech develop its construction program in the following ways:
Generate excitement among area students about the construction industry, and attract them to the industry.

Develop an outstanding construction management/engineering program that would prepare students for rewarding life-long careers.

Offer short courses, seminars, and panel discussions on relevant construction industry topics to practicing engineers and managers so they can remain skillful and competitive.

Create programs and scholarships to encourage the best students to enroll in construction management.
Training for a Leadership Role in the Construction Industry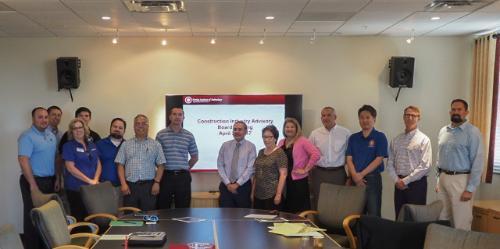 Florida Tech's Construction Industry Advisory Committee (CIAC) was formed to build the Construction Management Program, to provide industry advice to the Construction Management Program in developing and maintaining a state-of-the art curriculum, and to provide assistance to Florida tech's students in obtaining jobs and internships.
Comprised of local industry professionals, many of them company presidents and CEO's, the CIAC supplies Florida Tech with professional advice, industry-savvy instructors and an excellent array of project tours in the local area. These tours benefit students by providing first-hand exposure to the many technical, business and management issues that working professionals face on the job in the construction industry. This access to active projects and mentorship from industry leaders adds considerable depth and enrichment to the classroom instruction.
CIAC Member Companies
Ajax Building Company
Associated Builders and Contractors
Berman, Hopkins, Wright & Laham, LLP
Boys Electrical Contractors, LLC
BRPH Architects Engineers, Inc.
Building Management Systems, Inc.
CEMEX Corporation
Certified General Contractors, Inc.
Coastal Mechanical Services, LLC
Construction Consultants & Designers, Inc (CCDI)
David Boland, Inc
DR Horton
Haskell Corporation
Hedrick Brothers Construction
Holiday Builders
Home Builders & Contractors Association
Ivey's Construction
M.E.C. Construction
M.H. Williams Construction, Inc.
Met-Con, Inc.
NAWIC (National Association of Women in Construction)
Newton Land Development, Inc.
Stewart Law
Tsark Architecture
Universal Engineering Sciences, Inc.
WELBRO Building Corp.
Wharton-Smith
Whiting-Turner Contracting Co.
W+J Construction Corporation
Woodruff Construction Company
These highly-valued companies contribute on a daily basis to making Florida Tech's construction management program an outstanding entry point to a satisfying professional career.