Psychology Honors Program
What is it?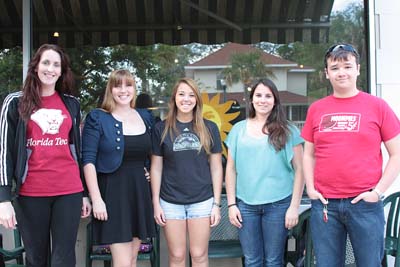 The Psychology Honors Program provides an opportunity for gifted, highly motivated students to share in highly challenging academic experiences and to be recognized for their high level of achievement. Honors students participate in special seminars and write an undergraduate thesis while fulfilling the other requirements for their degree in psychology or forensic psychology. Students in all undergraduate Psychology majors may participate in the department's honors program. The Honors degree is highly beneficial to students who plan to go on to graduate programs, and is particularly important to students who expect to apply to research-oriented doctoral programs.
What do I do?
The psychology honors program is available to Juniors enrolled in all undergraduate psychology programs (B.A. Psychology, B.S. Psychology, B.A. Forensic Psychology, B.A., Applied Behavior Analysis). The honors program includes six credit hours of Psychology Honors Thesis (PSY 4515) taken in place of the psychology internship (PSY 4000) and Personal and Professional Development (PSY4512). Honors program students are encouraged to sit in on sessions of PSY4512 that are relevant to their postgraduate plans. Students must also complete a minimum of three credits of the Psychology Honors Seminar (PSY 4590), usually taken in place of lower-level courses in the concentration area or in place of free electives. Only honors students may write a thesis.
How do I enter the program?
Prospective honors students must be at or near Junior status. Applicants should have completed a minimum of 12 hours of psychology (PSY, PSF) courses with a GPA of 3.4 in those courses and a minimum overall GPA of 3.4. These courses may be taken at Florida Tech or transferred from another four-year university. Community college courses will not be included in the GPA calculation but are considered for transfer students.
Honors Program Application form
What are the graduation requirements?
To earn the honors distinction, students must successfully complete the program with a graduating GPA of 3.4 in psychology and an overall GPA of 3.4. Only courses taken at Florida Tech will be included in this calculation. A minimum average GPA of 3.0 in PSY 4590 is required. Successful students will receive a certificate indicating completion of the requirements and may wear the psychology honors program cord at graduation.