Jet Dragster Racing Team
Official Site of the Florida Tech Jet Dragster Racing Team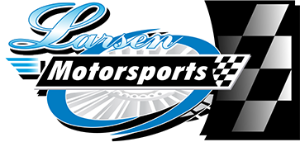 Larsen Motorsports is an award-winning innovator in the jet racing space. But it is also a proven leader in community outreach, STEM advocacy, and providing unique and valuable hands-on experiences to college students. Sounds a bit like Florida Tech, right? The Florida Tech/Larsen Motorsports partnership works because of what we have in common: a passion for STEM education, a can-do attitude, and a strong commitment to student success!
Hands-on Opportunities
The most important benefit of Florida Tech's relationship with Larsen Motorsports is the hands-on experience it makes available to you-our current and future students! Located just a short drive away from campus, Larsen Motorsports' high-tech headquarters gives you access to:
A working shop/laboratory that includes $8 million in equipment, tools, turbines, jet cars, etc.
High-tech fabrication, jet turbine testing, and technician capabilities and expertise…
Mentors who are automotive industry experts, accomplished engineers and entrepreneurs…
A network of professional race teams, suppliers, and other employers…
Hands-on internships and research opportunities for all majors, including engineering, business, aeronautics, communication and science!
Meet Our Driver: Elaine Larsen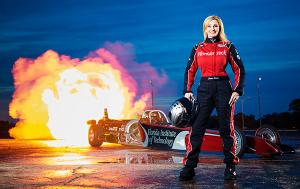 "I am really excited to drive the Florida Tech jet dragster, not only because I expect to bring my championship abilities to this great team, but also because this will allow me the opportunity to showcase to the world all of the hard work and dedication of students and faculty at Florida Tech," says Larsen. In 2015 Elaine completed a four-win 2015 season earning her second consecutive International Hot Rod Association world championship.Elaine Larsen has taken anything but the traditional path to the dragster's driver's seat. Growing up a Mennonite, drag racing was not the most typical choice of careers. She headed into un-charted territory and never looked back. Today Elaine brings over 20 years of racing experience and multiple IHRA championships to the Florida Tech racing team. She has never let being a female in a male dominated world affect her in any way. "Drag Racing is the equalizer, on any given day, I have the same chance as anyone to win, it just has to be my day!" says Elaine.
To learn more about Elaine and jet racing, visit Larsen Motorsports and follow her on Facebook, Twitter and Instagram.