Materials Characterization and Processing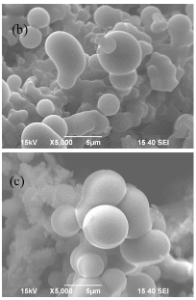 Materials synthesis, characterization, and application are a large sector of chemical engineering. Projects in this area involve synthesis and characterization of novel materials including but not limited to nanomaterials, carbon dots, activated carbons. Both bottom up and top down approaches are employed to synthesize materials.
Florida Tech has dedicated material characterization equipment (e.g., scanning electon microscope, transmission electron microscope, Atomic Force Microscope, Fourier Transform Infrared Spectroscopy, Thermogravimetric Analyzer, X-ray Diffraction) to characterize materials.