Peroxide Forming Chemicals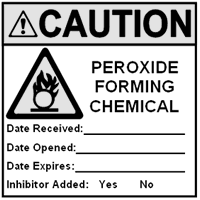 Introduction to Peroxides
Overview
Peroxide-forming chemicals are a class of compounds that have the ability to form shock-sensitive explosive peroxide crystals when exposed to various storage conditions or extended storage times. These peroxide crystals can violently detonate when subjected to: thermal and mechanical shock, impact and friction, or combined with other compounds. Other compounds polymerize unsaturated compounds and can initiate a runaway, explosive polymerization reaction. The rate at which peroxides form is compound dependent and is classified into three groups (A-C) related to the inherent dangers. More on classification is described below.
Conditions that cause peroxide formation
Factors that affect the rate of peroxide formation include exposure to: air, light and heat, moisture, and contamination from metals. Some Peroxide-forming chemicals react with oxygen, even at low concentrations, to form peroxy compounds. Since some peroxide-forming chemicals are packaged in atmospheres containing oxygen, even unopened containers can eventually form peroxy compounds. Therefore it is important to pay close attention to chemicals expiration date and to immediately dispose when expired; specifics on storage is discussed in below.
Evaporation and distillation increases the risk of peroxide formation. In general, the faster the chemical evaporates, the greater its hazard, since evaporation of the chemical allows the peroxide to concentrate and form crystals. Even slow evaporation still exhibits a concern and should be periodically checked for peroxide formation.
Manufacturers may add an inhibitor to peroxide forming chemicals to counter peroxide formation. Butylated hydroxy toluene (BHT), hydroquinone, and diphenylamine are some examples. Over time, these inhibitors can become exhausted allowing peroxides to form. Distilling the solvent can completely remove the inhibitors and make the solvent immediately susceptible to peroxide formation.
Indicators of peroxide formation
Peroxide formation becomes evident when crystalline solids are observed in the liquid itself or around the bottle's cap. Some peroxide-forming chemicals produce solutions that appear cloudy. Peroxide crystals may form on the container plug or the threads of the lid and detonate when the lid is twisted. Do not open a liquid organic peroxide or peroxide-forming chemical if crystals or a precipitate are present.
Storage and Handling
Controlling Peroxide Formation
Peroxide formation can be controlled by adhering to the following methods:
Label the container with the date of purchase and the date of the most recent test for peroxides. See appendix B for printable peroxide label.

Containers should be dated when opened and tested periodically for the presence of peroxides. Do not exceed storage time limits.
Many chemical companies now routinely print an expiration date on containers of the worst peroxide formers.

Peroxide-forming chemicals should be purchased in small quantities, and the older material in the inventory should be used first.
Solvents containing low levels of free radical scavengers such as BHT should be used whenever the presence of the stabilizing species does not interfere with intended application.

However, be aware, that these free radical inhibitors will be depleted over time as peroxides are formed.
Distillation often removes the inhibitors and therefore more should be added to the manufacturer's recommended concentration.

Keep peroxide forming chemicals away from sources of ignition and store in a cool, dry place.

Store protected from moisture, light and air.
Store peroxides at the lowest possible temperature consistent with their solubility and freezing point.
Peroxide forming compounds should not be stored at or lower than the temperature at which the peroxide freezes or precipitates, as this will make these compounds extremely sensitive to shock.
Store in tightly closed containers and keep in a marked flammables area.

All peroxide-forming solvents should be checked for the presence of any peroxides prior to distillation or evaporation.

Most explosions occur when a material is distilled to dryness
Peroxide Classification & Retention Times
Class A: Peroxide Hazard on Storage – Without Concentration.

Test for peroxide formation before using or discard 3 months after opening and 12 months if unopened.
Example: Sodium amide

Class B: Hazard Due to Peroxide Concentration.

Test for peroxide formation before distillation or evaporation.
Test for peroxide formation or discard 6 months after opening or 12 months if unopened.
Example: Tetrahydrofuran

Class C: Auto Polymerize as a Result of Peroxide Accumulation.

Test for peroxide formation prior to use or discard after 12 months if unopened.
Example: 2-butanol

Class D: May Form Peroxides but cannot be clearly placed in Class A-C
See appendix A for a comprehensive list of peroxide forming chemicals.
Evaluating & Testing for Peroxides
Examine container for contamination: Crystals tend to form on the inner surfaces of the container in the form of ice like structures, crystals, solid masses or an obscure cloudy medium signify gross contamination. Wisp like structures floating in a clear liquid suspension signify contamination as well an oily viscous layer present in the material. Visible discoloration and liquid stratification are additional indicators of peroxide formation.

If you do not see crystals, or if the container is metal or opaque, proceed to the next step.

Determine whether it is safe to test for peroxides: If the contents of the container have evaporated to less than 10% of the original volume, do not test for peroxides as it is too high of a risk and contact the Office of Environmental Health and Safety. If you do not know the history of the chemical, you can test its contents if it is one of the following:

Class A hazard: opened and <6 months old; or unopened and <1 year old.
Class B hazard: opened and <1 year old; or unopened and <2 years old.
Class C hazard: opened and <2 years old; or unopened and <3 years old.

Test for Peroxides: Several methods are available to test the presence of peroxides in organic solvents, with direct-reading test strips being the most common. The EH&S office will provide test strips in emergency situations, yet routine monitoring of stored chemicals fall upon the PI to provide his/her own test equipment. Peroxides are most often reported in ppm with 100 widely used as a general control point for disposal. Florida Tech's peroxide cutoff is at or above 80 ppm and should be marked for disposal and EH&S contacted. Peroxide concentration at 50 – 79 ppm should be marked for concern and EH&S notified.
Known Peroxide Forming Chemicals
Class A

Butadienea

Tetrafluoroethylenea

Vinylidene chloride

Methacrylate

Chloroprenea

Divinylacetylene

Sodium amide (sodamide)

Potassium amide

Potassium metal
Class B

Acetal

4-heptanol

Acetaldehyde

Methyl acetylene

Benzyl alcohol

Methyl isobutyl ketone

Isopropyl ether

3-methyl-1 butanol

Cyclohexanol

Methyl cyclopentane

2-cyclohexen-1-ol

2-pentanol

Cumene

4-penten-1-ol

Decahydronaphthalene

1-phenylethanol

Diacetylene

2-phenylethanol

Dicyclopentadiene

2-propanol (isoproranol, "IPA")

Diethyl ether

Tetrahydrofuran

Diethylene glycol

Tetrahydronaphthalene

Dimethyl ether

Vinyl ethers

Dioxanes

Other secondary alcohols

Ethylene glycol dimethyl ether
Class C

Acrylic acidb

Stryene

Acrylonitrileb

Vinyl acetate

Butadienec

Vinyl acetylene

2-butanol

Vinyl chloride

Chloroprenec

Vinyl pyridine

Chlorotrifluoroethylene

Vinyladiene chloride

Methyl methacrylateb

Tetrafluoroethylenec
Class D

Acrolein

1,3-Dioxepanedd

Allyl etherd

Di(1-propynl) etherf

Allyl ethyl ether

Di(2-propynl) ether

Allyl phenyl ether

Di-n-propoxymethaned

p-(n-Amyloxy)benzoyl chloride

1,2-Epoxy-3-isopropoxypropaned

n-Amyl ether

1,2-Epoxy-3-phenoxypropane

Benzyl n-butyl etherd

p-Ethoxyacetophenone

Benzyl etherd

1-(2-Ethoxyethoxy)ethyl acetate

Benzyl ethyl etherd

2-Ethoxyethyl acetate

Benzyl methyl ether

(2-Ethoxyethyl)-a-benzoyl benzoate

Benzyl-1-napthyl etherd

1-Ethoxynaphthalene

1,2-Bis(2-chloroethoxyl)ethane

o,p-Ethoxyphenyl isocyanate

Bis(2-ethoxyethyl)ether

1-Ethoxy-2-propyne

Bis(2-(methoxyethoxy)ethyl) ether

3-Ethoxypropionitrile

Bis(2-chloroethyl) ether

2-Ethylacrylaldehyde oxime

Bis(2-ethoxyethyl) adipate

2-Ethylbutanol

Bis(2-methoxyethyl) carbonate

Ethyl-b-ethoxypropionate

Bis(2-methoxyethyl) ether

2-Ethylhexanal

Bis(2-methoxyethyl) phthalate

Ethyl vinyl ether

Bis(2-methoxymethyl) adipate

Furan

Bis(2-n-butoxyethyl) phthalate

2,5-Hexadiyn-1-ol

Bis(2-phenoxyethyl) ether

4,5-Hexadien-2-yn-1-ol

Bis(4-chlorobutyl) ether

n-Hexyl ether

Bis(chloromethyl) ethere

o.p-Iodophenetole

2-Bromomethyl ethyl ether

Isoamyl benzyl etherd

beta-Bromophenetole

Isoamyl etherd

o-Bromophenetole

Isobutyl vinyl ether

p-Bromophenetole

Isophoroned

3-Bromopropyl phenyl ether

b-Isopropoxypropionitriled

tert-Butyl methyl ether

Isopropyl-2,4,5-trichlorophenoxy acetate

n-Butyl phenyl ether

n-Methylphenetole

n-Butyl vinyl ether

2-Methyltetrahydrofuran

Chloroacetaldehyde diethylacetal

3-Methoxy-1-butyl acetate

2-Chlorobutadiene

2-Methoxyethanol

1-(2-Chloroethoxy)-2-phenoxyethane

3-Methoxyethyl acetate

Chloroethylene

2-Methoxyethyl vinyl ether

Chloromethyl methyl ether

Methoxy-1,3,5,7-cyclooctatetraene

b-Chlorophenetole

b-Methoxypropionitrile

o-Chorophenetole

m-Nitrophenetole

p-Chlorophenetole

1-Octene

Cyclooctened

Oxybis(2-ethyl acetate)

Cyclopropyl methyl ether

Oxybis(2-ethyl benzoate)

Diallyl etherd

b,b-Oxydipropionitrile

p-Di-n-butoxybenzene

1-Pentene

1,2-Dibenzyloxyethaned

Phenoxyacetyl chloride

p-Dibenzyloxybenzened

a-Phenoxypropionyl chloride

1,2-Dichloroethyl ethyl ether

Phenyl-o-propyl ether

2,4-Dichlorophenetole

p-Phenylphenetone

Diethoxymethaned

n-Propyl ether

2,2-Diethoxypropane

n-Propyl isopropyl ether

Diethyl ethoxymethylenemalonate

Sodium 8-11-14-eicosatetraenoate

Diethyl fumarated

Sodium ethoxyacetylidef

Diethyl acetald

Tetrahydropyran

Diethylketenef

Triethylene glycol diacetate

m,o,p-Diethoxybenzene

Triethylene glycol dipropionate

1,2-Diethoxyethane

1,3,3-Trimethoxypropene

Dimethoxymethaned

1,1,2,3-Tetrachloro-1,3-butadiene

1,1-Dimethoxyethaned

4-Vinyl cyclohexene

Dimethylketenef

2,4,5-trichlorophenoxyacetate

3,3-Dimethoxypropene

Vinylene carbonate

2,4-Dinitrophenetole

Vinylidene chloridedd
Key:
a When stored as a liquid monomer.
b Although these chemicals form peroxides, no explosions involving these monomers have been reported.
c When stored in liquid form, these chemicals form explosive levels of peroxides without concentration. They may also be stored as a gas in gas cylinders. When stored as a gas, these chemicals may autopolymerize as a result of peroxide accumulation.
d These chemicals easily form peroxides and should probably be considered under Part B.
e OSHA - regulated carcinogen.
f Extremely reactive and unstable compound.
References
Stephen F. Austin State University: Peroxide-forming Chemicals
University of Washington: EH&S Guidelines for Peroxide Forming Chemicals
Local Hazardous Waste Management Program in King County, Washington: Best Management Practices for Monitoring Peroxide-Forming Compounds Prior to Disposal
sigmaaldrich.com: Peroxide Forming Solvents
University of Connecticut: Peroxide-Forming Compounds – Safe Work Practices
Vanderbilt University: Peroxide Forming Chemicals: Management, Retention and Storage
Stanford University: Information on Peroxide-Forming Compounds
University of Hawai'i, Mānoa: Storage and Handling of Peroxide Forming Chemicals
Baylor University: Peroxide Forming Chemicals