Dates And Deadlines
General Information
Instructions for completing Oxford Program applications and paying registration fees for the summer 2023 program are given on the application link. All fees are paid at Fl Tech Student Accounting. Payment deadlines are in the "Dates and Deadlines" section.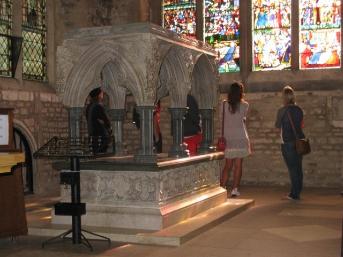 Spaces are on a first come, first served basis for eligible students, so apply early. 6 spaces will be held until October 15 for Honors College/Panther Distinguished Scholar students. As of October 31 the 2023 Oxford Program is full, but contact hwautlet@fit.edu to find out about getting on the waitlist. (NOTE: As of Jan 10, 2023 TWO spaces have opened up!)
A mandatory meeting for all participants is held in February.
Summer Course Registration: Bring signed forms including course name and number (no CRN#) to the orientation meeting in February.
All participants should apply for a passport no later than February 1, 2023.
Students in need of UK visas must apply between April 7 and April 24 for their UK visa. See Visa section.
Program Payment Dates:
Program fees are due on the following dates:
Prior to December 1 (or earlier depending on space available (2023 is full as of Oct 31, but contact hwautlet@fit.edu for wait list details): $300 non-refundable Oxford application fee
January 16: $1,000 for Oxford (PAY $850 if you met the Early Bird deadline by applying EARLY)
January 16: $400 Ireland optional trip deposit (Optional).
January 16: $400 Paris/Normandy optional trip deposit (Optional).
March 15: Optional Ireland and France trip balances due (approximate balance $600 - $700 each).
April 15 or TBA: Fees for all optional events due: Optional London shows (approx. $70 per show), Optional Bath Spa treatment (prices vary).
May 2: Tuition and program balance (can come from financial aid)**. Pay the balance of your Paws account as you usually pay Fl Tech tuition & fees. Payment plans are not an option.
ALL Payments should be made at the Student Accounts window on the first floor of L3Harris Commons. Credit card, check, cash, and money order are accepted. All checks must be made payable to "Florida Tech." Write your name, "Oxford" and last 4 of your student ID# in the check memo section. Email hwautlet@fit.edu to confirm payments after they are made or for pay by phone details.
All Oxford Program fees are due on the dates listed on the Oxford program website. Payment plans are NOT an option for students enrolled in this study abroad program due to the nature of paying vendors/expenses.
All program fees are non-refundable. Fees for missed group housing, meals, trips, etc. are non-refundable/ non-exchangeable. For example, college housing is included from July 1-Aug 13th morning. If you arrive later or depart sooner, there are no refunds. If you miss a group meal or field trip, you will forfeit that meal/event or any portion thereof.
Oxford info packet forms and PASSPORT photo pages due no later than April 1.
Airfare
Students book flights to the UK individually. There is no group flight option or requirement. You must arrive in Oxford on July 1. Review Nov 20 email for full details. Fly into London Heathrow or Gatwick. Birmingham is also an option. It is advised that you book tickets directly with airlines and not third parties or travel agents. Read all cancellation/refund details before booking. Florida Tech is not responsible for flight refunds or fees. Direct flights to London Heathrow, London Gatwick, and Birmingham International ranged between $900 and $1900 for summer 2022.
VISAS for non-US citizens:
Non-U.S. citizens should begin obtaining UK tourist visas during spring semester. Obtaining visas is the full responsibility of the non- US student. A letter will be provided by the office to assist in this effort upon the student's request. Letters are only provided for travel related to the program (UK tourist visa and Schengen visa). Letters will not be provided for personal travel outside of program organized travel.
The final deadline for requesting letters is March 13 and students must provide proof of UK visa application submittal by April 2 to remain registered for the program. UK requirements & application
Non-US passport holders may also need Schengen visas for trips to Italy, France, etc. These letters and itineraries must also be requested by March 13. Information on Schengen visas for France. You will have to go to the French consulate in Miami.
Students who apply for UK visas after April 15 may not obtain visas for the program and all fees remain non-refundable. The university does not supply visa assistance in addition to letters, itineraries, and insurance brochure. Students can hire a visa agency to assist with visas if they wish. The UK Border Agency website lists registered visa assistance agencies on their website.
It is advised that you do not buy your plane tickets prior to obtaining your UK visa.
Republic of IRELAND Visa guidance for non-US and non-EU passport holders (check to see if you need a visa, and apply if required): Irish Naturalisation and Emigration site
2023 Working Itinerary (will be emailed to the group)
| Date | Activity |
| --- | --- |
| June 30 | Depart the US for London |
| July 1 | Arrive London – Bus to Oxford – Check in at Jesus/Exeter College- light dinner in Jesus hall. |
| | Orientation to Jesus College and Oxford. Welcome dinner at Exeter College. |
| | Itinerary will be emailed to Oxford 2023 group |
| Aug 11 | Exams. Closing Dinner. Official Program Ends. |
| Aug 12 | Free day (You may fly home today/depart Oxford if you wish) |
| Aug 13 | Departure. Must vacate rooms by 10am. |
| Aug 13 | Arrive US |
*Breakfast in Hall July 1-July 14, 2023.
*This preliminary itinerary is subject to changes. Each participant will receive an Oxford Program Information Packet via email and can view the full, detailed itinerary by clicking the link above. The detailed itinerary is updated as changes occur.
ATTENDANCE: Classes are mandatory and only 1 unexcused absence per class is permitted before your grade drops. Excused absences are only those with a doctor's note and proof of a doctor's visit. Plan your personal travels accordingly.