Oxford Study Abroad
Florida Tech is proud to offer our 20th annual Oxford Program:
June 28-August 10, 2024.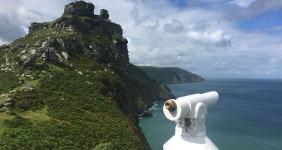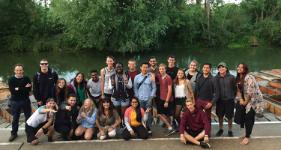 Earn 6-8 Florida Tech credit hours and the experience of a lifetime while living, learning and traveling in England, Ireland, Paris, and beyond.
Save over $1815 on tuition for your two Florida Tech Oxford classes! Plus, Fl Tech undergraduates with a 3.75+ GPA save an additional $500 with 6+ Oxford credit hours.
Several course options such as Western Civ, Math (Calc 2, 3, Differential Equations), British & American Lit, Sci Tech Comm, WWII Film will be available to you (view full course listing).
Classes are held four to five days per week, allowing you to use your long weekends for personal travel to places as nearby as London, or as far away as Scotland, France, Italy, Germany, and beyond.
Join the optional trip to Ireland!
With London just one hour away by train 24/7, gorgeous parks, hiking and biking areas out your back door, and five free exceptional museums within Oxford alone, you will never get bored.
The Oxford program start date of June 28 allows you the option of attending Summer Session 1 at Florida Tech, working to save money for your adventures abroad, or traveling through Europe before arriving in Oxford!
Sleep, eat, study and play within the walls of a 16th century Oxford college for six weeks in the summer of 2024.
Florida Bright Future Scholars save $948- $1688 this summer!
Imagine studying JRR Tolkien and C.S. Lewis' works within their old college walls. Attend Shakespearean plays by the riverside in Oxford, London, and Stratford! If Shakespeare's not your cup of tea, perhaps discussing history, marketing, or math in a café or while biking along the Thames is more your style.
Study abroad not only increases your world view, but also your marketability in today's global marketplace, making your resumé more attractive to future employers and graduate schools. When you study abroad with a Florida Tech program, you can be sure that it is high quality, safe, and helps you to fulfill academic requirements needed for graduation.
Program Information
Join the waitlist now- email contact details to hwautlet@fit.edu.
Bright Futures Scholars save $948- $1688 this summer! Contact hwautlet@fit.edu for details.
Click here for the Full Program Itinerary (summer 2024 update coming soon).
Not a Florida Tech student? That's ok, you too can study in Oxford this summer while earning Florida Tech credits that will transfer to your home institution. You will apply to Florida Tech as a transient student and follow the normal program application procedures. Contact the program director for full details.