Optional Trips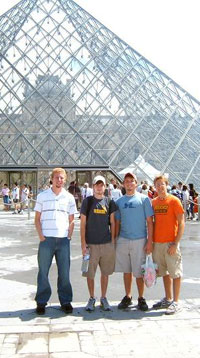 In addition to the 3 weekend day trips, we are also offering an optional trip. Approximate costs are listed below. Final costs will be determined by the number of participants. Balances are due in the spring.
Day Trips & Other Options
Full day trip to London and a show included in program fees- visit Tower of London as a group, then free day where you can boat down the Thames to Parliament & Big Ben, walk to Buckingham Palace, Trafalgar Square, National Gallery, & China Town for dinner (options for this open day), plus a London show included in the cost.
Extra shows in London- cost will include the show ticket, London/Oxford train or bus, and Tube Pass- approx $65-$90 for all fees depending on show/s chosen.
Bath field trip additions: Optional treatments at Bath Thermae Spa. Spa treatments are an added cost.
Blenheim Palace group trip is included in program fees.
Five day weekend in Ireland- optional trip (July 12 weekend most likely):
Ireland's West Coast: Return flight London Heathrow to Ireland (Shannon airport), ground transport, hostels, guides, some meals. Approx $1250.
Past trip (2021): Four Day Weekend In Scotland- Optional Trip
Edinburgh, the Highlands, and more: Private group ground transport, hotels, some meals, some museum fees. Approx $1100.
Past trip (2016, 2019, 2023): Four Day Weekend In Paris- Optional Trip (Not offered summer 2024 due to Olympics, but you can go to Paris on your own/with a small group)
Private group ground transport, Eurostar train, hotel with breakfast, museum pass. Approx $1250 (this will be substantially more if offered in 2024 because of the high rates due to the Olympics).
Weekend Trip Planning
The Program Director will gladly help you with trip planning in advance. Just ask for help with websites, train information, places to stay, videos and books for research, etc. When you apply you will receive a detailed information pack including information to help you with trip planning. In the past students have gone to Paris, Disneyland Paris, Nice (French Riviera), Ireland, Scotland, Wales, Italy, Germany, Switzerland, Norway, Spain, England's beaches (Penzance, St. Ives, etc.), England's Lake District for great hiking, London for touring, shows, & soccer games, etc. It is advised that you plan trips well in advance to get the best housing and transportation deals. Begin booking your trips in March and don't wait any later than May to make bookings.
Foreign Language Immersion Programs Prior to Oxford
Consider attending an intensive language program in Europe prior to the Oxford Program. You can take any level of language instruction and become immersed in the culture while tremendously improving your language skills. Earning credit at Florida Tech upon completion of the program is always a possibility. We have had students study Spanish in San Sebastian Spain prior to the Oxford Program and they had a phenomenal experience. Italy, France, Germany, Spain are all a quick flight from London, so it is easy to coordinate. Contact the Oxford Program Director for more information to get on the right track.
* Deposits for optional weekend trips will be due in January, but depend on vendor requirements of amounts and dates. Final balances will be due in spring semester. Check email for announcements. All program fees including optional trip fees are non-refundable. (Optional Trip payment dates for 2024 TBD and announced by email to the group.)