Chemistry for Undergraduate Students
Prospective students
An undergraduate degree in chemistry will prepare you for a career in industry, government, and academia. Chemists use their technical skills and scientific creativity in many fields, including: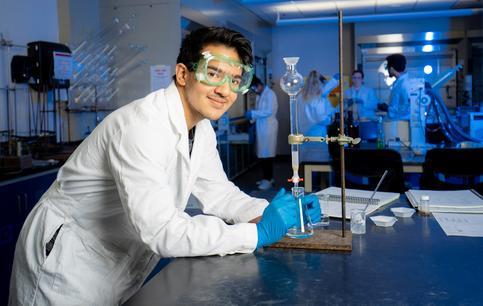 Environmental science and engineering
Biotechnology
Forensic science
Pharmaceutical industry
Energy industries
Chemical manufacturing
Chemical research and development (R&D)
Agriculture and food industries
Chemists also work at science and engineering companies that make and use materials such as polymers and nanomaterials (graphene, quantum dots, thin films, etc). Those who enjoy research often continue their education to get a master's (M.S.) or doctoral (Ph.D.) degree in graduate school after their earn their bachelor's degree. Many chemists choose to use their knowledge and talents in business, journalism, and teaching at the college and high school levels.
Florida Tech offers several program options for students with an interest in chemistry. This flexibility allows you to customize your learning experience to best fit your academic interests and career goals. We also offer a chemistry minor.
All chemistry majors conduct at least one semester of hands-on research under the mentorship of a faculty member. You can read about our faculty and their research projects to learn more. We encourage our students to get involved in research as early in their college career as possible and some even begin in their first year at Florida Tech. Research at Florida Tech often leads to students earning internships and other opportunities in industry and government laboratories.
Apply now or contact the Chemistry program for more information. We welcome prospective student visitors, so make sure to let Admissions know you're interested in chemistry when you arrange a campus visit!
Current students
Florida Tech offers many resources to students enrolled in chemistry classes, especially in General Chemistry 1 and 2. First, faculty teaching your classes are available by email, phone, or during office hours. We encourage you to take advantage of their expertise — they are ready to help you succeed!
In addition, we offer optional supplemental instruction (SI) and one-on-one tutoring in the Chemistry Resource Center (CRC). Hours for the CRC are posted on the Canvas LMS page for your course.
We encourage students with an interest in chemistry to get to know other like-minded students by joining the Florida Tech chapter of the American Chemical Society (ACS). Contact members of this student group for more information. Membership is open to all chemistry majors and non-majors in chemistry-related fields like biology and chemical engineering.
Chemistry majors will find additional resources within the chemistry program's Canvas website, including student awards and seminar announcements. We encourage you to join and follow our Facebook and LinkedIn pages so that you can keep up with other program news, including job and internship announcements.
Students interested in undergraduate research
At Florida Tech, you have the opportunity to engage in different types of research activities (chemical synthesis, working with chemical instrumentation, or even computational chemistry). These activities will help to guide you to a career path for which you are well suited. Additionally, research is an excellent résumé builder. Finally, via your research activities, you will develop a professional relationship with a research advisor who will aid and guide your continued career through letters of recommendation, as well as professional contacts.
Get credit for research
All students may receive up to 6 credits towards graduation by performing undergraduate research. See your academic advisor for more information. Chemistry students frequently have the opportunity to publish work in peer-reviewed journals and present their research at scientific conferences. These accomplishments are extremely attractive when applying for jobs, internships, or admission to graduate programs.
Summer opportunities
There are often opportunities to continue your research experience over the summer. Every year the chemistry faculty offer paid positions and funding opportunities to pursue full-time research over the summer months that enable students to continue professional development and to build a strong track record in their work environment.
Industrial experience
Over the years, the chemistry faculty have built strong ties with industry that has resulted in summer internship opportunities. These positions provide experience in an industrial setting in varied technology sectors, and provide incredible opportunities to connect with prospective employers.
Graduate studies
Florida Tech has a very strong chemistry graduate program that provides students with the opportunity to obtain higher degrees including the Master of Science (M.S.) and the Doctorate of Philosophy (Ph.D.). A strong undergraduate research experience is essential for moving to the next level.