Concussion Management Program
The Athletic Arena As Neuropsychology Laboratory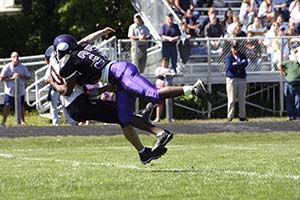 In all contact sports there is a risk of concussion, which provides a unique opportunity to examine individuals both before and after a suspected brain injury takes place. Florida Tech employs a comprehensive Concussion Management Program (CMP) to:
1) Educate student-athletes and coaches in identifying concussion symptoms toward promoting safety
2) Accurately diagnose concussions using standardized, evidence-based protocols, and
3) Provide recommendations and/or accommodations for concussed students to facilitate their recovery while minimizing the impact of their injury on their academic performance
There are several components of a successful CMP, providing multiple training and research opportunities for clinical psychology students with a neuropsychology interest.
Baseline Testing and Post-Trauma Evaluations of Student-Athletes
Student-athletes undergo baseline testing during the preseason to determine their normal performance on various tests of cognition, balance, and coordination, and to establish the degree to which they typically experience a variety of symptoms. Clinical psychology graduate students conduct these baseline assessments and mental health screenings, and also provide basic concussion education to student-athletes.
If a student-athlete later suffers a head trauma during participation in sports, and/or complains of symptoms that are highly suggestive of concussion, the student-athlete is immediately withheld from further participation in sport-related activities and will be evaluated as quickly as possible by a Certified Athletic Trainer (ATC). Typically, within 24 - 48 hours of the incident, the Concussion Management Team will then assess the student-athlete's cognitive and balance abilities, as well as document any symptoms being experienced. Clinical psychology graduate students receive training in conducting these clinical interviews and performing brief neurocognitive and balance assessments with student-athletes suspected of having a concussion. During clinical interviews, particular attention is devoted toward collecting a detailed clinical history and information pertinent to the unique aspects of this type of neurological injury, including specifics regarding the mechanism of injury and symptoms experienced at the time and thereafter.
A student-athlete's post-trauma performance will be compared to the baseline performance obtained during the preseason assessment, and if a notable discrepancy is detected, it may be concluded that a concussion has occurred. Student-athletes diagnosed with a concussion may not engage in team activities until the sports medicine team determines that they have recovered and returned to their baseline performance levels. Additionally, recommendations are made to facilitate recovery, potentially including behavioral strategies to assist with symptom management and academic accommodations.
The CMP has also collaborated with Florida Tech Recreation and Department of Student Life to address concerns regarding head injuries/concussions amongst students involved with high-risk club sports. Specifically, students participating in high-risk club sports will receive similar concussion education and must undergo baseline testing prior to participation in club sport activities. If a concussion occurs or is suspected, an evaluation with the CMP will be required and the student will not be allowed to return to club sport participation until being cleared by the CMP or other qualified healthcare provider. A final step in this process typically involves successfully engaging in graded physical exertion under supervision, which often is conducted externally through local resources such as Top Tier Sports Medicine.
Concussion Recovery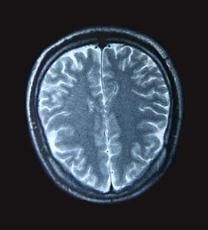 The time to recover from a mild concussion varies from one person to the next, but many individuals experience a full recovery within 7-10 days. Meanwhile, other individuals may require several weeks or more to recover fully. When a student-athlete who suffered a concussion reports being symptom-free to the ATC, a referral back to the Concussion Management Team will be initiated so that a follow up evaluation can be performed.
Once student-athletes' symptoms have resolved and their neurocognitive, balance, and coordination abilities are determined to have returned to normal by the Concussion Management Team, the ATC will administer a series of physical exertion tests to ensure that intense physical exercise does not result in a return of post-concussive symptoms. Once these steps are successfully completed and no symptoms re-emerge, the student-athlete will eventually be permitted to resume all sport-related activities.
During the course of concussion recovery, it is not uncommon for physical symptoms to be reduced or absent, while lingering neurocognitive impairments remain. This is why accurate interpretation of neurocognitive testing is always critical prior to the decision to return the student-athlete to full athletic activity. Our goal is to ensure that our student-athletes suffer no preventable harm from playing their sport, and that they are not asked to perform on the field or in the classroom when they are vulnerable or cognitively unable to give their best. Through this experience, clinical psychology students receive training on the most updated and state-of-the-art methods of concussion diagnosis and management.
Clinical Training for Clinical Psychology Graduate Students
The Concussion Management Program hosts clinical training in neuropsychology and sports psychology for doctoral students in Clinical Psychology from Florida Tech. There are opportunities for partial funding as a Graduate Tuition Scholar (for first year students) and/or Graduate Student Assistantships (for subsequent years) as well.
The Concussion Management Team conducts baseline testing of all student-athletes in preseason (typically mid-August), and evaluates student-athletes for possible concussions throughout the school year depending on the sport season. Team members must have sufficient availability to conduct post-trauma and follow-up evaluations at short notice and perhaps during irregular times (e.g., evenings, weekends) since this is an on-demand activity with an expectation of quick turn-around times.
Members of the Concussion Management Team have a unique and exciting opportunity to interact with student-athletes and sports medicine staff, while learning and gaining clinical experience in:
Conducting tailored clinical interviews
Conducting and interpreting relatively brief neuropsychological assessments toward making a clinical diagnosis
Comparing post-trauma results to an individual student-athlete's baseline to determine whether a clinically meaningful change has occurred
Writing concise clinical reports with appropriate recommendations to facilitate student-athletes' recovery
Communicating test results and clinical impressions to Sports Medicine staff
Delivering concussion educational sessions to student-athletes
In conducting concussion evaluations, Team members will learn how to administer and interpret common neurocognitive assessments in concussion management, including:
The Sport Concussion Assessment Tool, 5thEdition (SCAT5)
The Immediate Post-Concussion Assessment and Cognitive Testing (ImPACT)
Balance and coordination tests (e.g., the Balance Error Scoring System, or BESS)
Mood questionnaires such as the PHQ-9 and GAD-7
External tests of effort and assessment validity
Direct clinical supervision is conducted by Anthony LoGalbo, Ph.D., ABPP-CN, who is a core clinical faculty member of the Florida Tech Psy.D. Program, and a board-certified clinical neuropsychologist with nearly 15 years of sports concussion experience at the high school, college, and professional level. Dr. Frank Webbe, Professor Emeritus, directed Florida Tech's CMP for several years and has been an integral contributor to the field of sports neuropsychology and concussion research.
Concussion Research
Involvement in the clinical activities outlined above allows interested students to become involved in many ongoing applied concussion research projects as well. Students often use data collected during assessments of student-athletes to fuel new evaluation methods and treatment approaches. Some examples of recent research projects are highlighted below.
Recently Published Research:
LoGalbo A., DaCosta, A., Webbe, F.M. (2020). Comparison of the PHQ9 and ImPACT Symptom Cluster Scores in Measuring Depression Among College Athletes. Applied Neuropsychology: Adult, https://doi.org/10.1080/23279095.2020.1805611
Cluster Scores in Measuring Depression Among College Athletes. Applied Neuropsychology: Adult, https://doi.org/10.1080/23279095.2020.1805611
DaCosta, A., Webbe, F.M., LoGalbo, A. (2020). The Rey Dot Counting Test as a Tool for Detecting Suboptimal Performance in Athlete Baseline Testing. Archives of Clinical Neuropsychology, acaa052
Suboptimal Performance in Athlete Baseline Testing. Archives of Clinical Neuropsychology, acaa052
DaCosta, A., Crane, A., Webbe, F., & LoGalbo, A. (2020). Change in Balance Performance Predicts Neurocognitive Dysfunction and Symptom Endorsement in Concussed College Athletes. Archives of Clinical Neuropsychology, acaa031
Neurocognitive Dysfunction and Symptom Endorsement in Concussed College Athletes. Archives of Clinical Neuropsychology, acaa031