L3Harris Student Design Center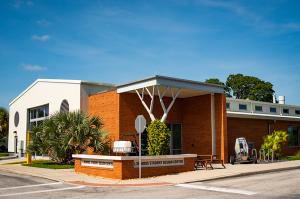 The one-of-a-kind L3Harris Student Design Center (L3HSDC) at Florida Tech provides space for students to work on all their design and manufacturing related projects. This 12,000-square-foot building serves the College of Engineering and Science students working on everything from personal projects to senior design projects. Seniors will fabricate and assemble a variety of projects during their Senior Design course, including:
Formula SAE

AIAA Design, Build, Fly

Robotic Mining Competition

SOAR Solar-Powered UAV

Mobile Engine Testing Application (META)

Projects sponsored by local and nationwide industry leaders

Projects proposed by students or faculty
In addition to senior projects, every Florida Tech student has full access to the L3HSDC and its resources for any personal project they may want to complete, as well as projects for clubs or classes.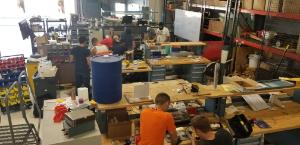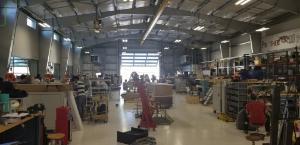 At Florida Tech, students have incomparable access to the advanced tools and machines within the L3HSDC, such as the CNC Mill, CNC Router, foam cutter, water jet, laser cutters/engravers, and more. Student-led instructional courses and certification classes are regularly taught to educate students on safety procedures and how to operate each machine at the L3HSDC.
The L3HSDC can accommodate projects of a variety of mediums: metal, wood, composite, carbon fiber, acrylic, foam, and more. The high bay production area provides ample space to host these projects, as well as the machines that will be used throughout the design and manufacturing process. This area offers over a dozen fully-equipped workstations that include various mechanical hand and power tools, as well as an additional storage space containing every type of tool that a project may need.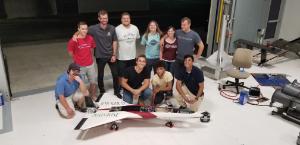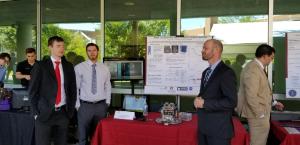 In addition to the high bay, five specialized rooms in the L3HSDC have been set up for various project tasks like electronic wiring and soldering, computer programming, additive manufacturing (3D Printing), computer-aided design, and group brainstorming and collaboration.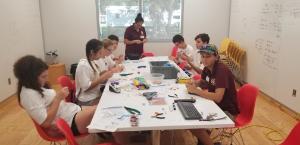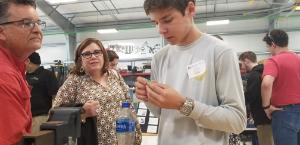 As an integral part of our academic commitment, the L3HSDC works with other on-campus makerspaces and labs, such as the Digital Scholarship Lab in Evans Library and the Florida Tech Machine Shop.
L3HSDC Resources and Features:
Powered workstations with space for project layout and construction, containing a variety of hand and power tools
Paint Booth, featuring high flow ventilation
Tormach 1100 CNC Machine
AVID CNC Router
Two Large Format Laser Cutters
Hotwire CNC Foam Cutter w/ 4 independent axes
Proto-MAX WaterJet
Sand Blasting Cabinet
Powder Coating Booth and Oven
Electronics Assembly/Soldering Room
Electronic Prototyping Room
Computer-Aided Design Room
3D Printing Farm
FORM 3L SLA Printer
Markforged 3D Printer
Large Format Poster Printer
Vinyl Cutter
Ideation/Teleconference Room
XL Hangar Door for large-scale project transportation
2.5 Ton Overhead Crane for lifting/transporting heavy projects
Information for Students
Lockers Available for Students, Faculty and Staff.
Come to our office at the L3HSDC to sign up for a locker. The locker dimensions are below:
H:24 Inches W:15 Inches L: 16 Inches
Safety Video Training
All students using the student design center must complete the following safety courses before utilizing the L3Harris Student Design Center:

Slips, Trips, and Falls Overview
Emergency and Fire Preparedness
Hazard Communication Overview
Fire Extinguisher Safety
Personal Protective Equipment (7-lesson bundle into a single course)
Risk Assessment
Hand and Power Tool Safety
Please follow the link below to sign into your account:
Online Training System Account
Steps to enroll in courses:
1. Search the name of the course and enroll in it
2. Complete the videos and quizzes
3. Download completion certificates
4. Upload documents to CANVAS per instructor's instructions
*Other safety training may be assigned by the staff of the L3Harris Student Design Center or student instructors depending on students use with machines in the building.