Social Security Numbers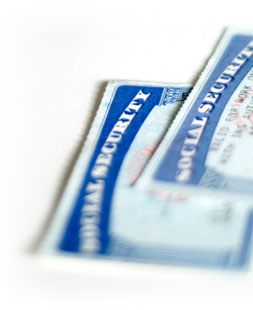 What is a Social Security Number?
The United States has a nationwide pension supplement system known as Social Security. A nine-digit number is assigned to all US citizens, permanent residents and some international visitors and is used as a means to keep a record of income for tax purposes. This nine-digit number is referred to as a Social Security Number or SSN.
International students are not required to pay into the Social Security system until they have lived in the United States for any period of time during five calendar years. However, students and scholars are required to have a social security number if employed. Students and scholars may encounter various requests for an SSN for identification purposes while conducting business in the United States. The SSN is often used by banks as an access code; for example, if a student phoned her bank and asked for her current balance, she may be asked for the last four digits of her SSN to verify her identity. Other agencies may ask for the SSN as a way to distinguish the student from other people. However, unless a student or scholar must pay taxes, she or he does not need to have an SSN.
Q: Do I need a Social Security Number (SSN)
A: Social Security Numbers are meant for tax purposes only. If a student or scholar is receiving wages from an employer in the US (such as students receiving a stipend from Florida Tech), she or he will need a Social Security Number. An international student or scholar can only receive an SSN only if legally permitted to accept employment in the US.
Q: If I get a Social Security Number, does it mean I can accept any job?
A: No. SSNs are given to persons with some type of work permission, the SSN itself is not work authorization. Work authorization for non-immigrants (persons who are not U.S. citizens or permanent residents) is controlled by the U.S. Citizenship & Immigration Services (USCIS). ISSS staff can provide more information about work authorization.
Q: I have been given a student ID number by Florida Tech. Do I still need a SSN?
A: A student ID number assigned by any Florida Tech department is not an SSN. Students do not need to change their ID number. However, when students and scholars obtain their SSN, they should notify Human Resources as soon as possible.
Q: What is an ITIN number?
A: An Individual Taxpayer Identification Number (ITIN) is a tax processing number issued by the Internal Revenue Service. IRS issues ITINs to individuals who are required to have a U.S. taxpayer identification number but who do not have, and are not eligible to obtain a Social Security Number (SSN) from the Social Security Administration (SSA). Individuals must have a filing requirement and file a valid federal income tax return to receive an ITIN, unless they meet an exception. Further information on an ITIN number and how to obtain one can be found on the IRS website.
Q: When do I apply for the SSN?
A: Students and scholars should not attempt to apply for the SSN until they have been in the US for more than 10 business days. This is to ensure that their entry information has been reported from the US Point of Entry to the central database that the Social Security Administration will need to access to confirm their legal status before issuing the number. Application forms are on the SSA website. The SSN application process is free, and no appointment is necessary. However, it is best to go early in the morning to the SSA office. Applicants should take with them a completed SSN application form and their original documents (see chart). For non-EAD based F-1 student employment (CPT and on-campus employment), SSA will not process an application for an SSN if it is more than 30 days in advance of the scheduled employment start date. In the case of EAD-based F-1 employment (Optional Practical Training), the employment start date on the EAD must already have been reached before SSA will process the application for an SSN.
Q: How long does it take to get the SSN?
A: On average, it takes three-four weeks to receive the SSN. The SSA office must check if the applicant's information is currently in the Department of Homeland Security's database called SAVE. If the applicant's information is not yet in the database or if there is a discrepancy between the applicant's immigration documents and the database, the SSA must send an inquiry to the Department of Homeland Security. The SSA cannot process the SSN application until the Department of Homeland Security has verified the applicant's immigration status and information. Consequently, the application process may be significantly delayed. In general, the SSA representative who processes the SSN application will notify the applicant in writing that a verification process with the Department of Homeland Security is underway so that the student or scholar is aware of the additional time needed. If a student or scholar encounters this situation, there is nothing ISSS or the SSA can do to expedite the process. The SSN card is a valuable document which should be kept safely with personal records. Students and scholars should carry the original card with her or him only when using it for official business, such as getting onto payroll. Students and scholars should not keep it in their wallet.
What documents do I need to bring with me to the SSA office?
Visa Type

Required Documents

F1 Students

Authorization for on campus work, CPT or OPT is required

Passport;
Form I-20 issued by Florida Tech
One of the following:


For off-campus employmen

t: CPT designation on I-20 OR OPT card
For on-campus employment: completed ISSS "Request for Social Security Card" which confirms you are enrolled in a full course of study and eligible for employment, identifies your employer and the type of work you are, or will be, doing.

J-1 Students & Scholars

Authorization for employment is required.

Passport;
Form DS-2019;
Letter from Program Sponsor/Responsible Officer authorizing employment. (J-1 students NOT sponsored by Florida Tech, you must obtain an additional letter from your program sponsor)
J-1 students may also need to show additional evidence of employment.

J-2 Dependent

Can apply for an SSN only if authorized for employment.

Passport;
Form DS-2019;
Employment Authorization Document (EAD).

H-1B, O-1, TN Scholars

Status implies employment authorization.

Passport;
I-797 Approval Notice;
Where do I apply for an SSN?
SSA Office:
The nearest SSA office to Florida Tech is located at 1715 West Nasa Boulevard, Melbourne, FL 32901.