J-1 Exchange Visitor Program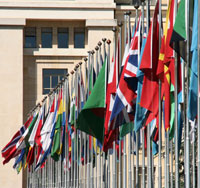 The J-1 Exchange Visitor Program was created in 1961 as part of the Fulbright-Hayes Act, a public law written to "increase mutual understanding between the people of the United States and the people of the other countries through educational and cultural exchanges." The U.S. Department of State has authority over the J-1 program. Currently, Florida Tech has 5 categories of J-1 visitors. The purpose and length of the scholar's visit at Florida Tech will determine the appropriate category (See also J-1 Categories at Florida Tech).
J-1 Program Information
In the links below, you will find important information about the J-1 program at Florida Tech.
IMPORTANT: If requesting a visitor on the "J" immigration document, DO NOT request a Guest Role ID number. The visitor will receive documentation for the ID number when they check in at the ISSS Office.
For Florida Tech Departments:
For Scholars: